'Supernatural' to End with Season 15: Jared Padalecki, Jensen Ackles and Misha Collins Respond [VIDEO]
While the loss of Arrow next season will definitely be a hit to the CW, it still doens't compare with today's news that long-running horror-drama series Supernatural will end with its upcoming 15th season. A number of the stars from the series took to social media to make the announcement (via Instagram video), and executive producers Robert Singer and Andrew Dabb released an official statement (which you can find below):
"Firstly, we would like to thank all the people who have been involved with the show both in front of and behind the camera. For us it has been an experience of a lifetime. The support we have had from both Warner Bros Television and The CW has been incredible. We'd like to give special thanks to Jensen, Jared and Misha for making this journey so special. It is now most important to us to give these characters that we love the send off they deserve."

– Robert Singer and Andrew Dabb, Executive Producers
https://youtu.be/UIaJmafVA3o
The harrowing journey of the Winchester brothers continues as SUPERNATURAL enters its historic fourteenth season. Sam (Jared Padalecki) and Dean (Jensen Ackles) have matched wits with monsters, demons, Heaven and Hell. But in the show's thirteenth season, the Winchesters were thrown into a terrifying alternative universe–an apocalyptic world where they were never born, all while training Jack (Alexander Calvert), the son of Lucifer (Mark Pellegrino), and trying to save their mother. The final battle with Lucifer and Archangel Michael (Christian Keyes) could alter the lives of The Winchesters forever, and creates a new threat for Sam and Dean.

In the show's thirteen season, the Winchester brothers started with our heroes losing everything; the Angel Castiel (Misha Collins) dead by Lucifer's hand, the birth of Lucifer's offspring Jack and their mother that they just got now trapped to an alternate dimension. Reeling from their losses, Sam and Dean try to adjust to the new normal, with a Nephilim (Jack) now in tow. But they're not quite prepared for the powers this half human, half angel exhibit. And, due to his feelings of guilt over Mary (Samantha Smith) lost in a different universe, Jack takes it on himself to find Mary and bring her back, knocking the Winchesters and himself across the universes.

The Winchesters ultimately fight Lucifer and get their mother back – with a surprising ally: Gabriel (Richard Speight Jr.)! With the help of Gabriel and the promise of reuniting Lucifer with his son, the Winchesters and the angels devise a plan to return to the Apocalypse world, save Mary and Jack, and prevent the evil archangel Michael from breaching the gap between universes. But Lucifer isn't one to be trusted, but with no choice the Winchesters have to accept one of the most powerful beings to take on their greatest enemy… potentially dooming themselves in the process.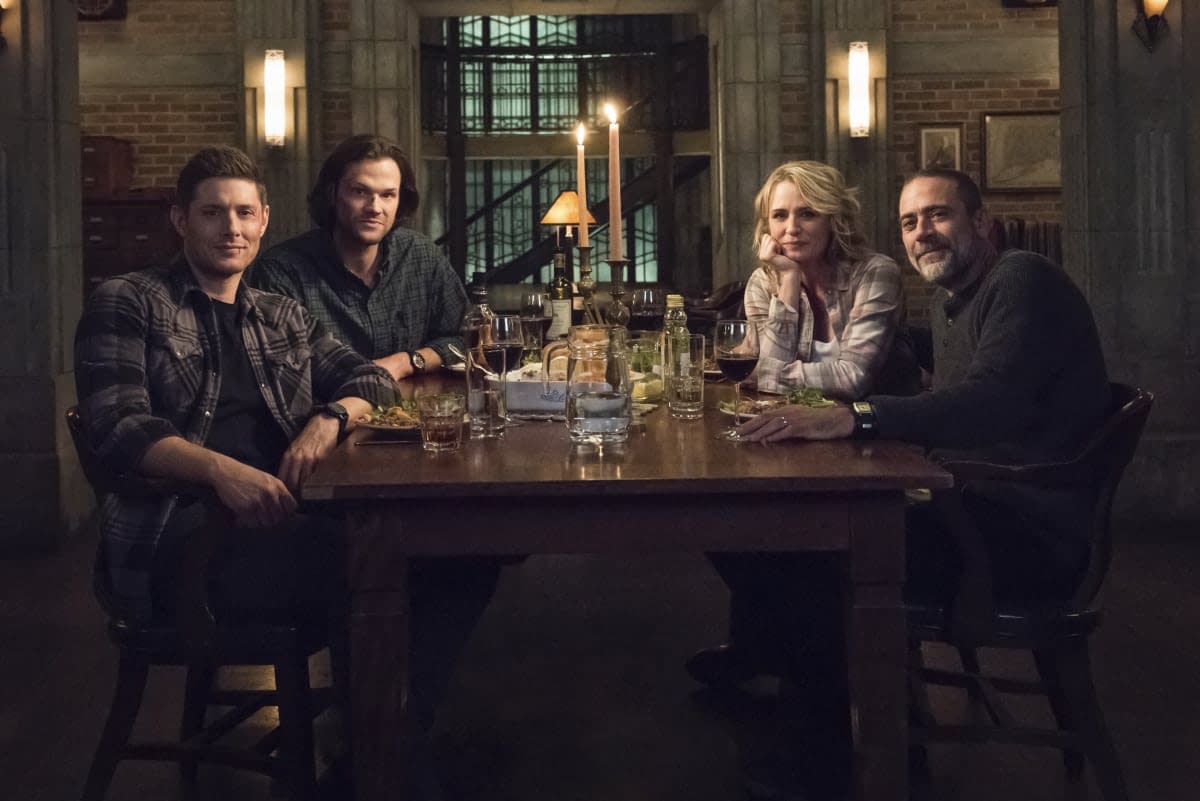 The CW's Supernatural stars Jared Padalecki as Sam Winchester, Jensen Ackles as Dean Winchester, Misha Collins as Castiel, Mark Pellegrino as Nick, and Alexander Calvert as Jack. Executive Producers include Robert Singer, Andrew Dabb, Phil Sgriccia, Jeremy Carver, Eugenie Ross-Leming, and Brad Buckner.