Syfy Releases Video to Hype Krypton's Second Season Renewal
With the news of Krypton's renewal today, Syfy released a quick video for its social media accounts that flashes through some of the sigils… glyphs… logos… of the different houses. It reminds me of the original teaser poster they put out that showed the same four house symbols and a character for each.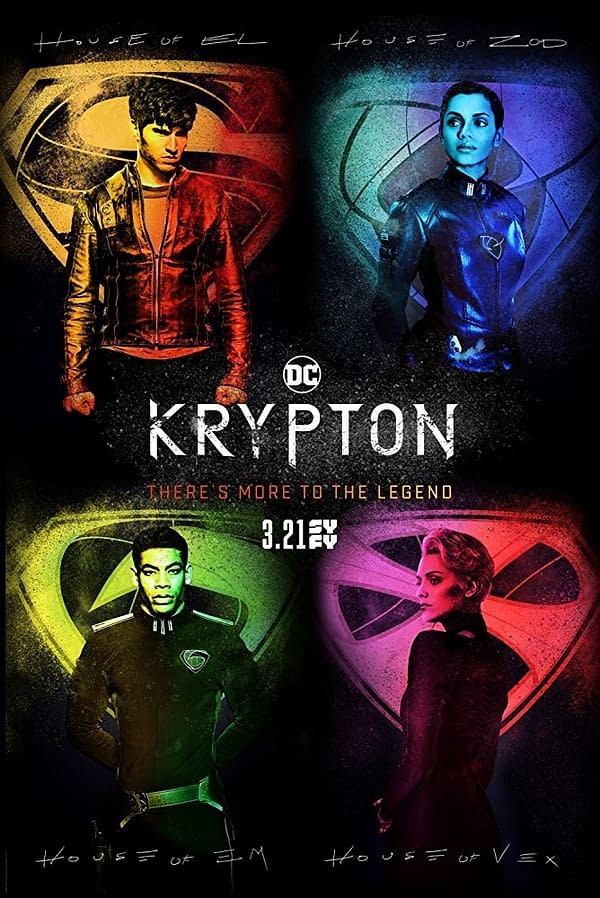 The image shows Seg-El (Cameron Cuffe) in front of the House of El shield, then Lyta-Zod (Georgina Campbell), Dev-Em (Aaron Pierre) and Nyssa-Vex (Wallis Day) in front of each of their shields. This made it seem like we were going to have four houses fighting for power, or in the case of the House of El, trying to regain power and rank. And while House of Vex and House of Zod played major roles in the season along with the House of El, House of Em didn't do much — at least not in the first season. Since the video below shows them cycling through the symbols again and House of Em is still there, it is very possible that Dev and his house are going to be major players in season two.
Krypton season 1 wraps up tomorrow night at 10 p.m. ET on Syfy with a pretty wild season finale that is well worth watching.