Ted Lasso Season 3 Sneak Preview: Rebecca Needs Ted to Be a Fighter
Returning for Season 3 on March 15th, the following preview for Apple TV+'s Ted Lasso finds Rebecca reminding Ted of who she needs him to be.
---
So Ted (Jason Sudeikis) is having issues at home & at work; Nate (Nick Mohammed) has a ton of chips on his shoulder that he's looking to dump on Ted; Rebecca (Hannah Waddingham) is on the warpath to take down West Ham United head Rupert (Anthony Head), and Roy's (Brett Goldstein) joining Beard (Brendan Hunt) as an assistant coach. And that's just what the folks behind Apple TV+'s award-winning Ted Lasso are willing to let us know about the third (and final???) heading into its return later this month. But we do have a sneak preview to pass along, one that sees Rebecca reminding Ted of the promise that he made to her in her office and how she needs that Ted back.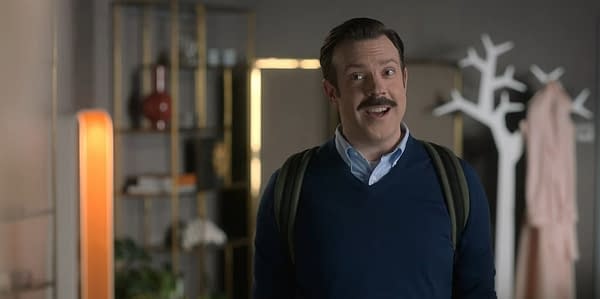 So with all of that in mind, here's a look at a sneak preview of what's to come (courtesy of VIZIO Smart TVs), followed by the official Season 3 trailer & overview for Apple TV+'s Ted Lasso, hitting streaming screens on March 15th:
In this third season of Apple TV+'s Ted Lasso, the newly-promoted AFC Richmond faces ridicule as media predictions widely peg them as last in the Premier League, and Nate (Mohammed), now hailed as the "wonder kid," has gone to work for Rupert (Head) at West Ham United. In the wake of Nate's contentious departure from Richmond, Roy Kent (Goldstein) steps up as assistant coach alongside Beard (Hunt). Meanwhile, while Ted (Sudeikis) deals with pressures at work, he continues to wrestle with his own personal issues back home, Rebecca (Waddingham) is focused on defeating Rupert, and Keeley (Juno Temple) navigates being the boss of her own PR agency. Things seem to be falling apart both on and off the pitch, but Team Lasso is set to give it their best shot anyway.
Developed for television by Sudeikis, Lawrence, Hunt, and Joe Kelly, the series sees Sudeikis serving as an executive producer alongside Lawrence via his Doozer Productions, in association with Warner Bros. Television and Universal Television (a division of Universal Studio Group). Doozer's Jeff Ingold also serves as an executive producer, with Liza Katzer serving as co-executive producer.