Ted Lasso Season 3: WBTV Boss Talks More Seasons, Roy Kent Spinoff
WBTV head Channing Dungey addressed Apple TV+'s Jason Sudeikis-starring Ted Lasso beyond Season 3 & the idea of a Roy Kent spinoff.
---
So we have a preview image (see below) and a release window for the third season (Spring 2023). Aside from a release date, teasers, an official trailer, and preview images, that's not a bad start. But what about the future of Apple TV+'s Jason Sudeikis-starring Ted Lasso? As Season 3 inches closer, that question is being asked more and more. And it was a question that Warner Bros. TV (the studio behind the streaming series) head Channing Dungey addressed during a recent interview with The Hollywood Reporter. And it looks like the answer is… it's all "status quo" for now. "I will say that season three ends in a way that feels very satisfying. So, if that ends up being the end, the audience will feel satisfied. But is there a door that's potentially open if we could do more? Yes,' Dungey shared regarding the possibility of a fourth season. As for those rumblings of a spinoff focusing on series star & executive producer Brett Goldstein's Roy Kent? Dungey also shared with the THR interview that she likes the idea and believes Goldstein would be up for it (it definitely sounds like Goldstein is interested, based on a recent late-night visit, which you can check out below).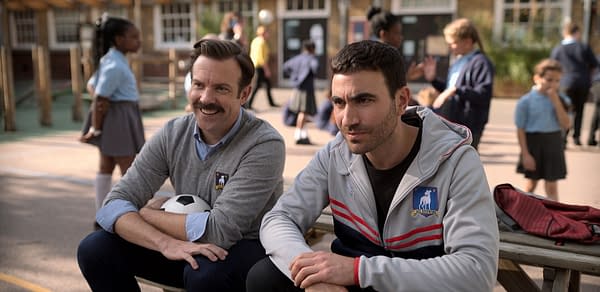 So What's the Deal with Apple TV+'s Ted Lasso Beyond Season 3?
When it comes to the award-winning series' future, co-creators Bill Lawrence and Brendan Hunt (Coach Beard) have said that the series will finish telling its story in three seasons (though not shutting the door on future stories in future seasons). That said, the cast's new deals not only included pay increases but also options for future seasons. Series star & executive producer Brett Goldstein was asked for an update on the streaming series' future this week while checking in with Stephen Colbert on CBS' The Late Show with Stephen Colbert. While half-joking about how he's sworn to secrecy by Apple regarding the show's future, Goldstein didn't commit Sudeikis' past comments about the series being "three-and-done" but did add, "I would happily play Roy Kent forever. I would feel very sad to say goodbye." Hmmm… spinoff, maybe? Here's a look at what Goldstein had to share with Colbert, followed by a look back at the most recently-released Season 3 preview:
In the first-look image for the third season that was released to coincide with the streaming series' TCA panel, we preview a literal face-off between Ted (Sudeikis) and Nate (Nick Mohammed), with West Ham United owner Rupert Mannion (Anthony Head) in the background, seemingly assessing the standoff. Our initial takeaway? Ted looks like he's got that "Lasso cool" going on, while Nate still looks like he has something to prove: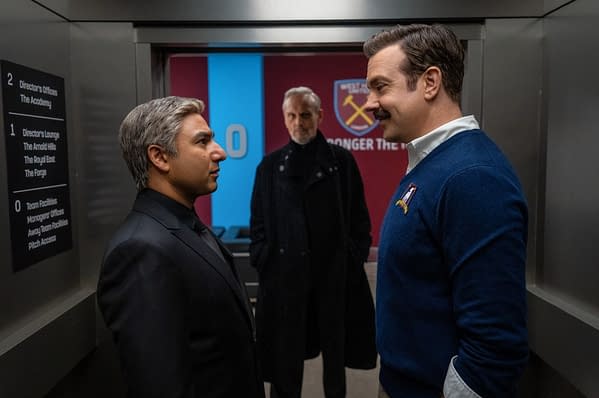 During Apple TV+'s Shrinking TCA panel, Lawrence and Goldstein had a few comments to share regarding the season. "I've seen cuts of the show, and I think it's f**king awesome," Lawrence shared about the third season. "I love it," added Goldstein. In addition, Lawrence also thanked Sudeikis for stepping up during production while Lawrence was back in the U.S. to work on Shrinking. Developed for television by Sudeikis, Lawrence, Hunt, and Joe Kelly, the series sees Sudeikis serving as an executive producer alongside Lawrence via his Doozer Productions, in association with Warner Bros. Television and Universal Television (a division of Universal Studio Group). Doozer's Jeff Ingold also serves as an executive producer, with Liza Katzer serving as co-executive producer.