The Bleeding Cool TV Top 10 Best of 2019 Countdown: #5 "The Good Place" (NBC)
Once upon a time… working for television was labelled a "demotion," a professional death sentence for actors whose careers were considered on a no-way-back downward spiral.
Today, actors of all ages and experiences (especially women and actors of color) have found more opportunities to practice their craft and tell their stories (and be recognized for it) than ever before. While there are still many roads that need to be travelled in terms of fairness and equality on both sides of the camera, progress has been made – even as the film industry continues a slow descent into "event film haze" to remain relevant.
Once upon a time… it was thought for a show to succeed, it needed to start every September, end every April/May, and run at least 20 episodes per season.
Today, fans wait over a year for a half-season of Adult Swim's Rick and Morty, and have shown their willingness to embrace an 8-episode quality season over a 16-episode "padded" season.
https://www.youtube.com/watch?v=Rw6BrzB1drs
Once upon a time… television meant "The Big Three," HBO went off-air at 11 p.m., and "water cooler" moments before the VCR could be a very select club at the work place.
Today, cable and streaming have turned "The Big Three" into "The Big 333" – with DVR, on-demand, and binge watching making any time a great time to watch.
With that said, it's hard to believe it's been a year since our last go-around – and as difficult as it was to choose only 10 shows last year, this year tripled the pressure. Once again, it felt like we were trying to find ten specific needles in a pile of needles – and this year, that pile was huge… and twice as painful when it came to cuts.
But we prevailed – and over the course of the next ten days, you'll see that our list represents the best in diverse thought and action that graced our screens this year. Continuing on from our first five selections (which you can check out for yourselves here. here, here, here, and here), Bleeding Cool's own Adriel offers her thoughts on why NBC's The Good Place was a great place to spend 2019:
#5 "The Good Place" (NBC)
From creator Michael Schur comes a unique comedy about what makes a good person. The show follows Eleanor Shellstrop (Kristen Bell), an ordinary woman who enters the afterlife, and thanks to some kind of error, is sent to the Good Place instead of the Bad Place (which is definitely where she belongs). While hiding in plain sight from Good Place Architect Michael (Ted Danson), she's determined to shed her old way of living and earn her spot.

Over the course of season three, Michael and the team decided to try to fix the outdated points system after discovering that nobody has entered the Good Place for over 500 years. They convinced the Judge (guest star Maya Rudolph) on the idea of setting up a new neighborhood in the Medium place to see, once and for all, if humans can improve themselves. The plan is set in motion and four new test subjects, chosen by Shawn (guest star Marc Evan Jackson) and the demons, populate the area with Michael and the group overseeing the experiment. Unfortunately for Eleanor, she is forced to assume the role as Architect, following Michael's sudden breakdown, and must also deal with the repercussions following Chidi's (William Jackson Harper) decision to make the ultimate sacrifice and have his memory erased.

Also seeking redemption is elegant Pakistani-British socialite Tahani Al-Jamil (Jameela Jamil) and dance-obsessed Floridian Jason Mendoza (Manny Jacinto). They are aided by Janet (D'Arcy Carden), a human-esque repository for all the knowledge in the universe.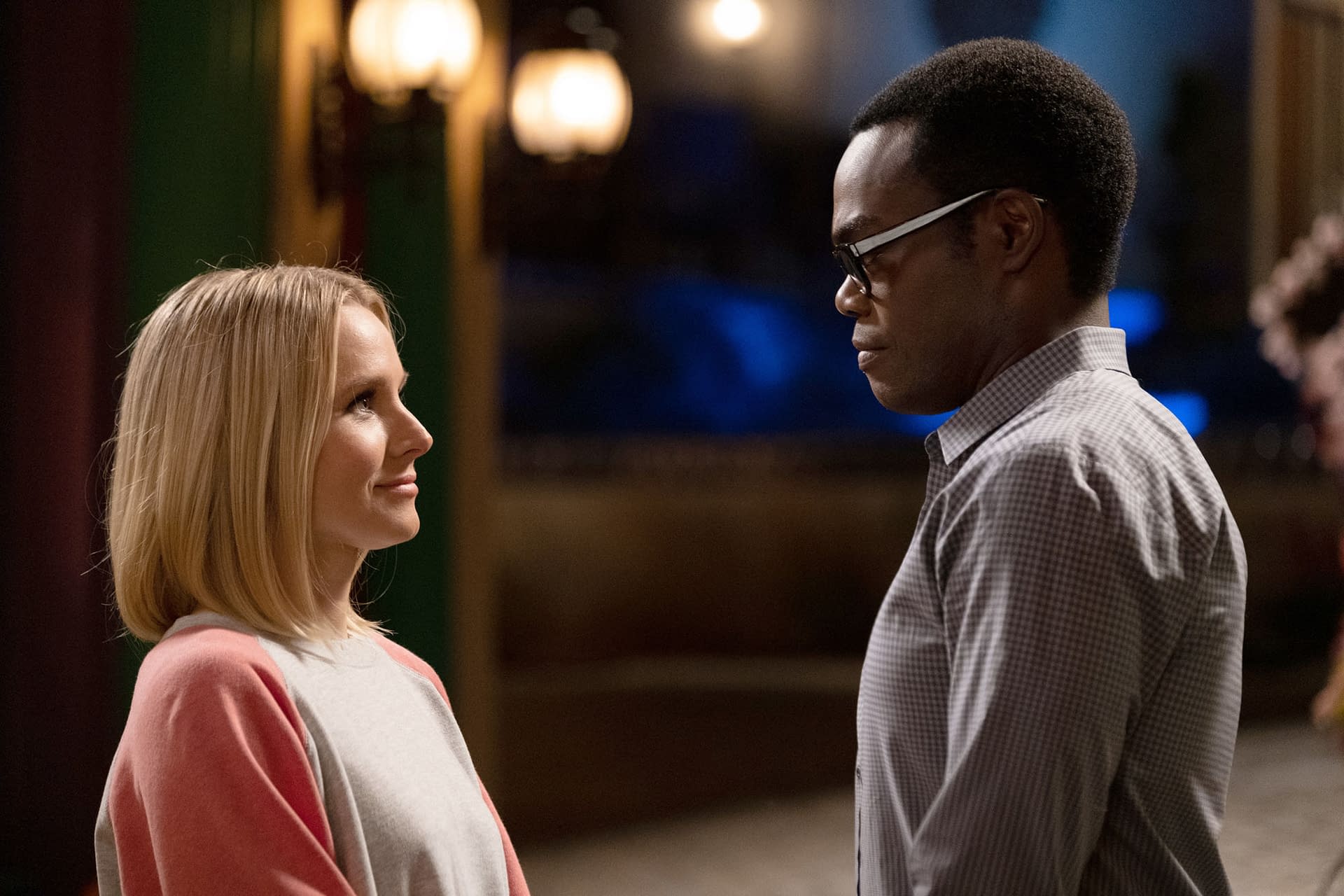 "The Good Place broke the top 5 of the year's best wrapup! Let us pause for a moment of celebration. Okay! Now let's pop that champagne and get crunk!

Why did a show in it's fourth season still make the list? I mean, maybe only a little because it's the final season, but mostly because of creator Mike Schur's commitment to the story and ending it at an appropriate and natural point. Which is now. Ending aside, it's always been a quirky show full of surprises and just the right amount of humor with a dark twist. So, go celebrate, benches!"

– Adriel