The Gambler: Shout! Factory Bets on Kenny Rogers TV Film Series Reboot
Shout! Factory continues buying up the rights to decent chunks of our 80's and 90's television childhoods, announcing on Tuesday that the multimedia company has secured a multiyear, worldwide distribution deal for the late Grammy Award-winning Country music legend Kenny Rogers' 10 films (including the five films in "The Gambler" television film series). As part of the deal, Shout! Factory's original content unit Shout! Studios will be able to reboot the franchise to tell new tales of Rogers' card-playing Brady Hawkes. In Deadline Hollywood's exclusive report, it was also revealed that the series would be based on the music and miniseries as well as the films (which began with the original 1980 film and ended with 1994's The Gambler V: Playing for Keeps) and shopped outside of Shout!'s streaming platform.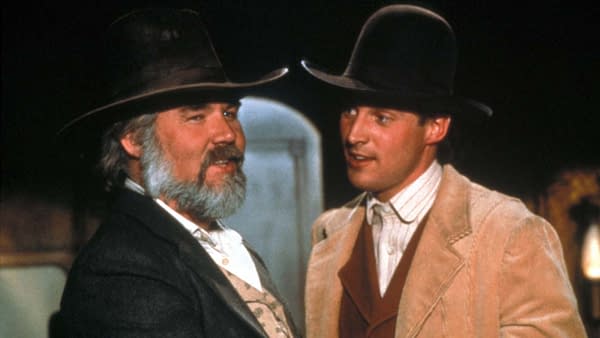 For Shout! Factory founders and CEOs Bob Emmer and Garson Foos, the deal is a perfect fit for the company's goal of being a source for diverse pop culture programming that viewers are looking for: "Kenny Rogers captivated fans worldwide with his distinctive voice, heartfelt performances and storytelling. He was a unique, multi-talented artist. The Gambler movie series and his films have already proven to be highly popular with fans and viewers over the years. We're thrilled and honored to bring these beloved films out through Shout!'s global entertainment distribution channels. We're also honored and excited to develop a new series based on The Gambler intellectual property"
The deal with Vector Management also includes broadcast, streaming, on-demand, digital, home entertainment, and theatrical rights to the films Coward of the County (1981), Wild Horses (1985), MacShayne: Winner Takes All (1994), and MacShayne: The Final Roll of the Dice (1994); as well as international rights to Rio Diablo (1993). Earlier this year, Shout! and Stephen J. Cannell Productions Inc finalized a similar deal, securing the rights to 70's-90's television shows 21 Jump Street, Hunter, Wiseguy, The Commish, The Greatest American Hero, and Riptide.