'The Good Place' Season 4: The Gang's Back to Work, Benches! For Realsies! [VIDEO]
Attention residents of The Good Place, The Bad Place, and The Medium Place (though the latter is only capable of reading this on a G1 Blackberry… on Cricket): your favorite "soul squad" is officially back in the neighborhood and wacky as ever! That's right! NBC's critically-acclaimed "sitcom+1" The Good Place is legit back, benches! For real, for real.
Don't believe us? See for yourself in the following online-exclusive "welcome back" from the gang:
In the video, we see Eleanor (Kristen Bell) open the door and invite you into The Good Place (or I guess the new Medium Place test neighborhood? As Janet would say, "unclear.") Inside this "good place", we are treated to Janet (D'Arcy Carden) dancing in her amazingly spastic way, Michael (Ted Danson) flossing – among other "dance moves" – while Chidi (William Jackson Harper)… well, Chidi is special.
We don't exactly know what Chidi is doing apart from having an compulsive anxious fit of sorts, but what we do know is that Tahani (Jameela Jamil) wanders through the frame looking absolutely, positively, and utterly bored with all of their shenanigans – like she has far better things to do, like going shopping for a tiny charcoal grill with Ariana Grande. The promo rounds out with Jason (Many Jacinto) riding his bike into the curb before the video mercifully ends (for his sake, mostly).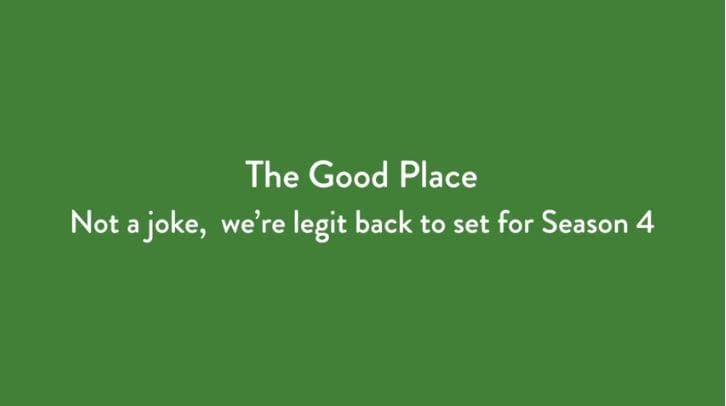 From what we've seen and read so far, it looks like the fourth season is going to be great! Wonder if there's anyhting we an read into that video. For example, Chidi – because from what we can tell, he clearly needs some help… or fortitude… or something.
NBC's The Good Place is expected to return for season 4 some time in fall 2019, beaming directly to screens both on Earth and (we're pretty sure) in the afterlife. While we still don't know when, it's a good sign to see production underway and the cast in a great mood.