"The Good Place" Season 4: Where The Beginning of The End Left Us [SPOILERS]
Welcome back to the neighborhood, friends! Well…almost. NBC's The Good Place will be back in the afterlife in January, which will be here before you know it!
What's that? It's been awhile and you're not sure you're ready to brave all the holiday conversations laden with spoilers?
Oh – and you're all caught up but have the memory capacity of a non-controversial chicken sandwich?
Fear not! I've got everyone covered with a quick recap of what you missed in the first half of season for. Welcome to the afterlife! Let's begin.
So, we open with the new neighborhood and the new humans hand picked by the bad place – John (a gossip blogger sent to get under Tahani's perfectly moisturized skin); Brent (a middle aged white man who oozes privilege and basically has a tattoo on his forehead that says "please sue me for sexual harassment"); Linda (the human equivalent of a saltine cracker); and Simone (scientist and Chidi's ex girlfriend from Earth).
Spoiler? Things do not go well…
Linda turns out to be a bad place demon in disguise (like a transformer!), and then when they send the train to collect him – WHAM! The Bad Janets kidnap our Janet and put an imposter in her place to sabotage the experiment.
So, Chidi (without any of his memories from any of the afterlives) is the fourth human in the experiment. He tries to teach them ethics…to results nowhere nearly as stellar they were hoping.
So then some things happen and I guess Brent gets a little less terrible and John bonds with Tahani and Simone finally relents and stops acting like everything is a construct of her dying brain and it's all great…until the end of the experiment.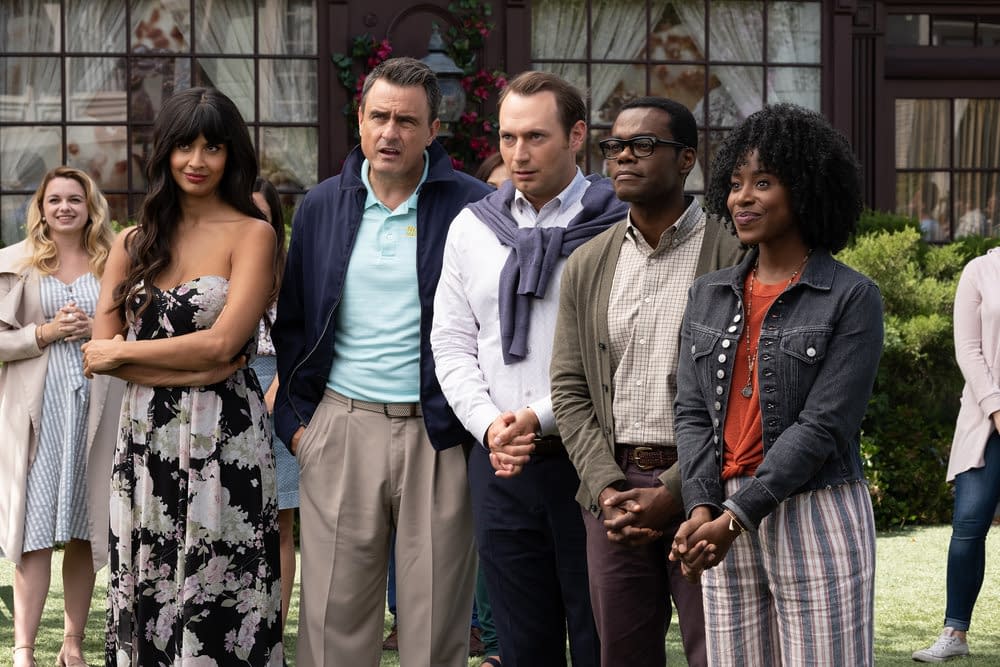 The year ends and everyone has kind of improved – Brent only realized he was deeply problematic when they told him at the last second that they're in the bad place and he is a bag person.
So, The Judge rules in favor of humanity – success! Time to reboot Earth, wipeout all human life, and start again with amoebas or something.
…Wait. Hold up. What?
That's right – if humanity is complicated, then let's start again so the points mean more and life is more simple.
Not so simple for our "soul squad". They need to come up with a revised points system before the Judge finds her earth reboot button and wipes out all of humanity.
Cue Chidi: he was made for this! Time to bring back all his memories so he can come up with a solution and save humanity! No pressure or anything.
Also, in case you were worried, yes – he is still very much into Eleanor. That's a relief! #RelationshipGoals
Seriously, the cutest couple in the afterlife is back together, they're going to save Earth, and we got to see Disco Janet! Pretty brilliant first half of the season, right?
How could things possibly go wrong? Looks like we have to tune in when The Good Place returns in January.