"The Side Effects" opens with a neat over the head long shot that perfectly sets up the rest of the episode – it's disorienting, and from a point of view that we're not used to seeing on The Magicians.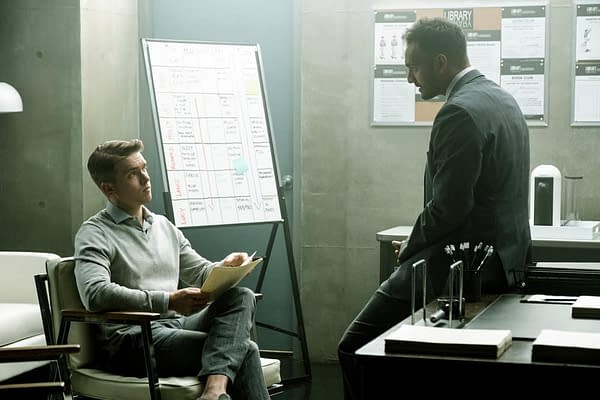 Penny 40 (Arjun Gupta) is talking with a subordinate about the importance of the "side" characters in the running narrative of The Magicians. The "new guy", Derek (Chris Brochu) states that the story is about Quintin (Jason Ralph), and that the majority of the other characters are there to support that story.
Penny disagrees, and we're treated to three interwoven stories that illuminate the main narrative from a different point of view. It's a fun diversion from the main story-line, and we get to see what's been happening "off camera" with some of the "side" characters.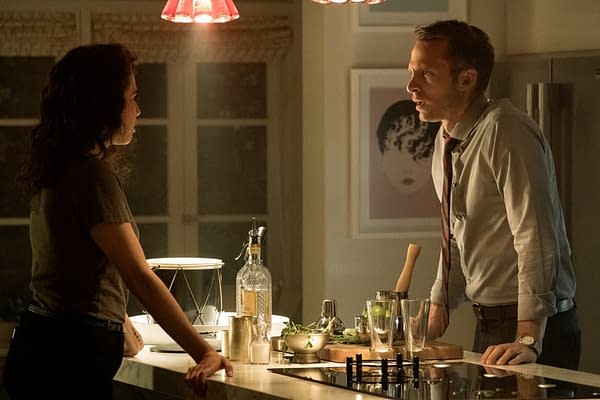 Kady (Jade Tailor) has been restless of late, and can't shake the persona she was given when the library re-wrote her life. She's still working "Sam's" cases, and seems to have retained a lot of the training she had as a police detective. Kady needs to get to the bottom of mystery that is killing hedge witches, and sets off on a investigative spree… with magic.
Zelda the Librarian (Mageina Tovah) is having vivid hallucinations about her daughter, Harriet (Marlee Matlin), who is believed to be dead after getting trapped in the mirror dimension. Zelda is also trying to protect Alice (Olivia Taylor Dudley) from discovery after she escaped the Library.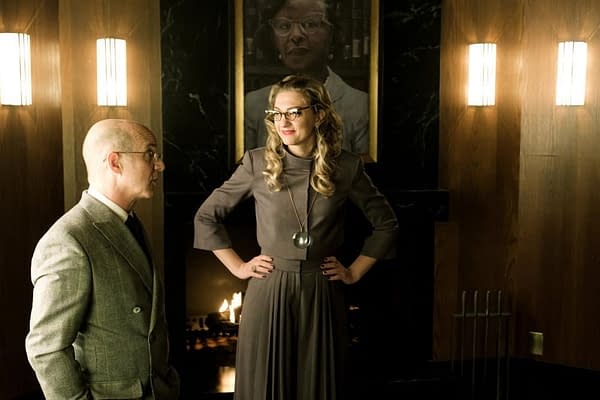 Zelda figures out a way to find Alice by implanting "trackers" in the magical tokens (dewies) that the library uses for magical currency. The trackers end up causing some unintended consequences, though
And then there's Fen (Brittany Curran), who is having precognitive dreams, and needs Josh's (Trevor Einhorn) help in deciphering them.
"The Side Effect" does a fantastic job of pulling back the veil from the main story. We see what Penny 40's real fate has been since he died, how the Library works to protect information, the organizational structure of hedge witches, and how fiercely protective Fen is of Fillory.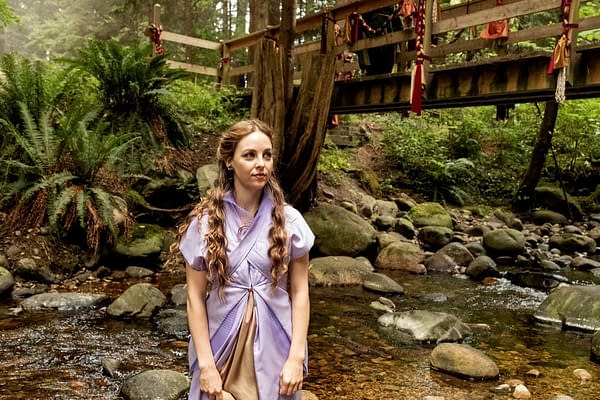 It's also an excellent opportunity for some of the "background" characters in The Magicians to shine, and I'm really hoping to see more of Kady in detective mode.
Let's glamour up some spoilers! There were some great lines from Penny about representation and assumption. Penny tells the "new guy" that he assumes Quintin is the main character, because he "looks like him" (he's young and white). He also points out that he suffers from sis/het/frat-bro bias, which is a great narrative on some of the arguments surrounding popular media today.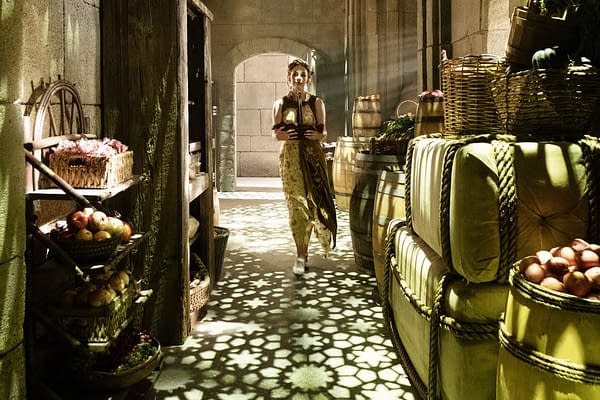 The whole Baba Yaga bit was priceless. Having the Baba Yaga barter for rent through her host body was hysterically funny, and a great way to set of Kady's quest to find the Baba Yaga's "rent". That, of course, leads Kady to discover the weird rashy ailment that is killing hedge witches.
That ailment, of course, is the un-intended side effect of the trackers Zelda had placed in the deweys clashing against hedge witch charms, causing a lethal resonance feedback.
There's also a great Doctor Who/Dungeons & Dragons joke involving a magic item!
Kady has a fantastic Tom Joad moment, calling for unification between all of the magical movements against the Library. It's a stirring speech, and I really hope Kady can pull everyone together against their antagonists.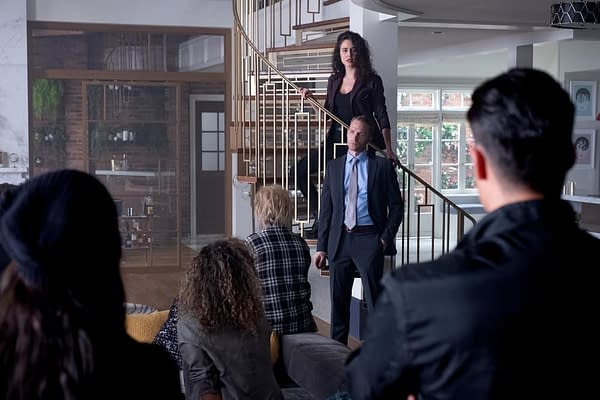 That's the big reveal of this episode, too: The Monster living in Eliot's (Hale Appleman) body isn't the Big Bad of season 4. It's the Library, and they figured out a way to track hedge witches. And the hedge witches are attacking library branches, so it looks like we're about to dive head-first into a magical war on earth.
Penny 40 got a promotion to the "Secrets Taken to the Grave" department of the Underworld. It's been really interesting to see how Gupta plays the 2 Penny's, since I was pretty sure Penny 40 was out of the picture!
Oh, don't even get me started on the mirror dimension. The horror-fragments of Harriet are not something I want to think about right now!
SYFY's bringing us "Home Improvement" on Wednesday, March 13th, and I've managed to conjure up this preview of what's to come!
https://youtu.be/sIW4Qc-gbtQ

SYFY's The Magicians stars Jason Ralph, Stella Maeve, Olivia Taylor Dudley, Hale Appleman, Arjun Gupta, Summer Bishil, Rick Worthy, Jade Tailor, Brittany Curran, and Trevor Einhorn. The series' fourth season is executive produced by John McNamara, Sera Gamble, Chris Fisher, Henry Alonso Myers; and Groundswell Productions' Michael London and Janice Williams.
Enjoyed this article? Share it!