The Mandalorian: Giancarlo Esposito Compares Moff Gideo to Gus Fring
Fans of AMC's Better Call Saul and Disney+'s The Mandalorian know something that Breaking Bad fans have known for some time now: Giancarlo Esposito is a bad, bad man. When he's not playing respected local businessman by day/crystal meth kingpin by night Gus Fring on Vince Gilligan and Peter Gould's award-winning series, he's kicking butt and taking names as Darksaber-wielding bad guy Moff Gideon on Jon Favreau's series. With the Breaking Bad spinoff having just wrapped its fifth season and the second season of the live-action Star Wars spinoff set to premiere this fall, Esposito took some time to speak with Variety After-Show about what attracts him to Gus, and how he compares to his Star Wars bad guy.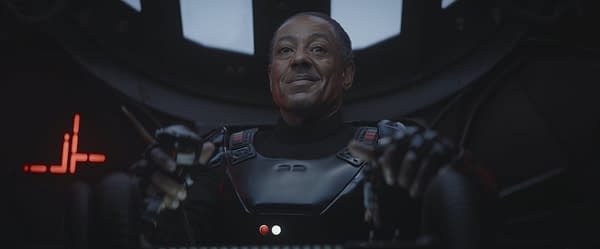 While others would break from having to live such contrasting lives, it's the strength of that duality that impresses Esposito the most about Gus: "[He's] hiding in plain sight, which is something that I absolutely love, that he gives to the 'fun run,' he takes care of kids in the hospital, really is not just the cover. It's that he does care. It's as if he could be selling toothpaste, and he makes the best brand of toothpaste that will ensure you'll never ever get cavity. He's got gold here, and he wants to share it with you." For the actor, Gus represents an aspect of his personality he doesn't always have the opportunity to embrace: "Oftentimes, I'm a little more gregarious, a little more nervous. I'm Italian. I gesticulate, and I'm excitable, and I have a temper. [With Gus] I'm a little cooler. I'm a little more on a vibratory level, and I like that."
One thing that Gus and Moff Gideon have in common is that they both understand the importance of power and how to utilize it. That said, their approaches to accomplishing their goals differ in their respective executions. As Esposito sees it, Moff's a more "hands-on" type: "Moff is very different from Gus Fring. He wields his own darksaber. He does his own dirty work and is certainly willing to. He's much more volatile, he's much more of the warrior and that could tell us some things about him next season."