Fans of The Witcher are liking what they're seeing of Netflix's adaptation, with the first season doing its part to set up the backstories for our main players – but now one question remains unanswered. When will Henry Cavill's (Justice League) next turn as Geralt be happening? Because us "geek folk" can be a bit impatient sometimes – even when a series was released less than a month ago.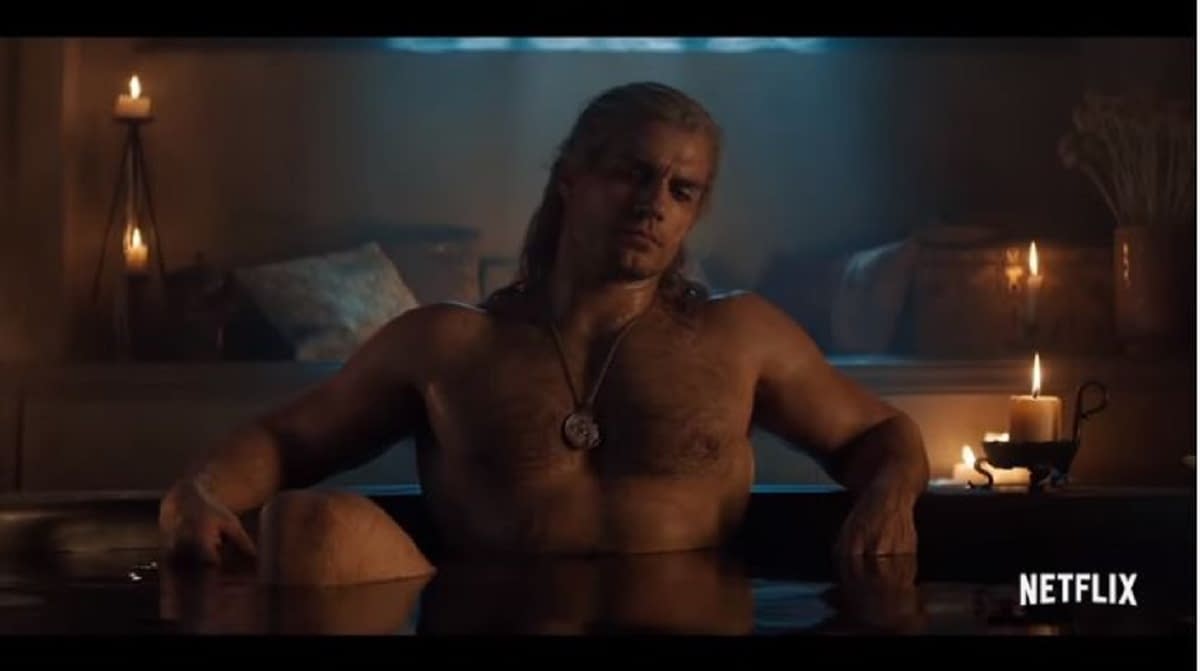 Thankfully, Cavill shares the love and appreciation you have for Andrzej Sapkowski's novels and the work they've done with bringing them to life. Taking to Instagram on Friday, the actor wished everbody a happy new year and thanked viewers for making The Witcher a success – promising updates on the series via social media in the future.
His first update? Pre-production on the highly-anticipated second season is expected to begin "very shortly" – and you can check out the rest of Cavill's video post below:
Now that Cavill's set the mood, here a look back at the main and final official trailer for Netflix's The Witcher:
Based on the best-selling series of fantasy novels, The Witcher tells an epic tale of fate and family. Geralt of Rivia (Henry Cavill), a solitary monster hunter, struggles to find his place in a world where people often prove more wicked than beasts. But when destiny hurtles him toward Yennefer (Anya Cholatra), a powerful sorceress, and Ciri (Freya Allan), a young princess with a dangerous secret, the three must learn to navigate the increasingly volatile Continent together.

A look at our main players: Geralt, Yennefer (Anya Chalotra), and Ciri aka Princess Cirilla (Freya Allan):
The folks at The Witcher were kind enough to reveal the titles of all eight chapters in November 2019 via the following video (followed by a list of the chapter titles and the Twitter teases that were included):
"The End's Beginning" ("A monster slain, a butcher named")

"Four Marks" ("We look at a sorceress's earlier days")

"Betrayer Moon" ("A picky eater, a family shamed")

"Of Banquets, Bastards and Burials" ("The Law of Surprise is how one repays")

"Bottled Appetites" ("A fateful meeting, a bard is maimed")

"Rare Species" ("The hunt for a dragon is underway")

"Before A Fall" ("A return to before a kingdom is flamed")

"Much More" ("The Witcher Family, as you all like to say")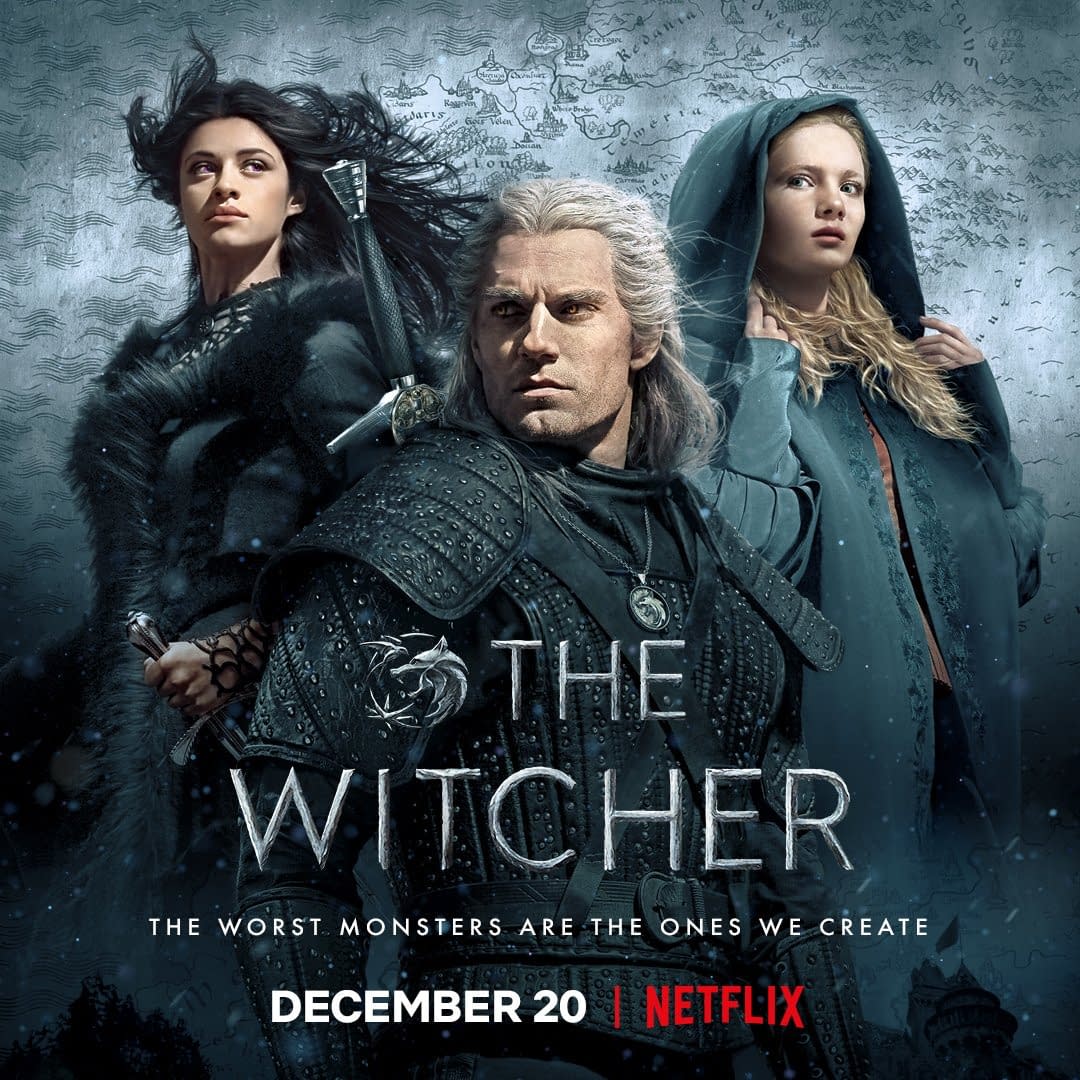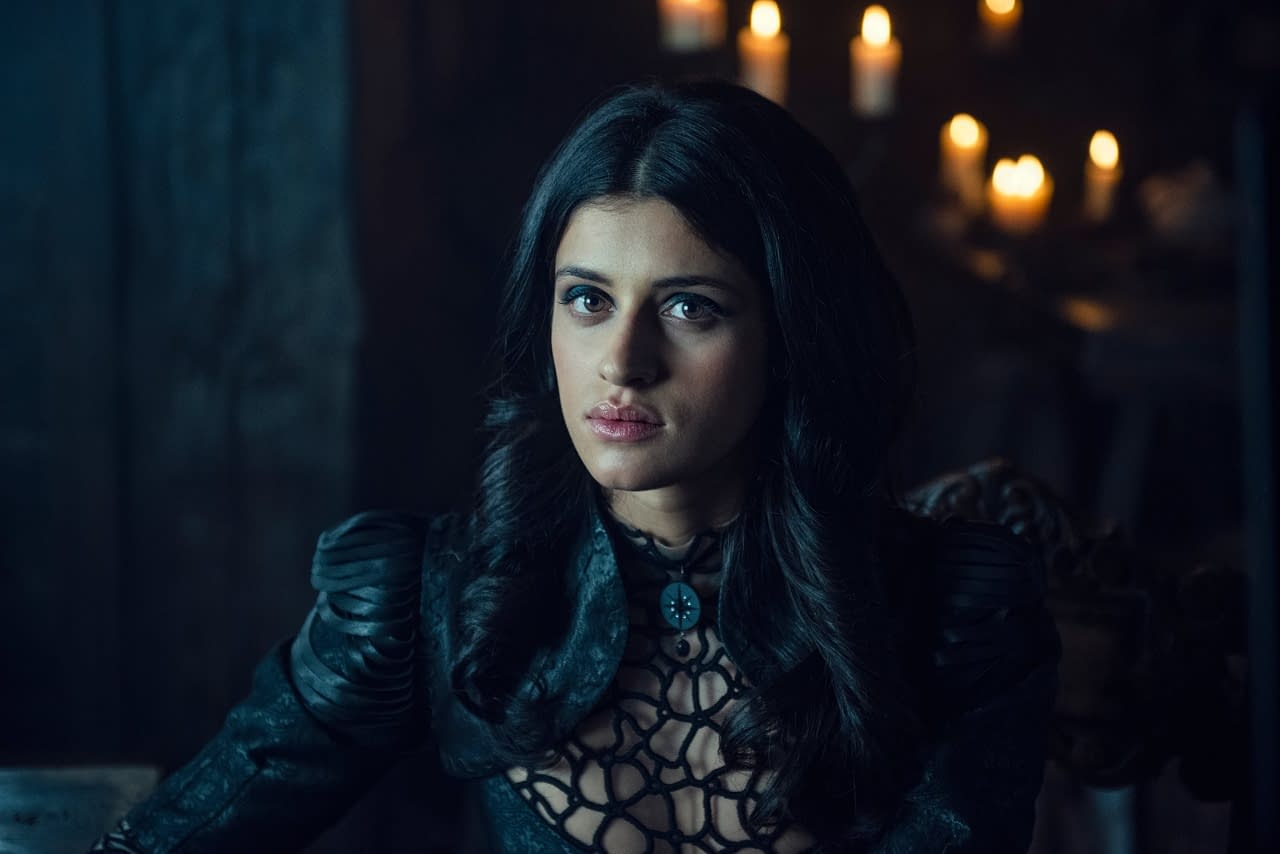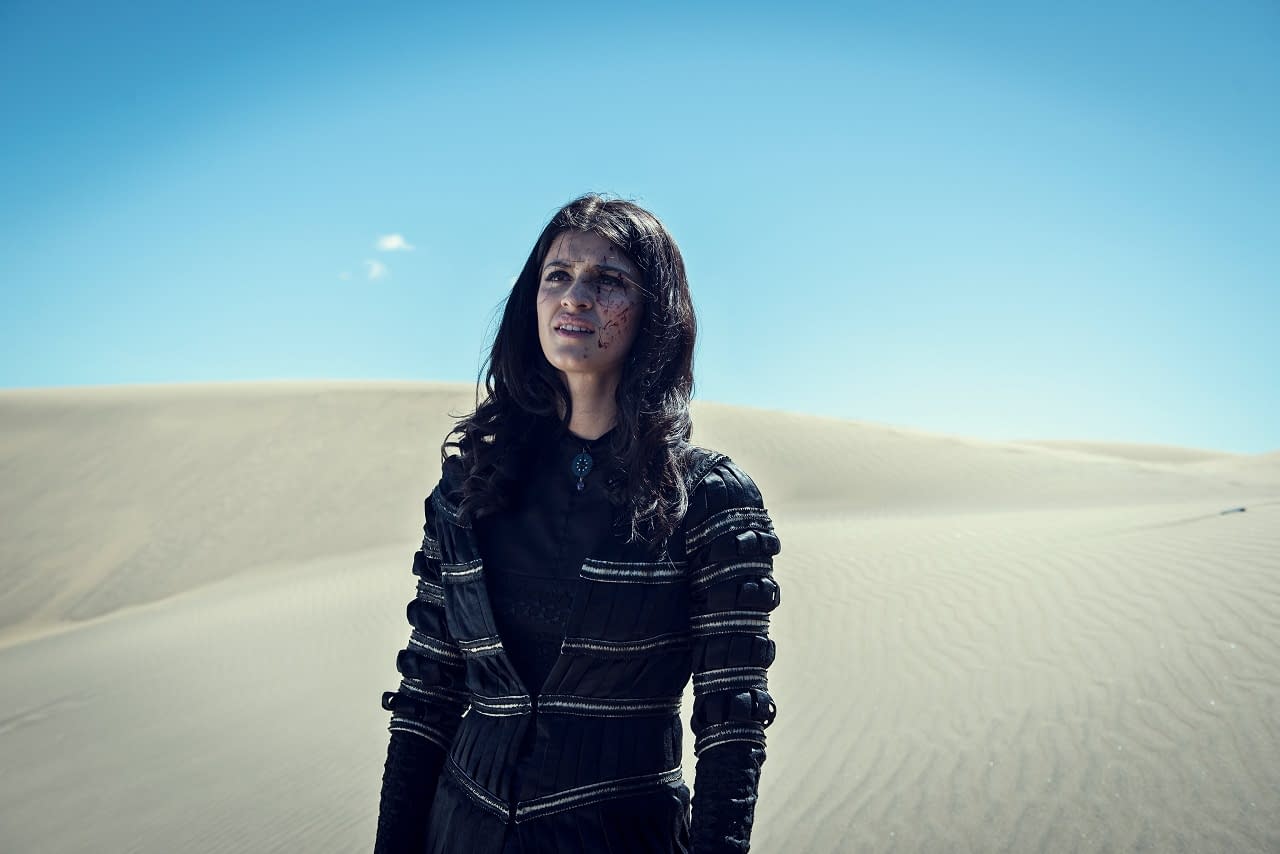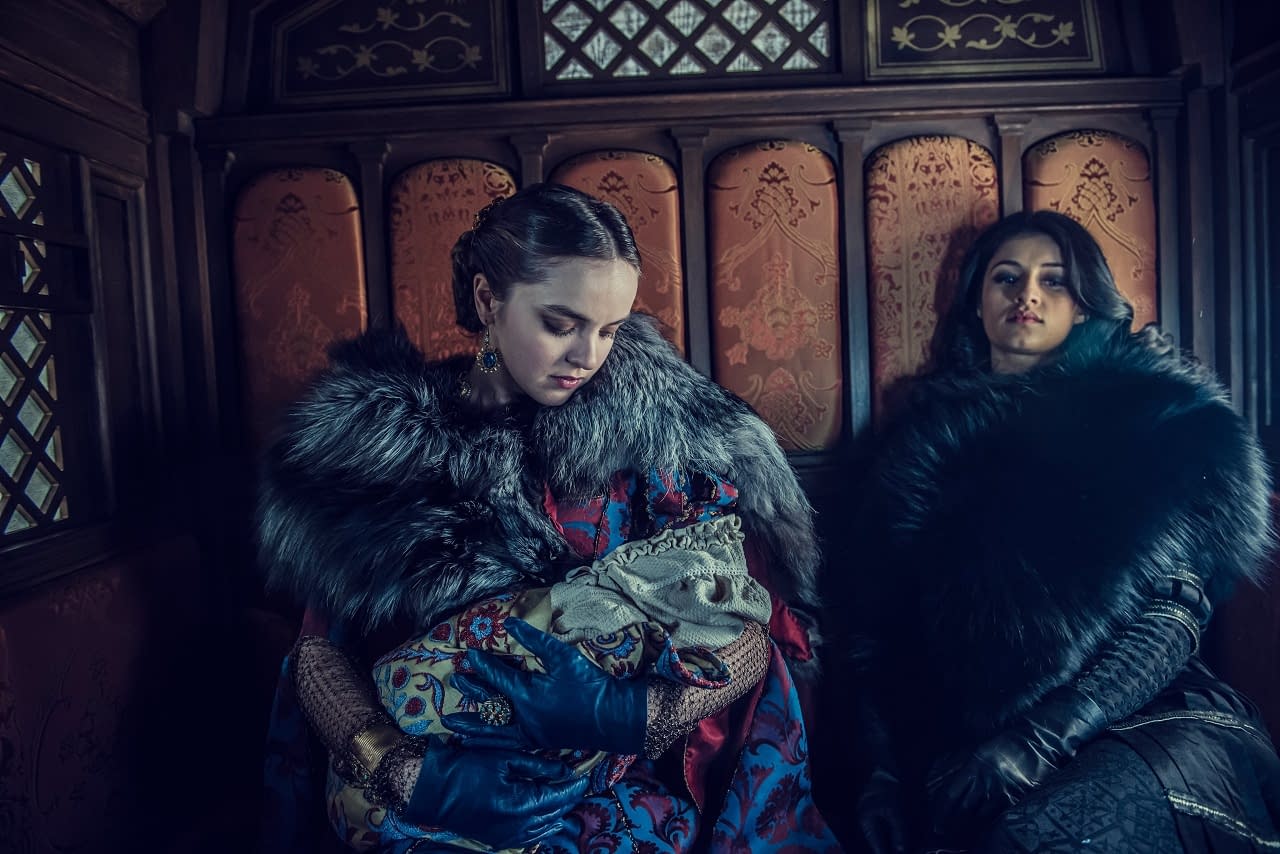 The Witcher stars Henry Cavill (Justice League) as Geralt, Anya Cholatra (The ABC Murders) as Yennefer, Freya Allan (Into the Badlands) as Ciri, Jodhi May (Game of Thrones) as Calanthe, Björn Hlynur Haraldsson (Fortitude) as Eist, Adam Levy (Knightfall) as Mousesack, MyAnna Buring (Ripper Street) as Tissaia, Mimi Ndiweni (Black Earth Rising) as Fringilla, Therica Wilson-Read (Profile) as Sabrina, and Emma Appleton (The End of the F**king World) as Renfri.
In addition, The Witcher cast includes Eamon Farren (The ABC Murders) as Cahir, Joey Batey (Knightfall) as Jaskier, Lars Mikkelsen (House of Cards) as Stregobor, Royce Pierreson (Wanderlust) as Istredd, Maciej Musiał (1983) as Sir Lazlo, Wilson Radjou-Pujalte as Dara, Anna Shaffer as Triss, and Anna-Louise Plowman as Zola.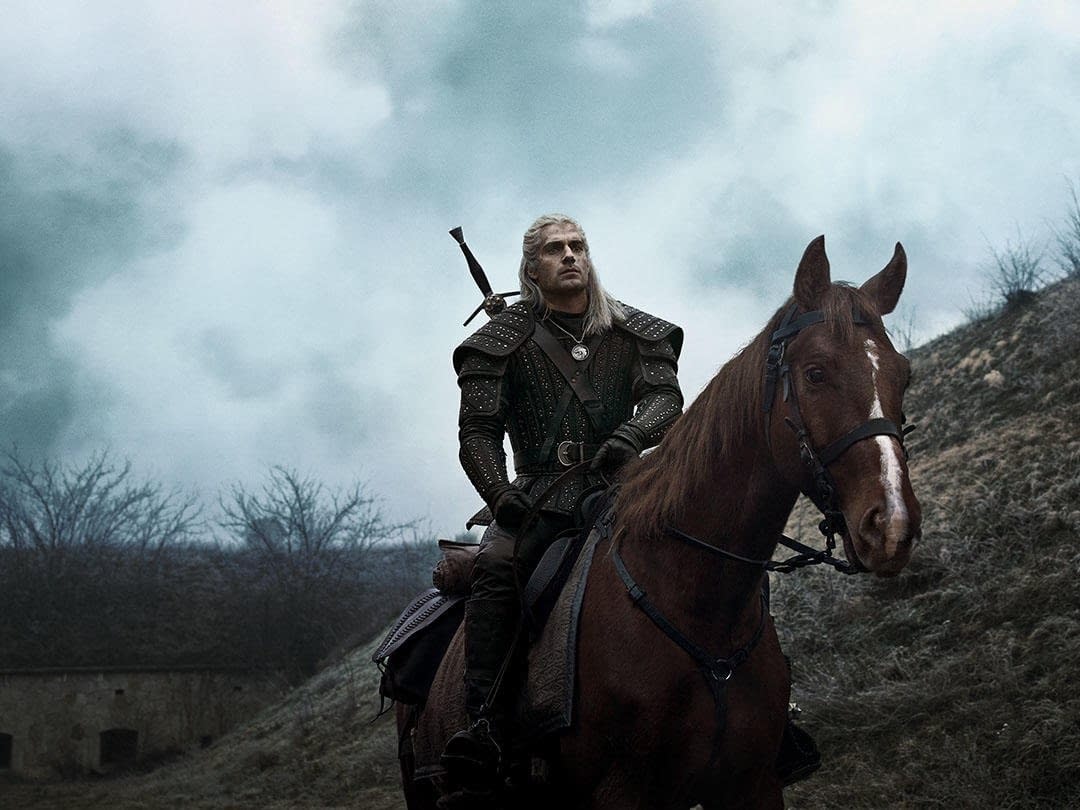 Created by Lauren S. Hissrich and based on the book series of the same name by Sapkowski, the fantasy series features Cavill's Geralt wielding some serious steel of his own as he struggles to survive and find his place in a world where the monsters he hunts can be far less dangerous than the people around him.