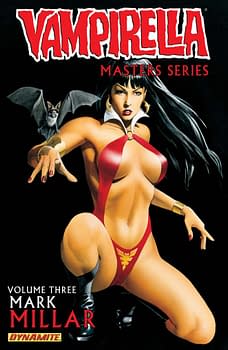 In a discussion with a friend last night, it was pointed out to me that next year is the 50th anniversary of Vampirella. She first appeared in Vampirella #1, a magazine published by Warren Publishing in September of 1969. And where she is often credited as the creation of Forest J. Ackerman, her costume and hair were designed by Trina Robbins, her first story drawn by Tom Sutton and the issue had a cover by Frank Frazetta. From that first issue, the character has become an iconic horror and comic figure. She was the costume of choice for a lot of early cosplayers, and even people who have never read her comics recognize her.
Which makes me wonder why she hasn't translated to other mediums as much as other characters of her fame have. There's a live-action version of Adam Strange in the upcoming Syfy series Krypton — as much as I like the character, I think more people recognize Vampirella than Adam Strange. They did try a low-budget Vampirella film in 1996 with Talia Soto and Roger Daltry (of the Who)… it didn't go well. That was 22 years ago, and I think that there are some pretty cool storylines they could do with the character.
Vampires on TV are nothing new. The Originals, The Vampire Diaries, Forever Knight, Angel, True Blood, Kindred: The Embrace, Moonlight, the Strain, the Gates, Being Human and Dracula have all been tried, and that's just from the vampire's point of view. Shows like Buffy the Vampire Slayer, Van Helsing and more show that television audiences seem to like vampires. Yet, not one of those had a female vampire in the lead of the series. Vampire clans, vampire detectives, dating a vampire, living with a vampire… but a series starring a female vampire has not happened.
I think it's more than time for Vampirella to get her own TV series. But it needs to be dark and intense with nothing held back. The kind of thing you're more likely to see on Netflix than a regular network. And I think they could pick up the Vampirella Master Series collection from Dynamite and use that is the guide. The series starts with stories by Grant Morrison and Mark Millar writing together, then goes to Warren Ellis and back to Millar on his own. It also includes the work of Alan Moore, Jeph Loeb, Kurt Busiek, and James Robinson in the first six volumes. If you can't build a multi-season series off of that work, then you shouldn't be making television. Plus, Millar has signed a development deal with Netflix, get him to executive produce.
Vampirella has been a strong, independent female lead for almost five decades, and I think it's time for someone to translate her adventures to television.
Enjoyed this article? Share it!