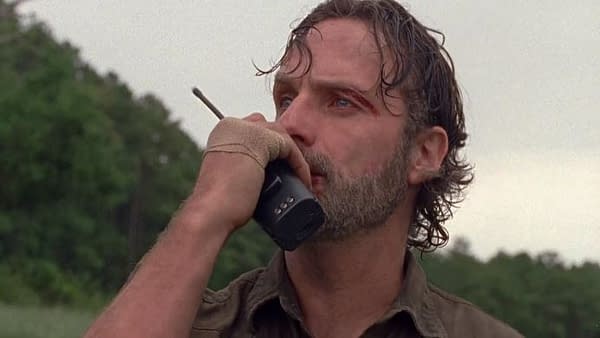 As production continues on the ninth season of The Walking Dead comes word that Andrew Lincoln (Rick Grimes) will have a "half-a-dozen episodes" limited presence; and will be exiting the series at the end of the season. Reports also have Norman Reedus' Daryl Dixon being looked at to take over as lead on the AMC series when Lincoln exits.
Popular culture website Collider initally posted the report, while Brandon Davis tweet-confirmed the story through website ComicBook and through his Twitter account: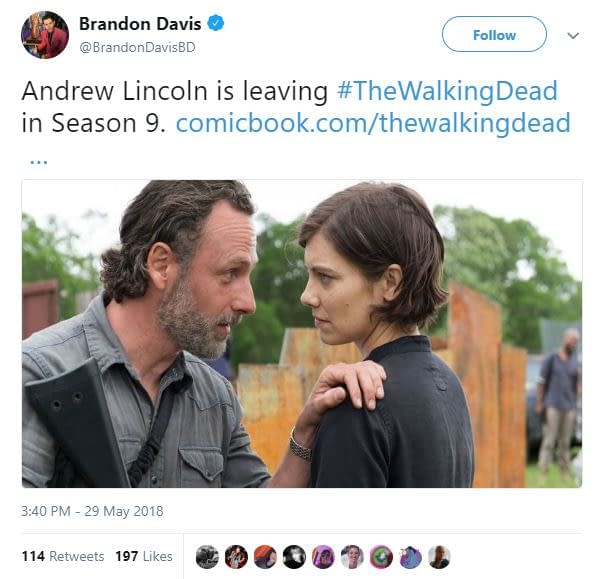 After some responded in disbelief, Davis further confirmed the news; and that he had been holding off on it "out of respect":
Yes, this is true. Sat on the news out of respect but it's out there now… #TheWalkingDead #RicksFinalSeason https://t.co/aJJFkipRWh

— BD (@BrandonDavisBD) May 29, 2018
There will be some big exits this year. Other characters are going to see beefed up roles to carry the torch. I don't think there are plans of this being the final season. https://t.co/wwNEoS5vjU

— BD (@BrandonDavisBD) May 29, 2018
Representing the mindset of a lot of The Walking Dead fans, Davis posted this:
— BD (@BrandonDavisBD) May 29, 2018
As the series futures of several cast members were referenced in the article, Davis reponded to a specific question about Danai Gurira's (Michonne) future on the show:
Detailed that in the story. Her future is uncertain. https://t.co/baLUWYkGVf

— BD (@BrandonDavisBD) May 29, 2018
News of Lincoln's possible departure comes on the heels of news that Lauren Cohan (Maggie) would be returning to the Robert Kirkman-created series in a limited capacity. Though her contract was renewed by AMC in April 2018, there was heated speculation over how involved she would be with the series moving forward after ABC picked up her comedy-drama pilot Whiskey Cavalier to series. AMC would confirm that Cohan will be returning to the Hilltop for six of the show's eight fall half-season episodes; but no word yet on her involvement in the second half of the season.
Cohan herself revealed the news of her return when speaking to Entertainment Weekly at CinemaCon in Las Vegas last month, where she was promoting her upcoming movie Mile 22 with Mark Wahlberg. When asked about her status with the series, Cohan responded: "I'm going back. There's a lot more Maggie story to tell." Asked what fans can expect moving into the ninth season, the actress teased, "You know we're not allowed to tell you anything, but it's good."
Enjoyed this article? Share it!