Will 'Deadly Class' "Sink With California" After Episode 10? [PREVIEW]
SYFY's Deadly Class is one of those shows that people either love with every fiber of their being, or they've never heard about it. I know there's a select few that the show doesn't work for- sure, it's vulgar, violent as hell, and marches to its own drum, but for those of us it works for, it works very well.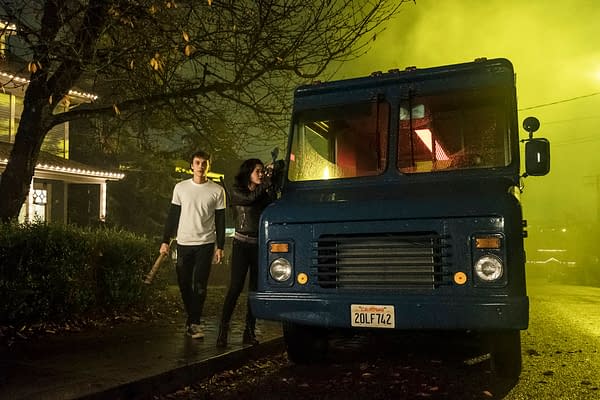 It's hard to believe we're already at the end of the first season of Deadly Class, but 10 episodes really can fly by when you're having fun!
"Sink With California" is the last episode of the season, and potentially the last episode ever; SYFY has yet to green-light a second season of Deadly Class, and that just makes me sad.
(but not as sad as this guy…)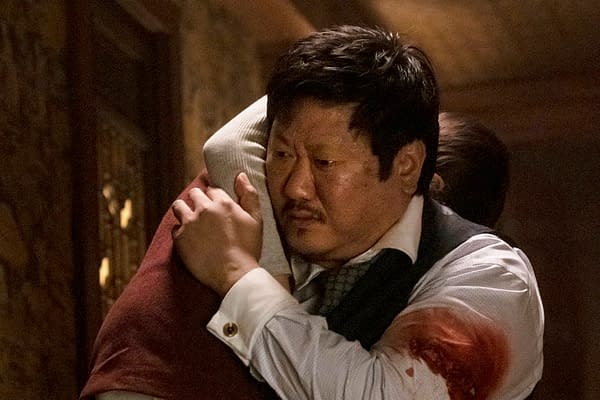 Here's the semi-spoilery catch-up with all the happenings of season one!
Marcus (Benjamin Wadsworth) has talked most of his friends from Kings Dominion into helping him bring the fight to F***face (Tom Stevens), who is holed up in a house filled with hillbilly murder psychos. That house also has a certain severed head stashed inside it… a severed head which could lead to certain death for Marcus and his friends.
Maria (María Gabriela de Faría) has come clean with her friends about killing Chico (Michel Duval) and Yukio, but really needs a few moments of comfort and companionship, which Marcus isn't doing a very good job of providing.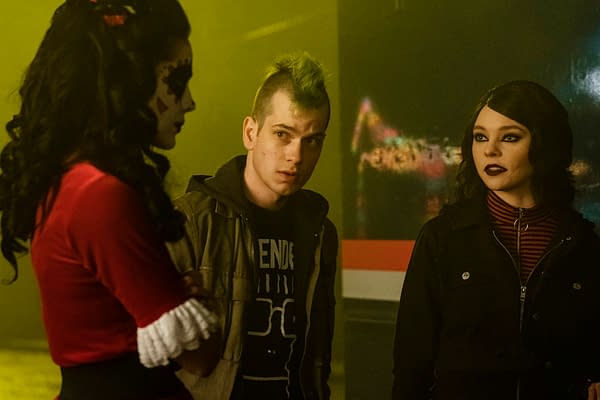 Billy (Liam James) really, really wants Petra (Taylor Hickson) to adore him… and then their's Lex (Jack Gillette), who just complicates the, uhm, threesome?
Saya (Lana Condor) decided that she was going to shirk her duty to Master Lin (Benedict Wong) and opted to help her friends, which led to Lin's house of cards tumbling down.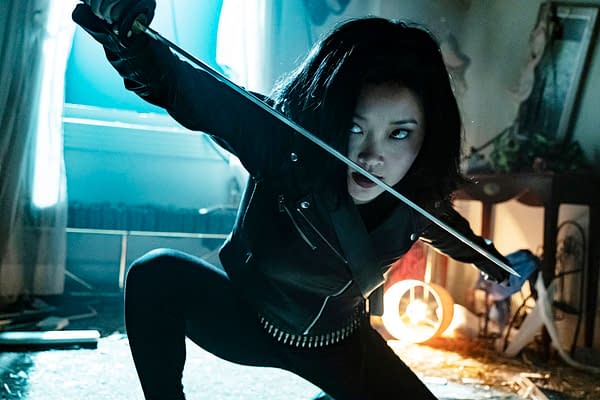 Master Lin, meanwhile, was last seen running for his life, hunted by cartel assassins.
There's a lot to wrap up, and only one episode left to do it. Will "Sink With California" deliver the goods? Here's a peak at what's coming to seer our eyeballs:
And now, for a behind the scenes look at "Kids of the Black Hole", here's the most charming cast on television (SPOILERS):
If you didn't stay for Shabnam's (Isaiah Lehtinen) fancy footwork at the end, you're missing out!

From Sony Pictures Television and Universal Cable Productions, Deadly Class was adapted for television by original comic book series writer Rick Remender and Miles Orion Feldsott, who will serve as executive producers alongside Joe Russo and Anthony Russo (Avengers: Infinity War, Captain America: Civil War), Mike Larocca (Spy) and Mick Betancourt (USA's The Purge, Shots Fired). Remender, Feldsott, and Betancourt will also share showrunner duties on the series.
"Sink With California" airs on Wednesday, March 20th, check your local listings for times. If you want to catch up on Deadly Class, you can watch every episode on SYFY for free!