Another Monday night, another habitual watch of a show most of us haven't truly enjoyed in two decades and yet just can't stop watching. Is it any wonder I was able to transition so easily from writing about comic books to writing about wrestling? Welcome to Monday Night Raw! It's a night of grudge matches. It's the Extreme Rules go-home show. It's… an opening segment starring Dolph Ziggler. Ugh.
After Tom Phillips, Byron Saxton, and Samoa Joe run down the grudge matches we'll be seeing tonight, MVP welcomes us to the VIP Lounge. MVP talks up his guest, Dolph Ziggler, and runs down Ziggler's opponent at Extreme Rules this weekend, Drew McIntyre. Dolph Ziggler, "the nicest guy MVP knows," comes to the ring.
Ziggler is the human embodiment of WWE itself. Full of talent and potential, but terminally boring. And if you look close enough, a Republican. We see a clip of last week's segment involving Dolph, Drew, and Heath Slater. Afterward, Ziggler compliments MVP's new United States Championship belt. He says when he wins at Extreme Rules, he may get his own custom belt made. There is no way he's winning.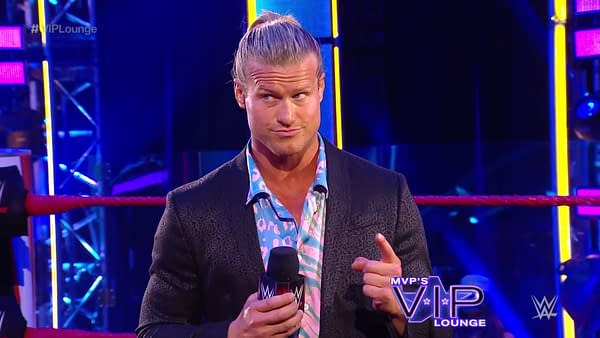 MVP kisses Ziggler's ass some more. Ziggler says he knows how to push Drew's buttons and he's going to turn him into the same Drew McIntyre that got fired a few years back. Dolph says he made Drew who he is today, but McIntyre has never thanked him. But without Dolph, Drew is just a loser. MVP agrees. He even thanks Dolph on behalf of Drew. I fight the urge to fall asleep. Drew's music plays and he comes out to get in on all this excitement.
Drew says he's been doing a lot of thinking about his career and Dolph's career, and he came to the conclusion that Dolph uses people. He and Dolph were never friends. He just did Dolph's dirty work for him. Drew says he's gonna hurt and maim Dolph at Extreme Rules. Dolph will beg him to stop but Drew will torture him. Drew is gonna pinch his nipples and drop hot candle wax on his naked body. The thought of it has got Drew all worked up and he wants some action right now. McIntyre punches Ziggler out and leaves.
Charly Caruso talks to Angel Garza, Andrade, and Zelina Vega backstage. She wants to know how they'll get on the same page for their match with the Viking Raiders tonight after all the dissension in the group. Zelina accuses Charly of fake news. Her team has beat the Viking Raiders and teamed with Randy Orton to beat The Big Show. Vega rips on Charly's weave and her shoes.
Angel interrupts. He says the beauty of an elimination match is better than being torn between two beautiful women like Zelina and Charly because he doesn't have to choose. He can beat both of his opponents. Andrade says if Angel has his back, they will win the tag team championships.
The Viking Raiders walk up and accuse Garza and Andrade of disgracing Monday Night Raw. Charly gets hot and bothered standing next to Ivar. He takes a rose Angel is holding and gives it to Charly, who is very flustered. Careful, Charly. You don't want to show too much personality as a WWE backstage interviewer. I'm not gay, but I would definitely have sex with Angel Garza before Ivar, so I don't know what Charly is thinking. And I'll prove it any time Angel wants to. Commercials.
Andrade, Angel Garza, and Zelina Vega come to the ring. We see a clip of Randy Orton winning the six-man tag last week. Oh, look, the match is starting. Wrestling already, and it's only 23 minutes into Raw.
They fight. The Viking Raiders start with the upper hand, but it's WWE so someone needs to get eliminated before the commercial break. That unlucky person is Erik, who gets pinned by Andrade.
After the break, Ivar is taking on both Andrade and Garza and winning. Ivar manages to pin Andrade, and it comes down to Garza vs. Ivar one on one. Well, sort of. Zelina and Andrade are both still at ringside, and Andrade is able to pull Garza's foot onto the ropes when Ivar has him pinned. Garza gets the pin off a powerbomb. Andrade and Garza fist bump after the match. Awww. They're friends again.
Backstage, Sarah Schrieber talks to Ruby Riott. The Iiconics arrive before Ruby can say anything. They mock Ruby for abandoning her only friend, Liv Morgan, and then losing to Billy and Peyton. Ruby threatens to punch them in the face, but Peyton points out that Ruby doesn't have a partner for their match tonight. Ruby disagrees. She brings out Bianca Belair, who runs through her catchphrases. Bianca doesn't like how the Iiconics act so she's gonna help Ruby whip their ass. The Iiconics find this very rude. Raw goes to commercials.
The Iiconics are already in the ring when Raw comes back. Ruby and Bianca get to do their entrances. This is Bianca's second Raw debut, after all. She originally showed up back in April, but then the writers forgot about her so she disappeared for three months. But now she's back, which means this match is all about Ruby Riott playing the face in peril while Bianca waits for the hot tag.
It happens. Bianca kicks Billie Kay's ass and even knocks Peyton Royce to the floor while doing her handspring elbow on Kay. Ruby takes out Peyton, Bianca hits the Kiss of Death on Kay, and Bianca Belair and Ruby Riott get the win in a two-minute match on the week celebrating the beginning of the Women's Evolution (some people say Stephanie McMahon started it).
Backstage, R-Truth runs into Ricochet and Cedric Alexander. Truth congratulates "Richard Shea" on winning MVP of Monday Night Raw. Ricochet corrects him that he's fighting Bobby Lashley with MVP the wrestler at ringside later tonight. Cedric wonders why Truth isn't more concerned about his match with Randy Orton tonight. Truth says it's Ric Flair who challenged him, not Randy Orton. Cedric and Ricochet explain that Flair was challenging him on behalf of Randy Orton. Truth says he has to go.
Walking away, Truth runs into Akira Tozawa. He asks Tozawa to teach him how to become a black belt in the next ten minutes. Tozawa refuses and tries to pin Truth, but in a rare occurrence with this belt, Truth kicks out. Tozawa calls his ninjas, and Cedric and Ricochet run-up to stand with Truth. Truth says they don't need to get everyone involved. He tells Tozawa to meet him in the ring after some commercials.
After the break, Truth comes to the ring alone, but Tozawa brings three ninjas with him. Shayna Baszler's music plays and Baszler comes to the ring. Tozawa sends his ninjas after her, but Shayna makes short work of them. Tozawa peaces out. Truth trash talks Tozawa and gets Baszler's attention. She stares him down and he decides to leave.
Shayna says she's been so patient. She's allowed everyone to have their fun. But she's done with "All these weak-minded women's champions" are deluding themselves that they're in control because Shayna's been away. But now she's back to shatter that illusion with a hard dose of reality. And she's the reality.
We see a recap of the recent happenings between Rey Mysterio and Seth Rollins. Seth Rollins talks to Buddy Murphy. Murphy wants to know if Rollins and Mysterio are really going to try to rip each other's eyes out at Extreme Rules. Rollins says nothing of significance happens without sacrifice and Rey Mysterio asked for this. Rollins tells Murphy to focus on his match with Aleister Black while Rollins heads to the ring to cut a long and boring promo. After commercials, of course. And also after a preview of the new WWE video game, Battlegrounds. And after we cut over to part two of this Monday Night Raw report.
Enjoyed this article? Share it!