Doctor Star and the Kingdom of Lost Tomorrows #1
{{ reviewsOverall }} / 10
Users
(0 votes)
Summary
Writer: Jeff Lemire, Artist: Max Fiamura, Color Artist: Dave Stewart, Letters: Nate Piekos of Blambot, Cover by: Max Fiamura, Variant Covers by: Declan Shalvey and Jordie Bellaire; Jeff Lemire, Black Hammer created by Jeff Lemire and Dean Ormston, Editor: Daniel Chabon, Assistant Editor: Brett Israel, Design: Ethan Kimberling, Digital Art Technician: Christina McKenzie, Publisher: Mike Richardson, Publishing Company: Dark Horse Comics, Release Date: March 7th, 2018, Price: $3.99
Doctor James Robinson returns to his hometown. He visits his observatory while we relive his younger days alongside a letter he sent to his son, Charlie. We learn of his experiments in the theoretical physics of Para-Radiation. He receives a government grant to continue investigating Para-Radiation and, ultimately, create a weapon with the knowledge gained. He hopes the grant will bring his wife, child, and himself out of poverty.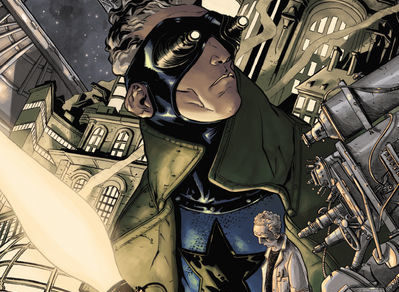 Doctor Star and the Kingdom of Lost Tomorrows takes place in Jeff Lemire's Black Hammer universe, but it reads like a sincere yet tempered send-up to DC's Starman and the Justice Society of America. As to which of DC's Starman—well the aesthetics and personality appear to be Jack Knight primarily, but the retro-era invokes Ted Knight with some of the costume detailing coming from Prince Gavyn.
Beyond that, it aims for Post-Crisis and especially the Geoff Johns era of JSA where the heroes are older and looking back on their career. That's not to say that JSA is the only series to have ever done this, but the lead and some of the other details point towards JSA inspiration.
All of this in mind, it's a great send-off. The origins of Doctor Star achieve that classic heroic origins framework, and the somber tone of the narration adds an air of both reminiscence and regret to the story. It's both thoughtful and wistful. Plus, you don't need to have followed Black Hammer to understand the plot.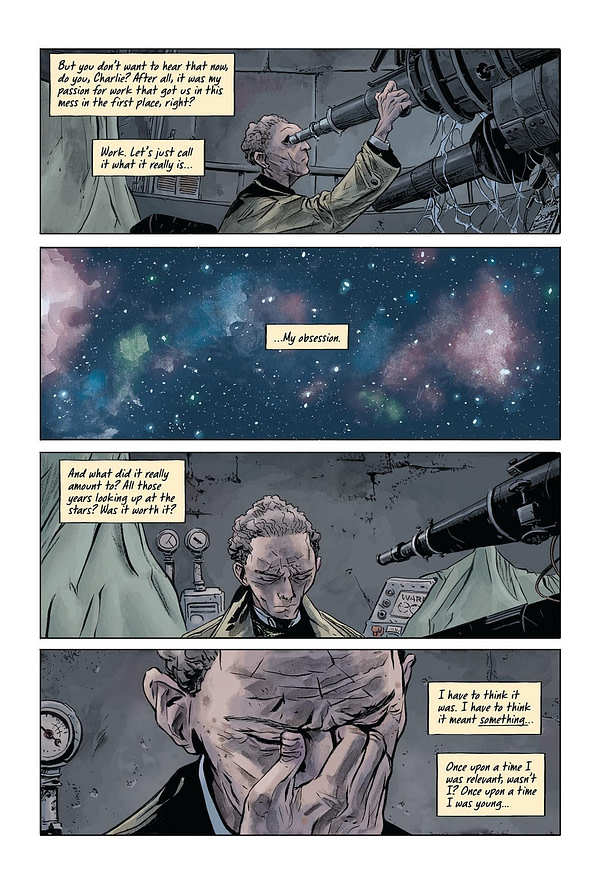 Max Fiamura's artwork is the fight mixture of grainy and classic to make this work. The world is detailed and even a little gritty, but it's also cartoonish enough and evokes the feelings of older comic art when it needs. Dave Stewart's color art bounces between cold grays and sepia brightness to match these conflicting tones well.
Doctor Star and the Kingdom of Lost Tomorrows #1 promises to be an emotional and conflicted tale of classic heroism and how it all looks after hanging up the suit. This is a very strong opener, and Jeff Lemire seems to be only getting started. This one is strongly recommended. Check it out.
What people say... Leave your rating
Order by:
Be the first to leave a review.
Show more