2 Covers for Buffy the Vampire Slayer #1 and #2 by Jen Bartel and Ryan Inzana
Explosive publisher BOOM! Studios has revealed two covers for Buffy the Vampire Slayer #1 and #2, respectively by Jen Bartel and Ryan Inzana. Executive Editor Jeanine Schaefer comments on Bartel's cover for Buffy #1:
This cover is a celebration of the three girls at the core of Buffy, who fight the good fight against not only the monsters that come out in the night, but also against the ones who make their presence felt in our everyday lives. Buffy, Willow and Cordelia each bring something unique to the fight, and to each other, something Jen has channeled perfectly on this stunning cover.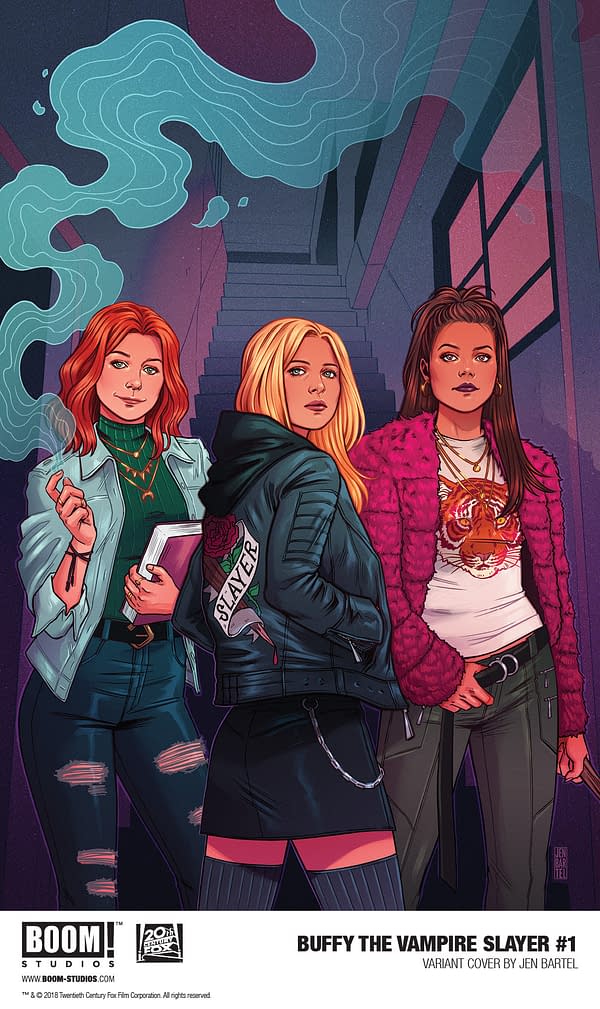 And also on Inzana's cover to Buffy #2:
Every fan of Buffy has their favorite episodes – and 'Graduation Day' is always high on that list for good reason. It's the episode that perfectly crystalizes just what Buffy has to do – and sacrifice – in order to be the hero she wants to be. On this issue's episode homage cover, Ryan shows what every fan knows – that no matter the odds, Buffy never backs down from fighting for what she believes in most: her friends.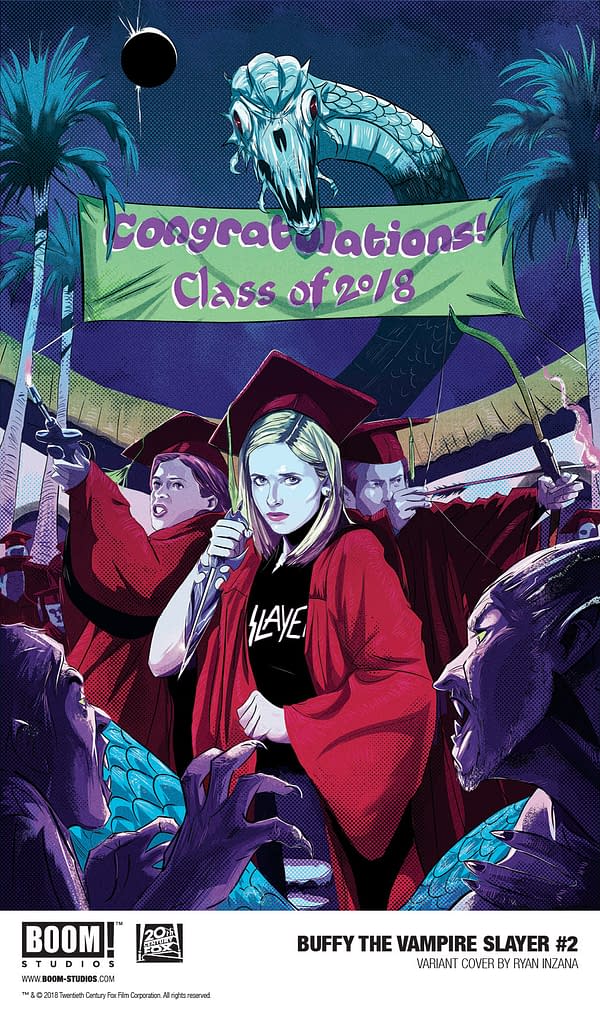 Here's the info on the series, which departs from Dark Horse's continuation of the TV show to reimagine Buffy from the beginning.
As Eisner Award-nominated writer Jordie Bellaire (Redlands), Russ Manning Award-winning artist Dan Mora (Klaus, Saban's Go Go Power Rangers), and series creator/story consultant Joss Whedon (the visionary writer/director behind Firefly, Marvel's The Avengers, and more) reimagine the groundbreaking pop culture phenomenon from the very beginning, readers will meet a Buffy Summers like the one they know – trying to make friends at her new school, get decent grades, and to escape her imposed destiny as the next in a long line of vampire slayers tasked with defeating the forces of evil. But the Slayer's world looks a lot more like the one outside your window, as this new series brings her into a new era with new challenges, new friends…and a few enemies you might already recognize. The more things change, the more they stay the same, as the Gang – Giles, Willow, Xander, Cordelia and more – faces brand new Big Bads, and a threat lurking beneath the perfectly manicured exterior of Sunnydale High, confirming what every teenager has always known: high school truly is hell.
And a little more on February's Buffy #2:
The reimagining of Joss Whedon's groundbreaking series continues as Drusilla, the self-proclaimed Mistress and her pet, Spike, make their debut with their sights set on Buffy! Meanwhile, Giles is determined to teach Buffy about her destiny, responsibility, blah blah…can someone tell him to chill? How bad can it get?
Buffy the Vampire Slayer #1 hits stores on January 9th.