A Look Inside The Art Of Sean Phillips Jai Nitz chats with legendary artist Sean Phillips and Eddie Robson about the new art book from Dynamite Entertainment.
JAI NITZ: For Eddie, what's your favorite memory of Sean's work. For me it's the cover to Shade #62. I remember Vertigo made a mini poster of it. I taped a bunch of them together and made a macro poster out of the images for my college dorm room.
SEAN PHILLIPS: Actually, it was #51!
EDDIE ROBSON: The final page of Criminal: Last Of The Innocent is a stand-out for me. I sort of don't want to say why, because it's a great thing to experience for yourself. Over the course of the last page there's a shift in style that reveals something about the main character, and how he sees himself, and Sean sells it completely. It does what a great last page should do – it makes you linger on it, turning the whole story in your head as it does so. JN: For Sean, why did you have Eddie write your book? Fill in the American audience.
SP: I only had two requests for this book. One, that I get to design it, and two, I get to choose who wrote it. Eddie was my first choice, and luckily he said yes. I wanted someone I knew, who I could talk with face to face, and who had experience of writing non-fiction. Eddie is an accomplished journalist, comic-book writer, comedy writer as well as an author of some non-fiction books. We've known each other for a few years, live near each other and get on well so he was the obvious choice. He's done a great job of taking my rambling and making me sound more intelligent than I am! JN: How much of this book has never been seen?
SP: About 20% has never been published, but there's also a lot of stuff I did for British publishers for the ten years I was working before I broke into US comics. I think the earliest stuff in the book is from when I was about eleven.
ER: More than 70 pieces out of about 350, so 20% – ranging from Sean's early work, through portfolio pieces that were never published, versions of published pages that had to be redrawn due to editorial concerns, and curios like a sample page of a Millennium tie-in comic Sean inked for Duncan Fegredo.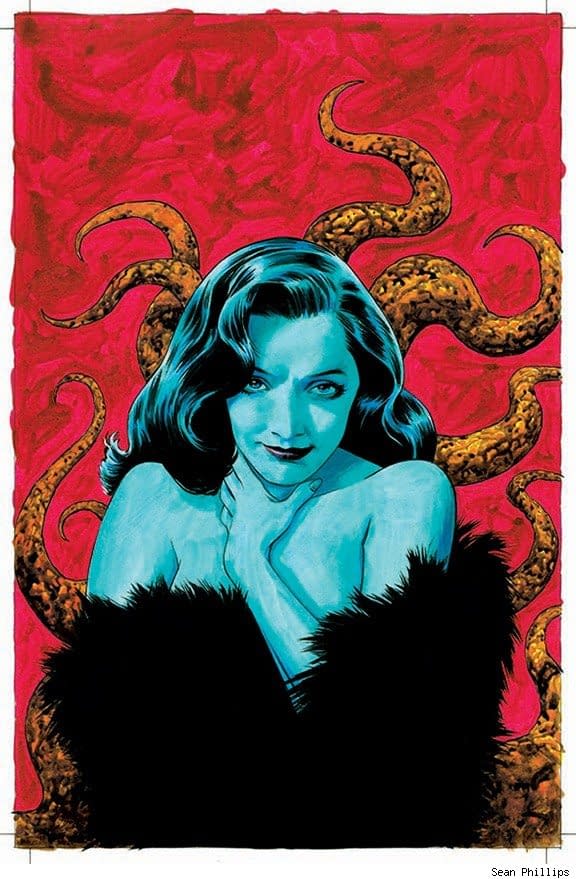 JN: Sean, for most creators, being dubbed an "artist's artist" is the monetary kiss of death. But you've enjoyed quite a bit of commercial success. What's your secret?
SP: No idea! I'm not sure what an "artist's artist" is or if I am one anyway.
JN: Why Dynamite? What did they offer that made them the clear choice for this book?
SP: It had never occurred to me to do an Art Of book until Dynamite suggested it. That they had enough faith in me to think they could sell one was enough for me! JN: Eddie, writing a non-fiction art book is incredibly different from writing a narrative story. But it still has to be entertaining. How did you walk that line?
ER: I interviewed as many people as I could, and let their voices be the focus. The book is built around a couple of interviews I did with Sean, and he's a very entertaining talker – I just had to make sure that this came across in print, the little bits of irony and self-deprecation. The part about how he ended up making a loss drawing the cover of the Your Highness tie-in comic is a favourite.
And I got lovely stuff from many interviewees – for instance, I interviewed Eddie Campbell about the four issues of Hellblazer they did together, and that's a small amount of work in the context of Sean's whole career – but it was a very entertaining interview, and really enlightening in terms of what it's like when the book you're writing isn't going too well, so I used a lot of it.
But it's a book about Sean's art and the art is the focus, really. I was always conscious that the text needed to support the art, and enlighten people about the process behind the art in various ways. I imagine that many, perhaps most, people will read this book by flipping through, looking at the artwork, and consult the text when they want to know more about something. So we've made sure it works that way, as well as if you read it from cover to cover. JN: What's next for you at Dynamite? What other projects do you have upcoming?
SP: Nothing planned at the moment. I'm still drawing Fatale for Image every month for the forseeable future and that takes all my time for now.
ER: Nothing at the moment at Dynamite, but the two issues of a Captain America mini-series I co-wrote with Andy Diggle are out around now, and so's the trade of our Doctor Who issues. Early next year I've got a couple of one-off strips in 2000AD. But mostly I'm working on radio comedy for the BBC – I'm writing the second series of my sitcom Welcome To Our Village, Please Invade Carefully and sketches for a new show called 2525.
Jai Nitz is a writer in his own right having written for Marvel, DC, Image and currently Dynamite on Grimm: The Warlock debuting next month.