So the new Hachette Marvel catalogue for collections shipping from January 2016 to April 2016 is out, letting bookstores know what they can order from the comic book publisher. You can read the whole thing above.
But here are a few highlights, aside from the Omnibuses and Omnibus reprints, the Civil War boxset, the Marvel's Captain America Civil War Prelude and the Civil War Illustrated Prose Novel…
The Dan Slott Amazing Spider-Man OHCs come in thick and fast, with two in this quarter. Though you may be miffed if you picked up the Spider-Verse OHC and you'll be picking up one of these for four extra issues worth. Captain America White joins them too, matching the previous Loeb/Sale colour volumes.
We also get a Complete Christopher Priest Black Panther Vol 3 TPB – but it misses out the Black & White storyline.
Punisher's appearance in Daredevil, season 2, is driving TPB collections of his Garth Ennis MAX series, with two Complete Collection volumes, collection Born #1-4 and Punisher #1-12 and then Punisher #13-#30
There is also a Punisher Vs. Marvel Universe TPB collecting Punisher Kills The Marvel Universe, Amazing Spider-Man (1963) 161-162, Heroes For Hire (1997) 9, Punisher (2001) 33-37, Punisher War Zone (2012) 1-5, Marvel Universe Vs. Punisher 1-4
The Gaiman/Buckingham Miracleman collection is priced lower that the Moore/Leach/Davis/Austen/Veitch/Totleben volumes…. only $25 for six issues. Hmmm.
The Luke Cage nineties series gets finished off, ahead of the Netflix show. As does the Gambit nineties series too. He's got a film as well.
Thanks to the Ms Marvel HC Vol 2 listing, it looks like she's getting an Annual soon.
While the X-Men Age of Apocalypse Dawn volume is everything that wasn't in the Omnibus – aside from X-Universe which still gets missed out.I think Scott Lobdell should take it personally.
No Fantastic Four collections though. No more new Fantastic Four to collect and they are leaving the old ones alone now… and the X-Men don't even get their own section in the catalogue index anymore. Aww….
Oh and Masterworks? We have…
The Sub-Mariner Vol. 7 HC Sub-Mariner (1968) 50-60
Daredevil Vol. 10 HC Daredevil (1964) 97-107; Avengers (1963) 111
The Champions Vol. 1 HC Champions (1975) 1-17; Iron Man Annual (1970) 4; Avengers (1963) 163; Super-Villain Team-Up (1975) 14; Spectacular Spider-Man (1976) 17-18, Hulk Annual 7
The Mighty Thor Vol. 15 HC Thor (1966) 242-254, Annual (1966) 5, Marvel Spotlight (1971) 30 and material from Marvel Treasury Edition (1974) 10
And to match the Wolverine Adamantium Collection, Captain America gets a Vibranium Collection, collecting in oversized hardcover Captain America 169-175, 255 and 445-448; Captain America 8-9 and #11-14; All-New Captain America 1-6 — plus material from Captain America Comics 1-2, 7 and 10; Captain America 76-78; Tales Of Suspense 72-74 and 92-94 and Captain America 357-362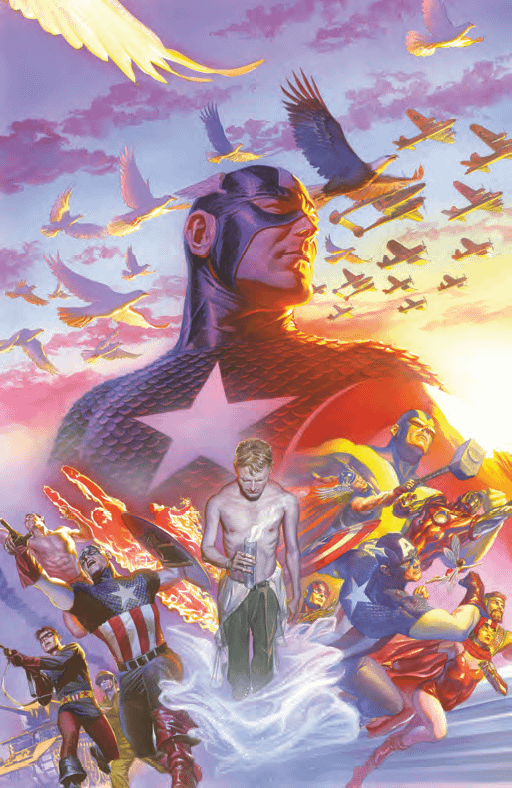 And in the Epic line of thick colour collections we have
Daredevil Epic Collection: A Touch Of Typhoid TPB collecting Daredevil (1964) 253-270,
Amazing Spider-Man Epic Collection: Return Of The Sinister Six TPB collecting Amazing Spider-Man (1963) 334-350 and the Spider-Man: Spirits Of The Earth OGN
Iron Man Epic Collection: Duel Of Iron TPB collecting: Iron Man (1968) 178-195, Iron Man Annual 6-7
Star Wars Legends Epic Collection: The New Republic Vol. 2 TPB collecting Star Wars: X-Wing Rogue Leader 1-3; Star Wars: X-Wing Rogue Squadron 1-16, Special;
material from Star Wars Tales 12, 23
Time to build some more bookshelves…
Enjoyed this article? Share it!