It's been a while since global entertainment superstar Donny Cates last updated eager fans on his hairstyle plans. Back in June, Cates took to Twitter to ask fans to help him make one of the most important decisions of his career: whether to cut his hair or grow it long.
I'm at a crossroads with my hair. It's in that weird, impossible to do anything with it, length.

Should I cut it short and clean or go for some super long hair? Haven't had my hair long since I was in high school. pic.twitter.com/eW8v6xcmlL

— DONNY⚡️CATES (@Doncates) June 6, 2019
54% of respondents urged Cates to grow out his hair, but Catesbronies — that's the colloquial term for hardcore fans of Donny Cates — were pleasantly surprised a few days later to learn that the Absolute Carnage writer had made another monumental hair decision: he dyed it blonde!
Also im blonde now. https://t.co/6YVYexp42Q

— DONNY⚡️CATES (@Doncates) June 20, 2019
Since then, however, all has been quiet on the Donny Cates hair front… until this week. Cates took to Twitter to casually reveal that not only is he indeed growing out his hair, but he has chosen the perfect hairstyle: a mullet!
As someone who is currently growing out a blonde mullet…I approve of this edit. https://t.co/NyJLptM8sZ

— DONNY⚡️CATES (@Doncates) August 12, 2019
It's a bold choice for 2019, but Donny Cates is a bold man. It shows in both his comic book writing and his fashion choices, and it looks like Cates is going to continue wowing comic book fans with his writing skills and sense of style for some time to come.
Stay tuned to Bleeding Cool, as always, for all the latest Donny Cates celebrity news and gossip.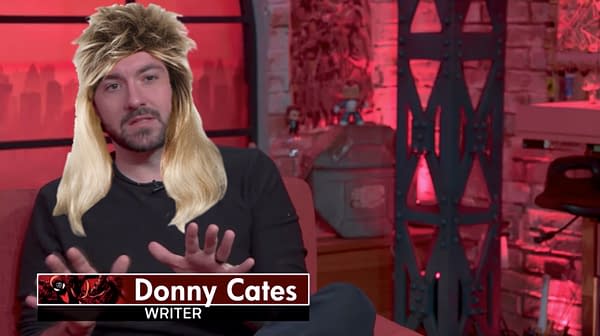 Enjoyed this article? Share it!