The rock band KISS has been part of the comic industry since their first appearance in Howard the Duck #12 in 1977. They've appeared in comics from Marvel, Revolutionary, Image, Dark Horse, Platinum, Archie, IDW and starting this October, Dynamite. Writer Amy Chu talked to Byron Brewer about bringing back the music icons to the printed page and just who turned out to be a big help witht he series. Covers A-D are by Goni Montes and Cover G is by Shouri.
BYRON BREWER: Amy, tell us a little about how you came to be involved in this new KISS comic from Dynamite. Are you a fan of the iconic group?
AMY CHU: The editors over at Dynamite approached me with some really cool titles, but I wanted KISS. Everyone listened to KISS when I was growing up. My family was pretty strict and my mom hated anything that wasn't classical music, so my brothers and I never got to join the KISS army like everyone else. I figured this is my chance now….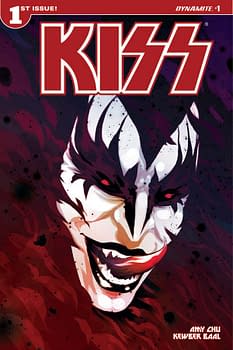 BB: I heard a cute story about you telling writer-slash- KISS fanatic Kelly Sue DeConnick about you writing this book; it's wonderful, and speaks for the power that is KISS. Would you please relate the tale?
AC: Oh my god, this story is going to get bigger and bigger, isn't it? I was having breakfast at HeroesCon a few months back with Kelly Sue and when she heard I was writing the series it was like firecrackers going off, she was so excited. I spent the rest of the breakfast taking notes. Kelly Sue is like a KISS Jedi and now I'm her KISS Padawan. I can't even tell you how helpful she's been. These are the things people don't talk about — how comics creators help each other out, they'd rather hear about the Game of Thrones stuff …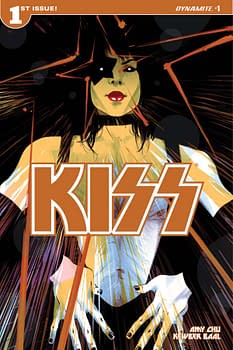 BB: As with Dynamite's Alice Cooper, a lot of zaniness has been done in comics with KISS in the past, but you are taking a more serious approach. Tell us about that, and your research into "Music from the Elder."
AC: Exactly. There's been a lot of campier stuff so I felt it was time to do something darker and more serious. I usually like to do a lot of research before I start writing. I spent hours watching videos of concert footage and listening to KISS albums, especially "Music from the Elder." I think my husband thinks I'm crazy….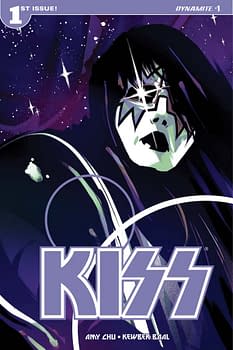 BB: So what can you (non-spoilery) tell us about the storyline.
AC: Four teens who live in an underground society in the future discover that everything that they've learned in school are LIES. It's a world built around the themes of the songs and images of the album.
BB: Aside from KISS members, who are our protagonists and big-bad?
AC: Our heroes are twins Noa and Eran who join their friends from school Alex and Adi to find out the truth about the founder of their city, the mysterious Mr. Blackwell and the Council that runs Blackwell.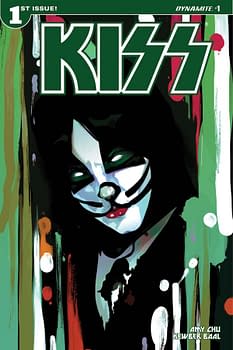 BB: As with anything based on reality and certainly something as iconic as this band, writers sometimes have difficulty finding characters' "voices" because the leads are known so well. Any challenges in that area with this book?
AC: Sure, which is why I wanted to introduce new characters, kids who seek help from KISS in solving the mystery behind Blackwell.
BB: How is it working with artist Kewber Baal?
AC: So far, so great. It's pretty amazing — Kewber is so enthusiastic and open, and his wife Schimrys is doing the colors so we can work pretty closely. We work via email and Pinterest.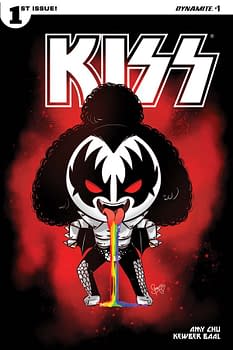 BB: Amy, what other projects current or in the near-future can you tell us about?
AC: The collected trade for Poison Ivy is coming out, and I have a Wonder Woman '77 story and another cool project with Dynamite that I'm not sure I can talk about.
Enjoyed this article? Share it!