Another Death For Wolverine in Dawn Of X… X-Force #5, Excalibur #5, Fallen Angels #5 and New Mutants #5 Spoilers
Another week, another year and another four Dawn Of X titles in another week. Fallen Angels arrived early. Next week may have just Marauders all on its own… So what's going on and where? Fallen Angels #5 throws up some Krakoan doubt.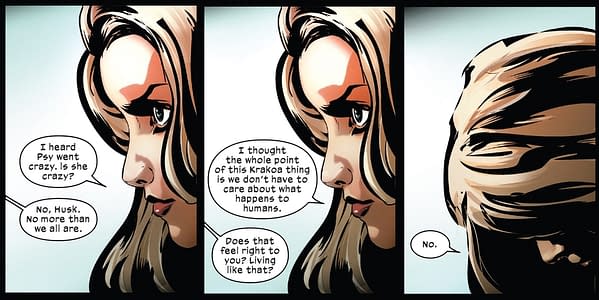 What? No one said that about Krakoa. This is one of those internet conversations when it's claimed that everyone knows you like spinach, so why are you making a fuss about kale and you say a) who said that about me and spinach and b) I wasn't talking about kale. Over in X-Force #5, the Beast has to remind Domino of the absolute opposite.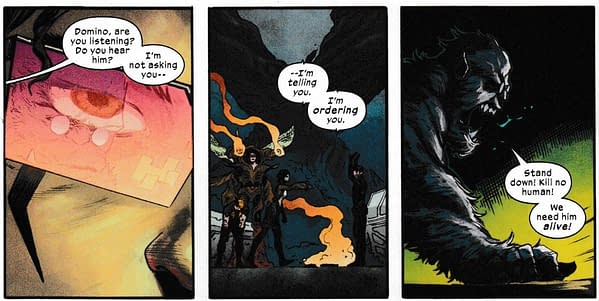 Kill no human – it's in the constitution. Because while mutants can now be brought back, there is no proviso for humanity… which does also mean certain mutants are getting even laxer about their lives and deaths than usual.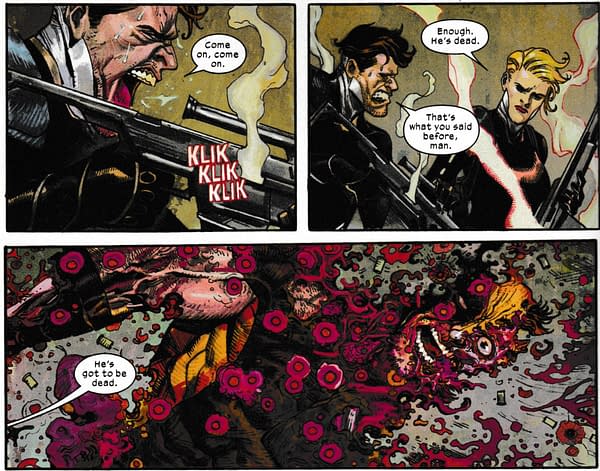 Isn't that like three times in under a year? Thankfully there's a bath full of adamantium waiting to be poured back into Logan on Krakoa. As long as you can find a way back… Excalibur #5 shows that Pete Wisdom has quite the view. And is definitely in London. Chelsea football shirt framed on the wall make Wisdom one of the Pensioners…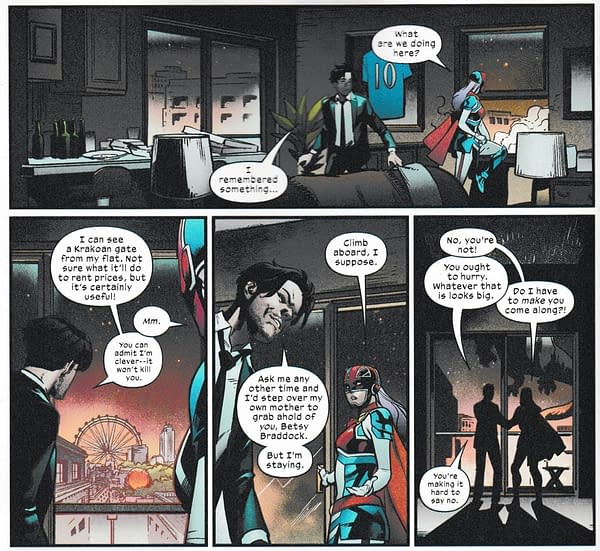 …and the view from the window of a Krakoan gate is in South London, if the view of the London Eye is anything to go by. Somewhere around the Newington estate maybe? And come on Wisdom, Betsy Braddock is all but offering herself and, courtesy of Fallen Angels…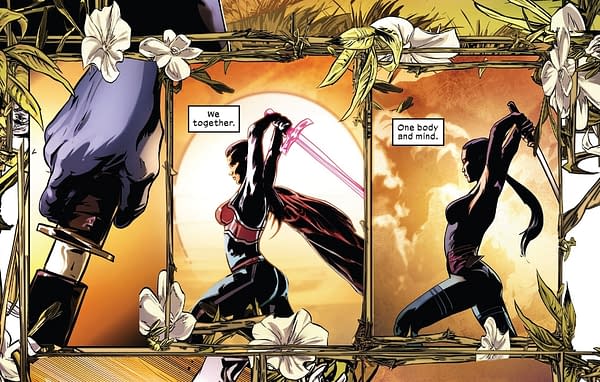 …you'd get two for the price of one. Excalibur is also creating stone circles with Apocalypse and it's all part of some kind of magical mutant quincunx. That's a circle formed with five points – one in the middle. And yes it does sound a little dodgy, I wouldn't suggest Pete Wisdom tries to say it five times face in Besty's presence.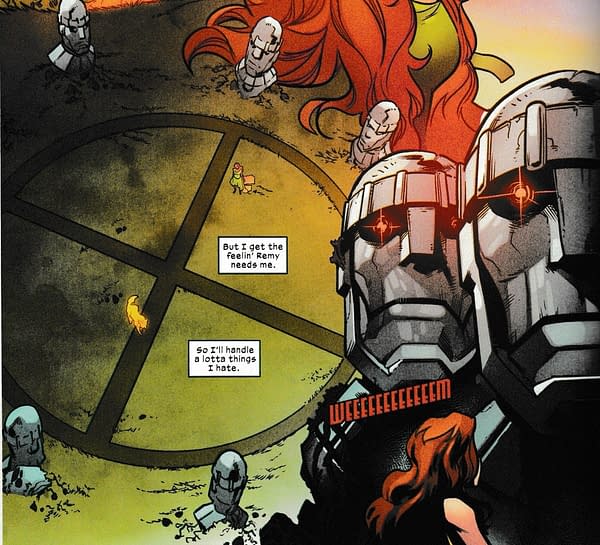 And according to Apocalypse, being a mutant means you seek quincunx alignment.

Is that a new name for a Wolverine/Jean Grey/Cyclops/Emma Frost quadrouple? Yes, we're going back in that direction. Say, you remember when we threw up the very spurious notion that Director Devo of Orchis as seen in X-Men #1 may have some link to Devo of the Shi'ar Death Commandos based upon them, a) having the same name and b) both wearing glasses? Well, it was very very spuroous. And then in today's New Mutants #5, also written by Hickman, look who pops up.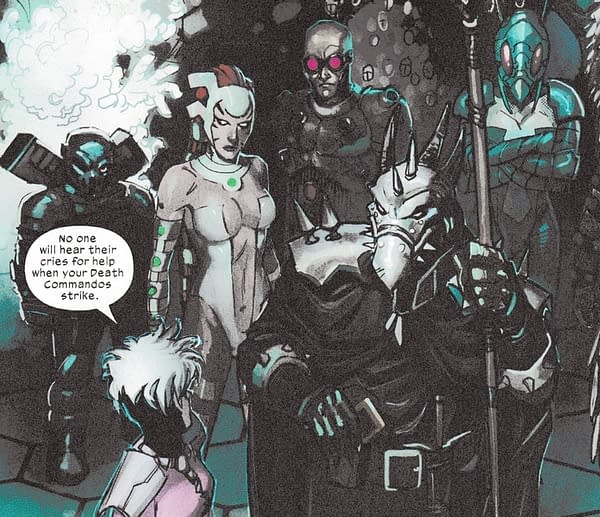 And gets an entry…

You never know in this game, do you? But some are more ready than others…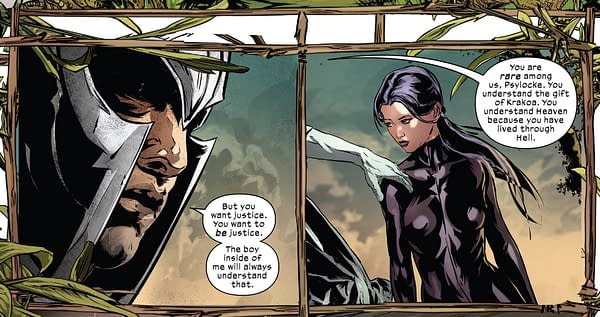 X-Force #5, Excalibur #5, Fallen Angels #5 and New Mutants #5 are all out today… I bought mine from Piranha Comics in Kingston-Upon-Thames. Piranha Comics is a small south London comic store chain with a small south-east store in Kingston-Upon Thames's market centre, which runs Magic The Gathering nights on Fridays, and a larger south-west store in Bromley, which also runs Magic nights and has an extensive back issue collection and online store. If you are in the neighbourhood, check them out.

EXCALIBUR #5 DX
(W) Tini Howard (A) Marcus To (CA) Mahmud Asrar
The Secret of Rogue's Coffin!
Locked in her mysterious coffin, Rogue dreams. Meanwhile, Apocalypse performs a ritual, and the throne of power changes hands. The reign of mutantkind reaches the Otherworld at last. Rated T+ In Shops: Jan 08, 2020 SRP: $3.99
FALLEN ANGELS #5 DX
(W) Bryan Edward Hill (A) Szymon Kudranski (CA) Ashley Witter
HARK! MORE ANGELS FALL!
Husk and Bling! Join Psylocke and company on their mission to stave off Apoth and his children! Then – Cable turns on X-23?!? Rated T+ In Shops: Jan 08, 2020 SRP: $3.99
NEW MUTANTS #5 DX
(W) Jonathan Hickman (A/CA) Rod Reis
THE EXPLOSIVE RETURN OF CANNONBALL! The team has reached the Shi'ar Galaxy only to find the empire in turmoil! Deathbird returns and she won't let Bobby and Sam get in the way of what she wants! Rated T+ In Shops: Jan 08, 2020 SRP: $3.99
X-FORCE #5 DX
(W) Ben Percy (A) Joshua Cassara (CA) Dustin Weaver
DEADLY CHOICES CARRY DARK CONSEQUENCES!
First, Domino and Forge have to pick up the pieces as the team faces a major setback! Then, Beast takes matters into his own hands when a piece of new technology threatens the safety of the nation. Parental Advisory In Shops: Jan 08, 2020 SRP: $3.99