If you haven't been following the recent storyline in Detective Comics, it would probably be difficult to explain. Thankfully, DC Comics has made as good an attempt as any on their website:
Since taking over the title, Peter J. Tomasi and Doug Mahnke have been taking us on a brutal, somewhat surreal trip through Bruce Wayne's past, as a viciously efficient creature has taken down everyone who had an influence on Bruce in his life—Leslie Thompkins, Henri Ducard, Alfred…even a picture-perfect copy of Bruce's parents. But while the creature may have done the dirty work, he really didn't seem like the brains behind the endeavor. After all, whoever is behind this knows intimate details about Bruce's life. He knows exactly how to hurt Gotham's greatest protector.

Maybe because he is Gotham's greatest protector. DETECTIVE COMICS #998 ended with the reveal that the man…or should we say, kid behind all the destruction is none other than a young version of Bruce Wayne. But what gives? Who is this? It can't really be Bruce, can it?
You can obviously see why Detective Comics has stood the test of time and lasted nearly 1000 issues.
Which leads us to this preview of tomorrow's issue, showing Batman getting his ass kicked by himself. Enjoy.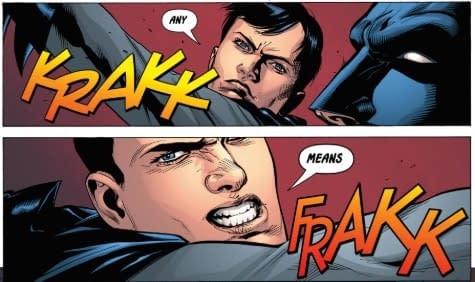 Detective Comics #999
(W) Peter J. Tomasi (A/CA) Doug Mahnke, Jaime Mendoza
The truth behind the gauntlet Batman has been forced to run-a violent odyssey that endangered the lives of everyone who made him who he is-is revealed at last…and the mastermind working to unmake the Batman must be seen to be believed! Is there a goal here beyond destruction? Will Batman emerge stronger…or with a mortal wound at the exact moment that his most dangerous challenge yet is on the horizon in next month's DETECTIVE COMICS #1000?
RATED T
In Shops: Feb 27, 2019
SRP: $3.99
Enjoyed this article? Share it!