Benjamin Percy Launches Two Comics From AWA – Year Zero and Devil's Highway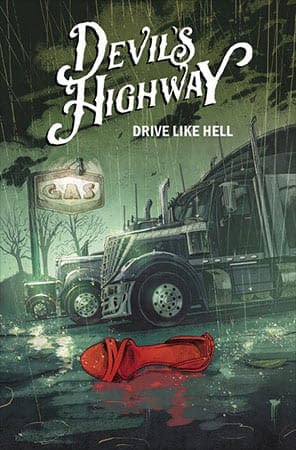 Benjamin Percy is a novelist-turned-comic book writer, with critically acclaimed runs on Green Arrow, Nightwing, Teen Titans and James Bond to his name. But he's taking the Bill Jemas and Azel Alonso shilling for two new creator-owned titles being published by AWA Comics as part of their Upshot creator-owned imprint.
The first is Devil's Highway, drawn by Brent Schoonover
Devil's Highway – Drive Like Hell
A young woman with a dark family secret embarks on a quest to hunt down the serial killer that brutally murdered her father – only to discover he is just one piece of a national network of evil that snakes across the country and hides in plain sight. To catch the devil she must first embrace the darkness within.
The second is a zombie comic book Year Zero, drawn by Ramon Rosanas who worked on Ant-Man, Spider-Man 1602, Atlas, Captain Marvel, Deadpool, Sentry and Wolverine.
Year Zero – When The Dead Walk The Living Run

A Japanese hitman, a Mexican street urchin, an Afghan military aide, a Polar research scientist, a midwestern American survivalist – five survivors of a horrific global epidemic who must draw upon their unique skills and deepest instincts to navigate a world of shambling dead. A braided narrative that offers a global look at the Zombie Apocalypse, Year Zero wrestles with the weighty moral and theological questions posed by the pandemic and investigates its cause and possible cure.