This is the Top Ten Bleeding Cool Bestseller List, as compiled by a number of comic stores from their sales on Wednesday and Thursday. It measures what are known as the "Wednesday Warriors", those who can't wait till the weekend to get this week's comics. We salute you, and the keenness you bring to your passion.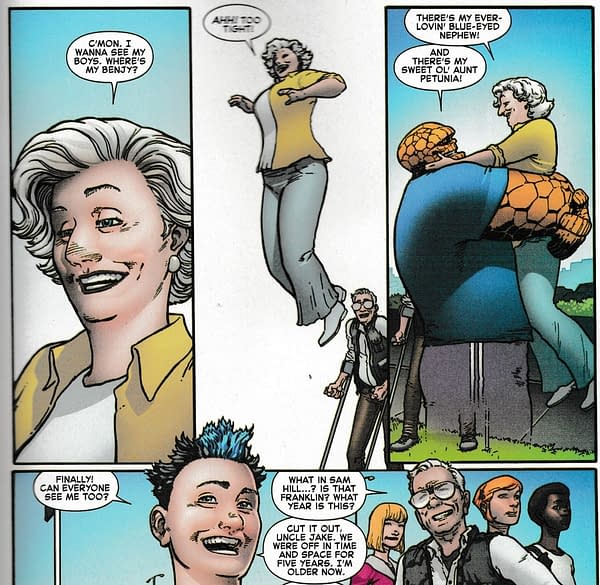 A skip week for so many, Marvel rules the roost by launching series and giving Fantastic Four a big event. All credit to their foresight…
Fantastic Four #5
Superior Spider-Man #1
X-Force #1
Uncanny X-Men #7
Die Die Die #6
Marvel Avengers #1
Go-Bots #2
Doomsday Clock #8
Mars Attacks #3
Bone Parish #5
Thanks to the following retailers;
Who had this to say:
Weird week at FFF as there were only about 10 new books that actually came out due to the Holidays hitting so close to new comic day. Fantastic Four was both the most expensive and best selling single issue of the week. Superior Spider-Man was our second best selling book which isn't a surprise as he's a fan favorite character with a solid creative team. Go-Bots sold less copies than Amazing Spider-Man #12 and Captain America #6, both on their second week and the same amount of copies as Walking Dead #186, a book on its FOURTH week. Odd week for sure.
—-
This week it's less of a "Top 10" list, and more like "10 out of 11 books that sold more than one copy". The only book that didn't meet this criteria, was, unsurprisingly, Cullen Bunn's Bone Parish. Fantastic Four easily lead sales with a wedding issue in which there was actually a wedding, and the X-Men weren't far behind with the weekly Uncanny and a new X-Force launch that seems to be piquing curiosity at the least.
—-
The list looks a little unusual this week thanks to the very small slate of releases, as is common for the final week of the year. We've got some titles placing on the list that normally wouldn't see it, and even some titles from the previous weeks!
FANTASTIC FOUR #5 was the overall best seller, bolstered by being an "event" issue in an otherwise extremely quiet week. Just behind it was the most recent weekly installment of UNCANNY X-MEN.
All-ages licensed Marvel comic MARVEL ACTION AVENGERS managed to place on the list along with the CHAMPIONS ANNUAL. And despite no new DC single issues releasing this week, last week's CATWOMAN #6 shows up on the list!
—-
Having Wednesday be the day after Christmas is a bad day to have it. Normally we see much more buying the day after Christmas but with a lot of people going back to work and such a small selection of new comics it was the worst Wednesday sales day of the year. As for the titles that did come out a lot of people were not that excited. Another wedding? Why does X Force have such bad art? Were questions being asked. Hopefully next week starts 2019 out with a bang.
—-
A week without a single DC book in the top ten–because DC decided not to ship any standard comics this week, for reasons that still make no sense to me. Nevertheless, the DC decision helped boost Marvel sales on FF, Superior Spider-Man, X-Force, and Uncanny X-Men, and it assured pretty much every other title a place on our top ten slots. The surprise title on the list was SitComics' Blue Baron #1; the publisher wisely shipped us copies to have on sale this week, and it proved to be a successful plan, since the book broke into our store's Top Ten!
Enjoyed this article? Share it!