The Bleeding Cool Bestseller List, 30th June 2019, Batman Damned #3 – "Huh, Didn't Know That Was Out"
This is the Top Ten Bleeding Cool Bestseller List, as compiled by a number of comic stores from their sales on Wednesday and Thursday. It measures what are known as the "Wednesday Warriors", those who can't wait till the weekend to get this week's comics. We salute you, and the keenness you bring to your passion. And there was one book at the top of every retailer's list, a rarity these days. Batman Damned #3. Even if not everyone seemed to have realised it was coming out this week…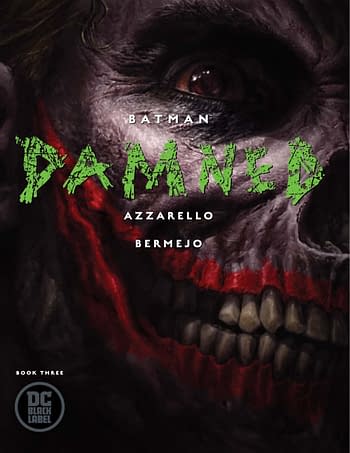 Top ten bestselling comics of the week
Batman Damned #3
The War of the Realms #6
Amazing Spider-Man #24
Detective Comics #1006
Fantastic Four #11
Action Comics #1012
Avengers #20
Thor #14
Justice League Dark #12
Star Wars Age of Rebellion Darth Vader #1
Thanks to the following retailers
Who had this to say
Batman Damned tops the Top Ten list at FFF this week. Even though it had more than a few delays, people still came out to pick up the last installment in one of the most controversial comics of the last few years. Amazing Spider-Man is maintaining solid numbers as it was our #2 top seller outselling Detective Comics once again. At the start of Rebirth, anything slightly Bat-related reigned on top, but things are starting to change. Fantastic Four has also seen a small bump, possibly related to a certain secret variant. We aren't marking them up as the ratios are pretty close but we also haven't seen a huge run on any of the issues either. Conan is continuing to sell well with this week's Savage Sword hitting number #5. As for the rest of the Top Ten, DC and Marvel are sharing it pretty consistently and evenly. While DC usually Tops the list, Marvel has kept a good showing with an average of 4-5 titles selling well enough to make the list.
—-
DC took first place in our store this week with Batman Damned #3, but after that, DC could only place two other books on our top ten–Detective in 9th place and Action in 10th place. Seven Marvels took their places in our top ten, along with Spawn #298 from Image. Readers tell us they're already bored with this whole Leviathan storyline and ready for something else–and Year of the Villain doesn't seem to be the something else they're looking for.
—-
The last issue of Batman Damned FINALLY came out, and to surprisingly little fanfare. Sure, it still led sales, but not with the numbers that the previous two issues managed. I suspect it's because it's so off-schedule that a lot of folks had no idea when- or if- it was actually coming out. I think that the #1 comment I've heard this week is "Huh, didn't know that was out". Otherwise, it was business as usual, with War of the Realms finishing strong (and a lot of customers claiming it was a blast to follow along) and Star Wars Age of Rebellion Darth Vader out-performing every other AoR book because, well, Darth Vader.
—-
Batman Damned #3 was the runaway hit of the week with everything else being a distant #2-10. Saw many new faces in the stores as other local shops evidently ran out?? (seems odd for a book that we've had so much time to get the numbers correct on – perhaps they got tired of all the #2's they got stuck with after DC decided not to reprint #1 and cut their numbers a bit too low on #3 – who knows)
—-
Something for everyone this week, though not a lot of spectacular books, still ended up with a very strong Summer Wednesday.
—-
Batman Damned did really well for being so late and took our top spot. A lot of customers were shocked to see it on the stands.
—-
The far and away best seller this week was BATMAN DAMNED #3, concluding the story that was launched to much fanfare thanks to some poorly-shadowed Bat-anatomy. In a distant second place, we have another big conclusion with WAR OF THE REALMS #6.
The rest of the list is a pretty rote selection of usual suspects: DETECTIVE, FANTASTIC FOUR, FLASH. Spidey manages to pop up twice, with both AMAZING and FRIENDLY NEIGHBORHOOD selling well.
—-
For this week most of the issues sold are Marvel and DC. Although Issa has been in a good spot so far.
Notable sales:
Wonder Woman #28 9.4 $300 steampunk variant CGC graded