This is the Top Ten Bleeding Cool Bestseller List, as compiled by a number of comic stores from their sales on Wednesday and Thursday. It measures what are known as the "Wednesday Warriors", those who can't wait to the weekend to get this week's comics. We salute you, and the keenness you bring to your passion.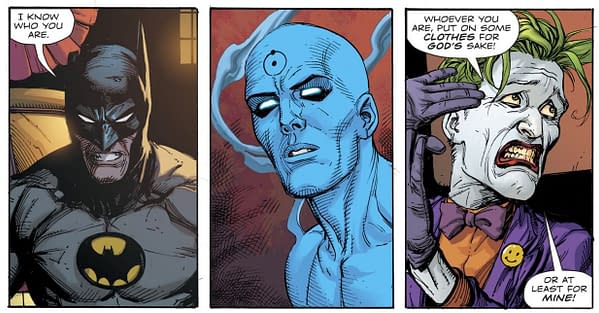 And for all the ballyhoo for the launch of Heroes In Crisis, it was still beaten by the absolute monster that is Doomsday Clock. The revenge of Geoff Johns? Justice League Odyssey was a comparatively damp squib, almost beaten by Dark Horse's Stranger Things. Oh and to a store, Edge Of Odyssey #4 actually beat the main event…
Doomsday Clock #7
Heroes In Crisis #1
Action Comics #1,003
Amazing Spider-Man #6
Justice League Dark #3
Detective Comics #989
Justice League Odyssey #1
Stranger Things #1
Edge of Spider-Geddon #4
Spider-Geddon #0
Thanks to the following retailers,
Who had this to say,
Stranger Things and Heroes in Crisis sold staggering numbers this week at FFF. Both easily topped our Top Ten weekly bestseller list at #1 & #2 respectively. Doomsday Clock continues to sell well even when nobody seems to know when the next issue is coming out. Surprisingly, Justice League Odyssey only sold okay numbers. It was still in the Top Ten, but towards the bottom at #9. It just goes to show how delaying a book can seriously hamper the buzz around its actual release. Amazing Spider-Man was the best selling Marvel book. Spider-Man is slowly coming back on top of the Marvel books as many lapsed readers are coming back for the stripped down back to basics story Spencer is telling. Spider-Geddon did okay but not as well as I thought it would. We've only had like one person ask about Spider-Man because of the game. While it's definitely the hot video game, it's not doing much to get people into the books.
—
We sold almost 100 copies of Stranger Things in the first THREE days alone. We've been pushing the book pretty hard since the first solicit and we set up a spreadsheet for all of the people who wanted the various covers (which we haven't done since Action #1000). We had people who have never stepped foot in a comic book store come in to ask to reserve a copy and shockingly most of those people were here on Wednesday to pick it up. We also put an ad on our Facebook page to promote the book. We only spent about $10, but it got the word out and got people coming in and buying the book. People have been asking for a Stranger Things book since the show first came out, it's like printing money for both Dark Horse and Netflix. Hopefully we see more series come out of this first spectacular success.
—
The killer moth topped our charts, edging out Tom King who usually dominates each week he has a book on the stands. The Spider-Geddon books both seem to have maybe done a little better than usual too. Justice League Odyssey had people crinkling their nose a few months back but good word of mouth from our employees and the dazzling art changed a lot of people's tunes and it shot to #3. Baltimore ComicCon is going on right now and our stock is comprised of a lot more modern keys than we typically have and seems to be doing well. Honorable mention once again to Joshua Middleton, if both covers had sold equally of Batgirl that title would be in the top ten as well.
—
Shiny new event comic HEROES IN INTERVIEWS -er, sorry- HEROES IN CRISIS got beaten out for the top spot by old hype-machine event comic DOOMSDAY CLOCK. Our obligatory Bat-title (this week, DETECTIVE COMICS) doesn't show up until the middle of the list, with both ACTION COMICS and AMAZING SPIDER-MAN between itself and our sales leaders for the week.
The bottom half of the list is full of justice, with both JUSTICE LEAGUE DARK and the gorgeous JUSTICE LEAGUE ODYSSEY selling solidly. WONDER WOMAN and a pair of X-books (EXTERMINATION and X-MEN RED) hold things down on the bottom of the list.
—
Doomsday Clock 7 easily took the top spot. Heroes in Crisis did terrible for a start of a new company event. With sales of Infinity Wars and this I think people are truly tired of big "deaths" and big company events. Amazing Spider-man keeps posting solid numbers. Doctor Aphra 24 had a nice little boost with the Fett variant cover. Justice League Odyssey did poorly for a first issue. Beaten by Justice League Dark 3 surprisingly enough.
We had the extremely personable Tom King in for a signing. Not only helped with Heroes in Crisis, but a number of Batman and Sheriff of Babylon trades and Mister Miracle back issues moved as well. Good time had by all!!
—
DC came back strong this week with Doomsday Clock and Heroes in Crisis, both of which battled it out for the number one slot in our store (Doomsday Clock narrowly won by two copies). Marvel only placed two books in our store's top ten–both Spider-Geddon titles, while IDW and Dark Horse hit the top ten with Star Trek Vs. Transformers and Stranger Things, respectively. A strong sales day, with only a six copy difference between our tenth-place title and our twentieth-place title.
Enjoyed this article? Share it!