'Book Of The Decade' – Locust Moon Comics Announces Little Nemo: Dream Another Dream Kickstarter
Peter & Maria Hoey
By Nikolai Fomich
Philadelphia's Locust Moon Comics has announced a Kickstarter campaign for their oversized hardcover anthology, Little Nemo: Dream Another Dream. Inspired by cartooning and animation pioneer Winsor McCay's classic Little Nemo in Slumberland, this original work will revisit McCay's Slumberland world and feature "an almost impossibly star-studded lineup of over one hundred cartoonists and illustrators including Mike Allred, Bill Sienkiewicz, Paul Pope, Peter Bagge, J.H. Williams III, John Cassaday, J.G. Jones, Craig Thompson, Yuko Shimizu, Dean Haspiel, Paolo Rivera, Scott Morse, Denis Kitchen and Carla Speed McNeil."
Over two years in the making and now complete, Little Nemo: Dream Another Dream is the brainchild of Locust Moon's Andrew Carl (Editor-in-Chief), Josh O'Neill (Publisher), and Chris Stevens (Creative Director). The anthology will "be printed at the full 16"x21" broadsheet size of the original Little Nemo newspaper strips" and is set for a limited fall 2014 release and a national spring 2015 release. The Kickstarter campaign's aim is to raise funds to cover printing costs for what Mike Allred has called the "book of the decade" and J.G. Jones "the most stunningly ambitious comic project I've ever seen."
Below are three wonderful pages from Dream Another Dream by Jeremy Bastian, Roger Langridge and Peter Bagge. Support the Kickstarter campaign here and be back later this week for an exclusive interview with Josh and Chris about this extraordinary piece of comic art. Jeremy Bastian Roger Langridge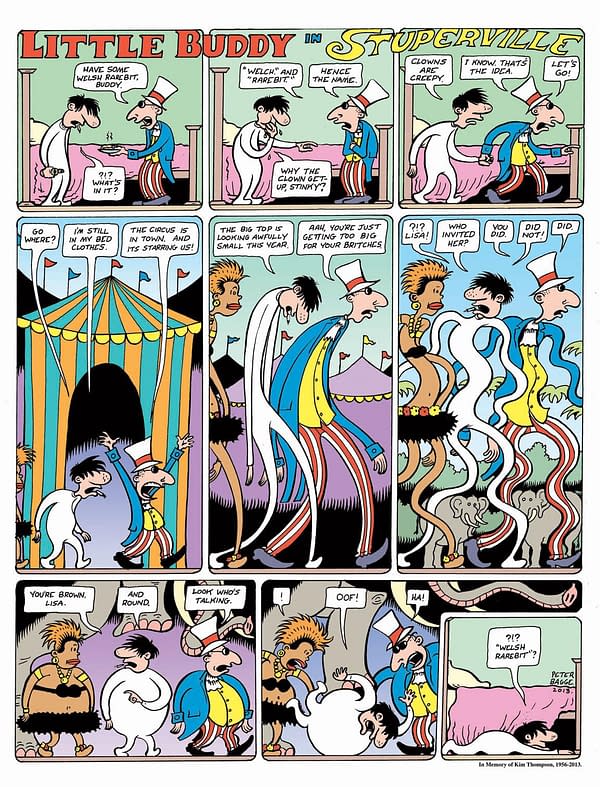 Peter Bagge
David Petersen / Toby Cypress