Boom Studios Promotes Kate Henning and Spencer Simpson
Boom Studios announced today that it has promoted two employees of its Sales and Operations teams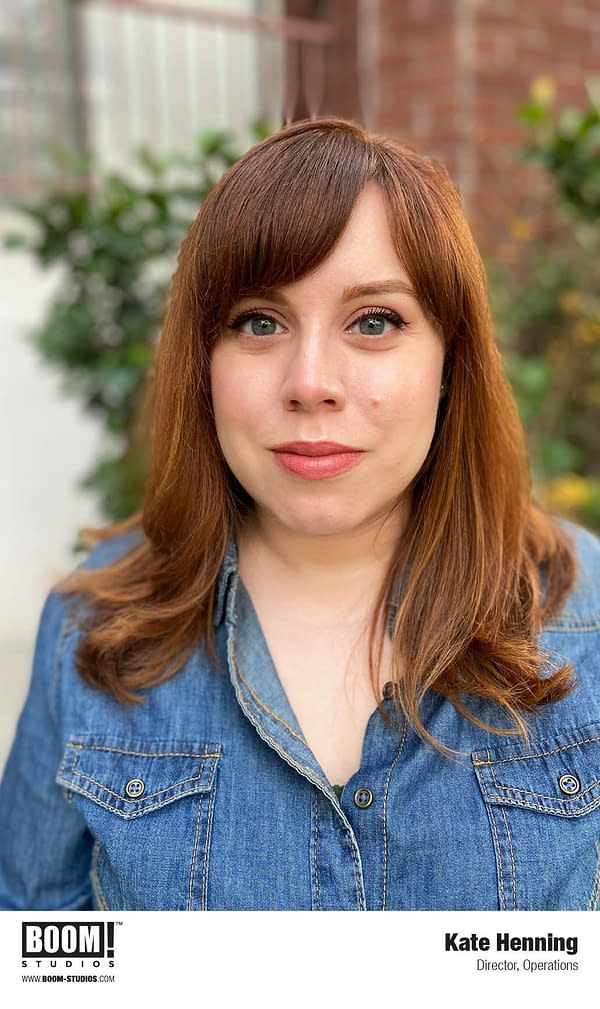 Kate Henning has been promoted to Director, Operations:

Henning joined BOOM! Studios in September 2016 as Manager of Operations. She came to the company with a wealth of experience as Sales & Operations Manager for IDW Publishing for 3 years and, prior to that, at Diamond Comic Distributors where she was a Brand Manager for several years. Since joining BOOM!, Henning has developed and evolved the Operations team to oversee key aspects of the company's manufacturing, distribution, and supply chain logistics, including product innovation and partner relationships.

Spencer Simpson has been promoted to Director, Sales:
Simpson joined BOOM! Studios in January 2018 as the company's first Manager of Sales. He came to BOOM! with a decade of experience in the book market, and more specifically in chain retail as a store manager, Training Manager, and Communications Coordinator for Books-A-Million, before rising to the position of Buyer at American Wholesale Book Company. Under his leadership, Simpson has spearheaded double digital revenue growth in the book market for 2 consecutive years (2018 & 2019). Throughout his time at BOOM!, Simpson has worked enthusiastically and tirelessly to not only champion BOOM!'s books to buyers, librarians, and press, but also grow graphic novel readership nationwide.
"We're thrilled to announce the promotion of Kate and Spencer, who as key members of our management team have been instrumental in driving BOOM! Studios' historic successes in 2019 in comic shops, bookstores, libraries and beyond," said Filip Sablik, President of Publishing & Marketing.