Nancy Collins, writer of Red Sonja: Vulture's Circle #3, talks with writer Shannon Eric Denton about Lady Rawhide/Lady Zorro #1, both on sale now. Cover by Mike Mayhew.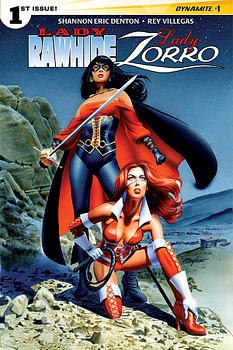 NANCY COLLINS: March is Women's History Month, and here we have a new miniseries featuring two female heroes in a historical setting. Was that a deliberate decision on your part?
SHANNON ERIC DENTON: It's just great timing on my part. Editor Molly Mahan is a comics genius so I'm sure it was on her radar. For me I was just extremely excited about contributing to the mythos of these two great characters and maybe in the midst of entertaining raise awareness on human trafficking which I don't see as a women's issue but a human issue.
NC: Is this part of the larger "Women of Dynamite" event?
SED: Not that I know of. Though I'm sure with my name plenty of folks will assume I'm a "Woman of Dynamite" and with the great women creators involved in that event I'll take any accidental association with them I can get! As for the characters themselves I think there's so much more that can be done and explored with powerful women characters in our industry. I'm trying to entertain foremost but also raise awareness on an issue that I have trouble believing is still an issue in this day and age, human trafficking, which is in essence slavery. This is a story that will appeal to women and men alike.
NC: For those readers unfamiliar with the Zorro-verse, could you explain who Lady Zorro and Lady Rawhide are, and how they know each other?
SED: Both are powerful women vigilantes whose origins were shaped by violence done upon them in the early days of the Old West. Both have had exposure to Zorro early in their careers and this exposure helped shape the kind of heroes they'd become. Heroes as concerned with helping the poor and the downtrodden as much as they are concerned with stopping those who would take advantage of the weak. They live in an era where there are serious misconceptions of a woman's capabilities and they use those misconceptions to their advantage.
NC: Where does this miniseries fir into the existing Zorro/Lady Rawhide continuity?
SED: It's a story in continuity with what is currently going on in both series but is certainly a stand-alone adventure story. It should be a great jumping on point for anyone not familiar with these characters!
NC: What do you consider the major differences between Zorro and Lady Zorro?
SED: Zorro's code is very defined. He doesn't kill. Lady Zorro has no such compunctions (but she's trying to adhere to his code). She also wasn't the heir to a family fortune as Zorro was. They come from different worlds but were both shaped by the rampant government corruption and injustices prevalent in those early days of Los Angeles.
NC: Does the villain make his appearance in the first issue, or will he be showing up later on in the story?
SED: We have villains throughout the series but the ringleader will appear later. We're building up to that confrontation. Though I'm hoping everyone will come away with a different feeling on who the actual biggest villain is as we are tackling such a complex issue.
NC: How does being an artist as well as a storyteller influence your scripting?
SED: It's a huge part of how I tell a story. I'll anguish over my descriptions of the visuals as I know someone has to draw this, to make this world real. I make way more work for myself but at the end of the day that part of my brain that is drawing out the scenes is satisfied. I'm really hoping everyone who reads our story is satisfied as well!
For more information on Lady Rawhide / Lady Zorro #1, click here.