Brandon and Ribic's Vs #1 Goes to Second Printing – and Seven Marvel Comics Also Go Back to Press
The new series by Ivan Brandon and Esad Ribic, Vs, has sold out of its first issue from Image Comics already and has gone to second print, out on March 7th, the week before #2 is published.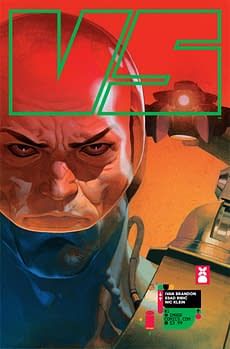 VS #1
(W) Ivan Brandon (A/CA) Esad Ribic
War has become a spectator sport. Privately funded armies of superstar soldiers march into battle for fame, profit, and the glory of their sponsor nations.
When a new generation of soldiers arrive, top gladiator Satta Flynn is about to discover how fleeting the limelight can be.
From writer IVAN BRANDON (BLACK CLOUD, DRIFTER) and superstar artist ESAD RIBIC (Secret Wars, Uncanny X-Force) in his creator-owned Image debut, with painted color by NIC KLEIN (DRIFTER, VIKING) and graphic design by TOM MULLER, VS delivers spectacular action, darkly humorous satire, and explores our hunger for fame and our penchant for self-destruction.
SRP: $3.99
While Marvel is sending five of their comic books back for second printings, all for release on the 14th of March. And with the first of them selling for $15 on eBay already, there's no surprise there… even if Avengers #680's first print isn't even out yet.
AMAZING SPIDER-MAN #795
(W) Dan Slott (A) Mike Hawthorne (CA) Alex Ross
THREAT LEVEL RED Part 2
IS THERE A DOCTOR IN THE HOUSE?!
• Spidey pays the Sanctum Sanctorum a visit looking for a consult from the Master of the Mystic arts, Doctor Stephen Strange…
• …but finds himself face-to-face with the Master of Mischief and new Sorcerer Supreme – LOKI LAUFEYSON!
• And he's even MORE charming than in the movies! Don't believe us? Read this one and find out for yourself!
Rated T
SRP: $3.99

AVENGERS #680
(W) Mark Waid, Al Ewing, Jim Zub (A) Aaron Kim Jacinto (CA) Mark Brooks
NO SURRENDER Part 6
Wonder Man and Beast team up in a desperate attempt to save Jarvis, while the Avengers reel from the crushing loss of one of their own.
Rated T+
SRP: $3.99

DOCTOR STRANGE #384
(W) Donny Cates (A) Gabriel Hernandez Walta (CA) Michael Del Mundo
LOKI: SORCERER SUPREME Part 4
• Doctor Strange has acquired the biggest weapon he could imagine to finally take back his Sorcerer Supreme title from Loki. But will it be enough?
• The life of someone Stephen cares about lies in the balance, and where Loki goes, innocent life doesn't always stay safe…
Rated T+
SRP: $3.99

INFINITY COUNTDOWN ADAM WARLOCK #1
(W) Gerry Duggan (A) Mike Allred (CA) Aaron Kuder
ADAM WARLOCK IS BACK! Reborn from the realm of the dead, Adam has come seeking the Soul Stone…and the truth about what it did to Him! His guide through this Infinity Quest is none other than…Kang the Conqueror?!? Be there as Adam begins down the dark trail sure to lead him into the heart of the mystery of the Infinity Stones…
Rated T+
SRP: $4.99

MARVEL TWO-IN-ONE #2 LEG
(W) Chip Zdarsky (A) John Dell, Walden Wong (A/CA) Jim Cheung
THE FATE OF THE FOUR Part 2
• What is THE SECRET OF REED RICHARDS? And is it deep within MONSTER ISLAND?
• Ben and Johnny are the only ones who can uncover it, unless DOOM beats them to it! THE FATE OF THE FOUR continues here!
Rated T
SRP: $3.99
And two for third printings
THANOS #14
(W) Donny Cates (A/CA) Geoff Shaw
THANOS WINS Part 2
• Thanos has journeyed to the end of time to the moment of his complete victory…and he's not happy with what he sees!
• Writer Donny Cates and artist Geoff Shaw (God Country) continue the tale of the Mad Titan's biggest glory and ultimate shame!
Parental Advisory
SRP: $3.99

AVENGERS LH #675
(W) Mark Waid, Al Ewing, Jim Zub (A) Pepe Larraz (CA) Mark Brooks
NO SURRENDER Part 1
AVENGERS goes WEEKLY for the stunning sixteen-part saga that will write the end of an era!
The Earth has been STOLEN! The sky burns while mysterious cosmic objects crash down from above, wreaking havoc across the world! The Avengers are the last line of defense between Earth and the mysterious forces threatening to tear it apart. It's time to ASSEMBLE! The teams you know and love from AVENGERS, UNCANNY AVENGERS, U.S.AVENGERS and OCCUPY AVENGERS come together to face a threat beyond any they've faced before in a weekly epic adventure that will define the future of Earth's Mightiest Heroes!
Rated T+
SRP: $4.99