By William Wright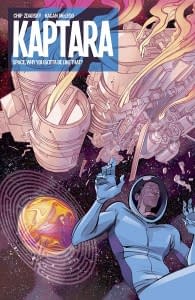 Chip Zdarsky and artist Kagan McLeod will be launching their new Image series Kaptara at Big Big Comics in Hamilton, Ontario, Canada on Wednesday April 22nd. Zdarksy and McLeod will be on hand from 10:00am until 5:00pm to sign copies of the first issue, do sketches, and other random acts of awesomeness for fans. Zdarksy will also being signing copies of his newly launched Marvel series Howard The Duck and copies of his other Image series Sex Criminals, which was recently collected into the Big Hard Sex Criminals ten-issue hard cover.
Big B Comics has three locations in Ontario, with stores in Niagara Falls, Barrie and the flagship location in Hamilton, Ontario. Big B Comics won a Shuster Award in 2008 for Best Comic Store in Canada.
For more information on the Chip Zdarsky and Kagan McLeod Signing, or the stores Free Comic Book Day plans please visit www.bigbcomics.com.
William Wright (aka BigJ) has been working as a freelance writer since the days when magazines were actually physically printed. William actively writes about comics for Bleeding Cool, Bloody-Disgusting, and is a huge fan of all things horror.
Enjoyed this article? Share it!