Rod Lamberti of Rodman Comics writes weekly for Bleeding Cool. Find previous columns here.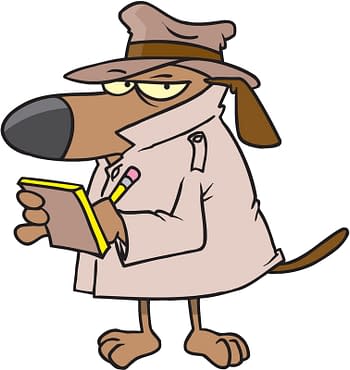 Diamond's secret shopper was back, but he showed up on a day when I was unable to be at the store. I had to throw my wife under the bus and have her work — but I failed to remind her about not selling a day early. That's something she easily could have done, since she has not worked solo at the store for years. I failed to remind her that Diamond has us pay for the secret shopper service. It's the only vendor I send money to that apparently cannot trust us to not sell early. Did my wife commit the ultimate sin after I failed to remind about the secret shopper? Did she sell two comics a day early? Read on through the top-secret secret shopper report. For your eyes only.
***
Was the assigned title/issue number available? No
1. Type of location: Strip mall/plaza
2. Were the store hours posted, or did you have to inquire about them? Posted
3. PLEASE SPECIFY THEIR STORE HOURS (DAYS AND TIMES).
Monday – Closed
Tuesday – 5:30 to 8:00
Wednesday – 11:00 to 8:00
Thursday – Noon to 8:00
Friday – Noon to to 8:00
Saturday – 11:00 to 8:00
Sunday – Noon to 8:00
"GENERAL INFORMATION" COMMENTS ABOUT THE LOCATION:
The store was in good condition and well maintained from the exterior. No debris or trash was observed on the sidewalk. The exterior signage was clearly visible. There were posters advertising various comics in the windows.
1. Were you greeted when you entered the location? Yes
1a. If YES, please specify what was said. "Hi, how are you?"
1b. Please specify how long it took to be greeted (from the time you entered the location). 0-10 seconds
2. Was it easy to figure out where the new releases for the week are located? Yes
3. Please specify the titles of the comic books you were to find. Star Wars, Avengers
4. Please specify the issue numbers of the comic books you were to find. #46, #687
5. Were these specific title(s) and issue(s) available on the shelves? No
5a. If NO, was an employee able to find a copy for you? No
5B. PLEASE SPECIFY WHAT THE EMPLOYEE SAID. Wendy checked the computer first and said it would take two weeks for the editions to arrive. She then checked a list by a box she was
unpacking on the sales floor and found both copies. She said both were in the box she received, but they would not be available until they opened tomorrow morning at 11 a.m.
6. If applicable, please specify where it was located. N/A: It was unavailable
7. Was the employee who assisted you friendly? Yes
8. Was the employee who assisted you helpful and focused on you? No (Take that, secret shopper!)
…Name: Wendy
…Sex: Female
…Height range: 5'6"
…Age range: 50s (I made the mistake of telling my wife that the secret shopper aged her badly. She was ticked; now she likes the secret shopper program even less than I do.)
9. Did the employee wear a uniform or a name tag? Neither. (In all the comic stores I have been in I have never seen a store "uniform".)
"INQUIRY" COMMENTS:
Wendy was very talkative, but she was not completely focused on me. She was unpacking a box while she talked with me. When I asked for the specific comics, she said she could get them for me really, really fast if they were on the shelves and laughed. Once I told her I could not find them on the shelves, she then looked on the computer. She eventually informed me that the issues would not be available until tomorrow.
(Yes, thank you Diamond, instead of getting the inventory checked in she was able to waste time on a person who was not going to purchase anything. As always, Diamond has my back. With one hand in my wallet and the other pushing me over a cliff.)
10. Did this location use a POS system (cash drawer with computer monitor) or a standalone cash register? POS (cash drawer with computer monitor)
11. Were you thanked and/or given a sincere parting comment? Yes
"PURCHASE" COMMENTS:
Wendy said, "Have a good day," when I left. The resister was along the back wall and Wendy used it to research the opportunity to order the comics I requested.
DESCRIPTION OF THE STORE LAYOUT:
The entrance is on the east side of the store. I was immediately facing a large poster. A small free-standing display was on the other side of the poster, and the store opened to the right with freestanding bins for comics. The walls were all lined with action figures to the left and new releases to the right. The POS was located along the back wall along with a glass display case spanning most of the width of the store. An employee-only door was to the far back right, and the bathroom was to the far back left.
1. Was there at least one TV in the store? No
2. Was the floor clean and free of debris? Yes
3. Were the shelves orderly and well stocked? Yes
4. Was the store free of boxes on the floor and/or stacked against the wall? No
5. Was the store well lit? Yes
6. Was exterior signage visible? Yes
7. Was the exterior of the store clean and free of debris? (If in mall, refer to the immediate entrance of
the store.) Yes
8. Were the employees clean and neat in appearance? Yes
9. Were there gaming tables in use and/or were customers playing games while you were at the
location? No
"IMAGE" COMMENTS:
The only box in the store was the one Wendy was unpacking. Otherwise, the store was well lit, well organized, and was easy to navigate. No gaming tables were in use at the time of my visit.
1. Have you been to this location before? No
2. Did you feel comfortable in this location during your visit today? Yes
2A. PLEASE COMMENT ON WHY OR WHY NOT.
Wendy was very talkative, and I was the only customer in the store. She chatted about the store and her husband. (That is right. She is married. Keep your hands to yourself.)
3. HOW WOULD YOU DESCRIBE YOUR PRIOR KNOWLEDGE OF COMIC BOOKS AND GRAPHIC NOVELS?
I am a novice with comic books and graphic novels.
"OVERALL IMPRESSION" COMMENTS:
I would recommend this location to anyone interested in comics or graphic novels. It's a family-owned business, and Wendy was engaging when she could have easily focused on her task at hand. Which I wish she would have been able to.
***
Luckily it was not busy. The odd thing about having shortened Tuesday hours is we are busier than when we were open for five more hours on a Tuesday. It's as if I accidentally used reverse psychology. It's part of the reason I have not expanded Tuesday hours back to what they were.
Last Tuesday again I was wondering what was going on. For years, having a group of people in at once on a Tuesday was a rarity, but after shorting the hours, it is now common. Sales are now good for a Tuesday. Last Tuesday I sold hundreds of dollars' worth of Heroclixs alone. I was mainly open on Tuesdays just to accept the weekly comic shipment. At times a different UPS driver will be used, and even though UPS has it listed as if we are unavailable to drop off next door, often the new driver won't — this creates a situation where I have to go down to the UPS hub and pick up the shipment. We had better sales during two and half hours on this Tuesday than we had within eight hours on Thursday. Very odd. I made a mistake not waiting until summer to expand the hours again. I hope that summer will be hot both in temperature and sales to justify the hours.
I am willing to bet if Diamond had any competition, the secret shopper program would be dropped in a heartbeat. However, until then this is just a small issue — an excuse for Diamond to make more money off small businesses that have to buy through them.
Enjoyed this article? Share it!