Once upon a time, there were no creator credits on the cover of a comic book. The cover artist might be able to sneak a signature in there, but that was all. Some creators managed to make their name part of the title, such as John Byrne's Next Men, but that was that.
Then companies, realising that people were following creators more and more, started putting the writer and artist's names on the cover as standard. Colouring came next, spearheaded by Warren Ellis on The Authority insisting that Laura Martin was as much a part of the appeal of the book as any of them, and when DC Comics made it standard, so did Marvel.
A number of books have started to include cover-crediting letterers, including Black Mask Studios books and Image titles.
Editors have been increasing in prominence and their appeal has been monetized. Karen Berger was dropped by DC Vertigo and set up Berger Books at Dark Horse Comics. Shelly Bond did the same with Black Crown at IDW, as much a part of the appeal. We now have celebrity creators-turned-editors such as Gerard Way, Grant Morrison, Gail Simone and Brian Bendis. Editor sales appeal is now a thing.
Mags Visaggio may have been the first to make this a visible standard with her Kim & Kim book for Black Mask cover-crediting editor Katy Rex, and Quantum Teens Are Go crediting Jon Gorga. But Black Mask Studios have certainly followed up on that example with issues of Black [AF] cover crediting editor Sarah Litt. for example. It is true that often with creator-owned books, the writer acts as editor of the book as well, but increasingly writers hire editors, recognising a separation for the role.
Visaggio told me 'Editors on Kim and Kim carry a lot of weight and work with me on story development because it's already such a big universe and the psychologies of the characters are complex. So we spend a lot of time batting ideas around, I wanted to make sure they got credit.' and on this week's Sex Death Revolution, crediting former Bleeding Cool EIC Hannah Means-Shannon, 'Hannah has been absolutely 100% running the book logistically.'
And with editors gaining their own following and becoming more and more a part of the sales promotion story, who else will follow her and Black Mask Studios' example? After all, at some publishers, editors may have quite the scope to be able to put their own names on the cover, if they felt it might be of use…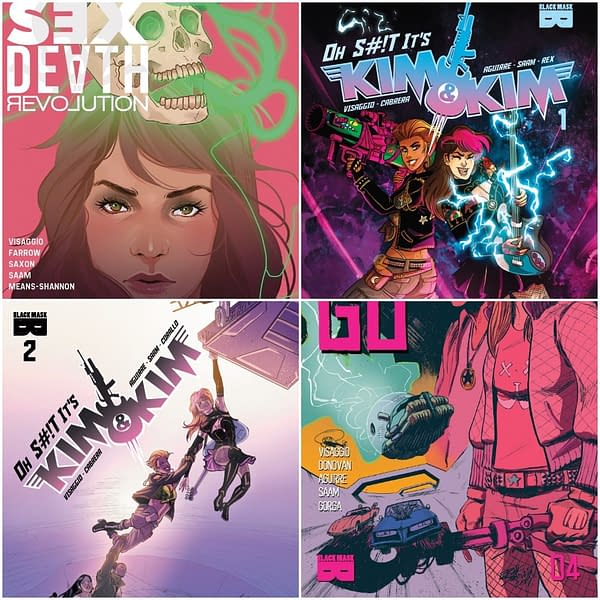 Enjoyed this article? Share it!