Daredevil #599 Review: Compelling Character Building and Gritty Art
Daredevil seeks out Muse while Mayor Fisk spins the murder of the six police officers as an attack from the Punisher. This furthers Fisk's anti-hero message. Deputy Mayor Matt Murdock tries to push him away from this tactic, but Fisk is determined to make superheroes the enemies of New York.
Meanwhile, Blindspot intends to settle his personal score with Muse.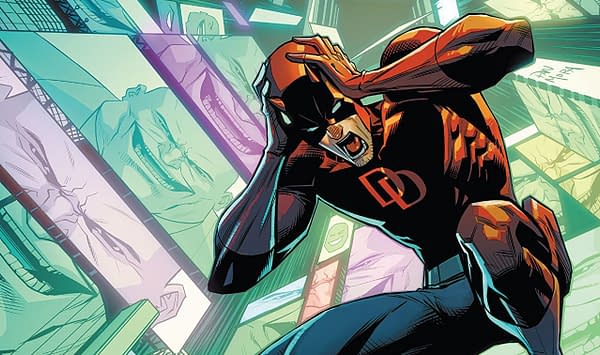 Daredevil #599 provides a vivid display of what the administration of Mayor Fisk is doing to Matt Murdock with multiple scenes of our horned hero being drowned out by the name of his most hated foe. Not only does this comic show how traumatizing something like that would be; it also does it in a distinctly Daredevil manner. Matt tries to scan the soundscape of New York for the void that is Muse, but he's incapable of focusing enough to do that by the repeated discussion of the name "Fisk."
This happens twice throughout the comic, and I focus on it so much because it's really a brilliant sequence. Charles Soule, Ron Garney, and Matt Milla deserve high praise for constructing these moments. It is uniquely compelling character work, and it just looks great.
The issue sets up well for the anticipated #600 beyond just biding time. Fisk's building aggression and frustration with both DD and Muse is shown. Blindspot's animosity towards Matt as well as his own growing anger with the world comes into the forefront. Muse is barely in the comic, but his work and threat looms over the other major players. Soule plays up the drama while utilizing effective subtlety.
Ron Garney's artwork continues to be a brilliant mixture of Romita Jr.-esque grittiness and dim noir detailing. Matt Milla compliments it with darker color work and using lighter color to give focus to the subjects.
Daredevil #599 sets up for the next landmark issue while being a compelling read in its own right. Soule and Garney continue to make Daredevil one of the stronger Marvel books on the stands, and this issue comes strongly recommended. Give it a read.