David Avallone has a Writer's Commentary on Bettie Page Unbound #9, on sale now from Dynamite.
It's a new-ish year, and we're bringing the INVASION OF THE BETTIE SNATCHERS arc to its conclusion. Excited? You should be. Did you read BETTIE PAGE UNBOUND #9? Because here comes the spoilers…
Covers: John Royle's "Bettie-as-Elsa" cover cracks me up, and is definitely one I didn't see coming. Wait till you see what he's got in store for next month. Scott Chantler has been really rocking the 1950s sci-fi tropes with these covers, and each one deserves its own Bettie miniseries. Bettie joins the Star Patrol? I'd write the hell out of that. Jerome K. Moore has Bettie distracting a certain gill-man (has he wandered over from SHAPE OF ELVIRA) and his talent for whimsy and likeness is on full display. Last but not least, frequent Bettie artist Matt Gaudio does a great sci-fi Bettie cover that echoes what's inside the issue a little more than the other three. So let's look inside…
Inside Front Cover: I want to draw your attention to the dedication to Diahann Carroll. She passed away while we were prepping this issue, and I felt like you should all know that she's been the inspiration for Lyssa Druke, from the beginning. My father was a big fan, and he also based a character on her: Melissa Mercer, the assistant to his series private eye character, Ed Noon. You can find the Noon novels on Amazon in eBook form (just search for "Michael Avallone") and give one a read. In the books written after 1962, you might even run into a woman who could very well be Lyssa Druke, years later, after a bad marriage to a man named Mercer…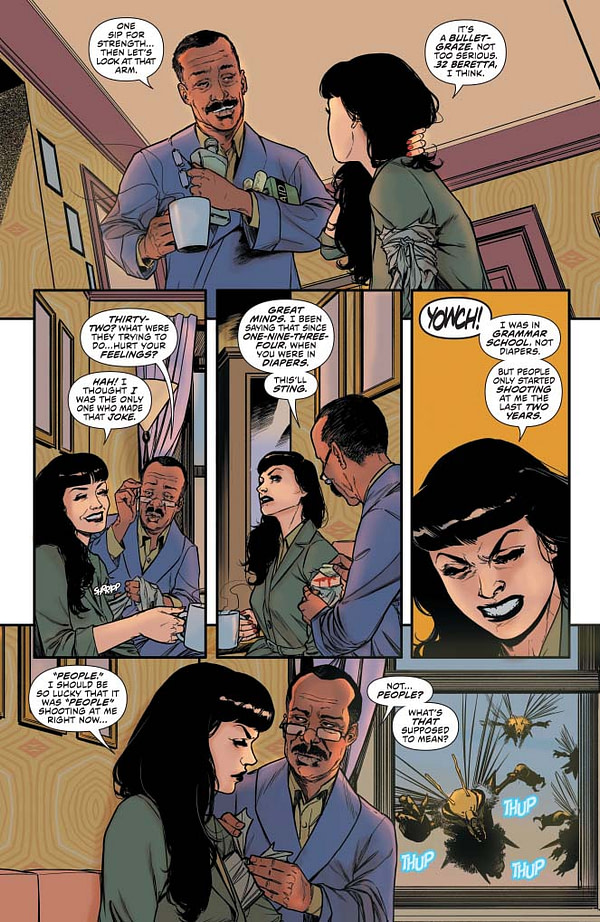 Page 1: Picking up right where we left off. Bettie and Jericho. About this page, artist Julius Ohta wrote: "Despite all the action, I really loved the chat between Bettie and Jericho." I agree with him completely. The quiet character moments give the crazy action scenes a reason to exist. Taking a breath now and then, with two absolutely delightful characters like this, is a lot of fun. Look at all the beautiful subtlety Julius puts into their facial expressions. "What were they trying to do… hurt your feelings?" is a hard-boiled joke about small caliber handguns I wrote a long time ago and try to employ whenever it fits. Bettie makes note that she's been a spy for about two years. The series started in the Spring of 1951, and now it's December 1952.
Pages 2 & 3: And then… when it's time to NOT be subtle at all… Julius delivers the action. The bee-people from outer space attack. Sometimes you just gotta have that two-page spread, and I love giving Julius that kind of canvas to work with for a big action moment. You might think Jericho would be a little more stunned… but if you knew who he worked for in the 1930s… and all the crazy stuff he saw back then… you'd understand his grim determination. Good page to make note of letterer Taylor Esposito's great sound effects and placement, from last page's "thup thup thup" of giant bee wings, to this page-spanning KRRRRASSSSSHHH.
Pages 4 & 5: Jericho and Bettie use the tools at hand, including a bottle of rubbing alcohol, a Zippo, a lamp and their fists… but help is on the way.
Page 6: The Druke ladies and their firearms save the day, and the Praesepods retreat. Again, note Taylor's fun alien language.
Page 7: Aftermath. "Sweet Christmas" is a little nod to the location of this scene (Harlem) and the Harlem superhero who's going to come along in about twenty years. Luke Cage had to pick it up from somewhere, right? Why not Old Man Druke? Bettie does a call-back to issue 6, where she referred to Lyssa as "the Cavalry" (which shows up to save the day). In the last panel, "Uncle Moses" in Flatbush isn't really a relative. He's one of Jericho's oldest friends and associates: Moses "Moe" Shrevnitz. He was the driver for their old boss.
One more thing about that last panel: a particularly lovely likeness of Diahann Carroll from Julius.
Page 8: As we move to a new location, and a new mood, artist Pasquale Qualano takes over (so Julius can get back to work on the art for issue 10, our finale.) Colorist Ellie Wright, who's been on this comic for the last two volumes, doing amazing work, helps ease the transition, though Pasquale and Julius have complementary styles.
When I went to New York Comic Con in October, I stayed at the New Yorker… a grand old NYC art deco hotel. If it's good enough for me and my wife, it's good enough for Rick Chaplain. If you're new to the series… Rick is loosely based on Thelemite and rocket scientist Johnny Whiteside Parsons, the subject of the current STRANGE ANGEL miniseries. Rick's been in the series since the first issue of the first volume: he's the one who got Bettie into all this crazy espionage stuff.
If the hotel clerk looks familiar, it's because he's based on an old dear friend of mine who passed away a couple of years back: character actor Jon Polito. I miss him, so I sneak him into comics whenever I can. Last year he had a little cameo in SHAPE OF ELVIRA.
Pages 9 & 10: Rick's room at the New Yorker is a little bigger than mine, but I'm not an important rocket scientist. The expression Bettie uses – "spitting image" – is an old-school way of saying something is an identical twin. My dad wrote a pulp novel about killer twins called THE SPITTING IMAGE. When Bettie has a "guess" as to what Rick has in mind… it's because she knows of his connection to mystic cults and arcane practices.
I love the "hypnosis effect" on these pages. I think that's something Pasquale came up with when I asked for something that would indicate clearly we were going inside Bettie's head. So who's inside Bettie's head…?
Page 11: In the first four issues of BETTIE PAGE UNBOUND, she traveled to four different dimensions and "became" four different versions of herself. A Red Sonja-type, a Vampirella-type, a Dejah Thoris-type and a Tinkerbell-type. It occurred to me that this isn't something you can shake off easily, and it might have had a long-term effect on her. For good AND for ill. Also, for the pure fun, I feel like if I was a fan of this book (aside from being the writer) I would really want to see these four again, and particularly see them interact with the "real" Bettie.
The book is titled Xenoanthophila Praesepe. That's Latin for Alien Bees from the Beehive Nebula. Seriously.
Page 12: In the mind of the Queen Praesepod. I had initially thought it would be cool if the outer borders of the panels were the shape of her head, but Pasquale had the better idea of placing all the images within her multi-faceted eye.
Page 13: Bettie back in the Mind Library. As always, her doppelgangers are supportive and Tinkerbell is aware of the dangers ahead. We'll probably come back here again… not just in this series, but in future Bettie adventures. I like this room and love these characters.
Pages 14 & 15: Bettie and her gang try to make a break for it. The reference to "bug powder" is a little echo of William S. Burroughs novel NAKED LUNCH and the Cronenberg movie it inspired. (cf. our running supervillian Doctor Elroy Benway, another Burroughs/NAKED LUNCH reference. I wonder what Benway's been up to while this whole invasion thing is going on…)
Page 16: The Duplanoid McKnight has caught up with her. Bettie says, "It's nice to have wings. Had a pair myself, once or twice." She's referring to BETTIE PAGE UNBOUND #2, where she had the giant batwings that come along with being Vampirella, and BETTIE PAGE UNBOUND #4, where she had the delicate fairy wings of Tinkerbell.
Pages 17 & 18: A confrontation on a skyscraper roof, and Bettie makes her move. Pasquale reveals Bettie's own Duplanoid, now somewhat worse for wear, having been thrown off the back of a moving train at the end of BETTIE PAGE UNBOUND #8.
Page 19 & 20: All Hell breaks loose, not that Bettie would approve of me cussing like that. Bettie shoots her own double, to save Lyssa, but the bad guys (bad bees?) get away with Rick Chaplain. What does Bettie want with SCUBA gear? Find out next time, in the senses-shattering, two-fisted, all-action FINALE of INVASION OF THE BETTIE SNATCHERS! CHAPTER FIVE, coming January 29th! So soon!
As always… acknowledgement and thanks to Kevin Ketner for his full-service editing – getting these issues out at this speed, and with all the artists involved, was a heroic effort. And to Joe Rybandt and Nick Barrucci for letting me play with their toys.
See you next time!