DC Comics Leaves Barnes & Noble Newsstands
DC Comics and Barnes & Noble have had a fractious relationship on occasion. When DC Comics released 100 graphic novels as a digital exclusive on the Amazon Fire, Barnes & Noble, owner of the Nook, pulled all those books in print from the shelves. It was quite a thing. Eventually, B&N blinked.
And of late they have been happy to run DC Days across all their stores and Marvel was able to use B&N stores to promote their floppy series Mosaic.
But Barnes & Noble also sells floppy comics as part of their magazine newsstand offerings. However, in 2013, they stopped selling Marvel Comics titles, while still selling plenty of DC, Dark Horse and Archie.
But as of late last year, it seems that offering now no longer included DC Comics. Instead, you have Titan, Bongo, Alterna, and Archie, according to this photo. It's not just one store, either — we now have multiple reports of people unable to find their expected DC Comics singles titles at Barnes & Noble anymore.
Can you find any, still in the world? What does your local Barnes & Noble stock in this fashion? We'd love to see.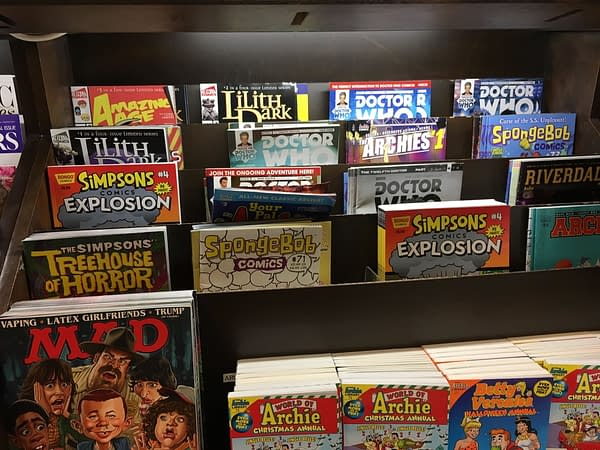 After a series of mergers and bankruptcies in the American bookstore industry since the 1990s, Barnes & Noble stands alone as the United States' largest national bookstore chain, as a retailer of content, digital media, and educational products. As of 2017, the company operates 778 retail stores in all US states.
Previously, Barnes and Noble operated the chain of small B. Dalton Booksellers stores in malls until they announced the liquidation of the chain.
The company is known for large retail outlets, many of which contain a café serving Starbucks coffee and other consumables. Most stores sell books, magazines, newspapers, DVDs, graphic novels, gifts, games, toys, music, and Nook e‑readers and tablets.
But no longer DC floppies, it seems.