DC Sells More Comics, Marvel Makes More Money: January 2018 Marketshare Establishes New Paradigm
The gap between Marvel and DC continues to perform pirouettes in January 2018's marketshare figures, as provided by the direct market's supplier Diamond Comic Distributors.
Marvel Comics was January's top publisher in dollars with a 34.30% retailer dollar share and a 36.69% unit share. This is a slight bump on December's 33.8% dollar share, but a drop on their 38.31% unit share.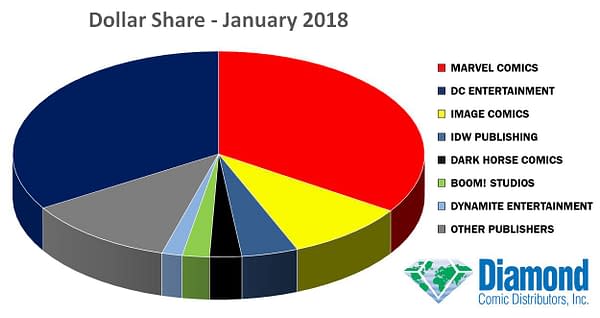 But DC Entertainment was the month's top publisher in units shipped, with a 38.94% unit share and a 33.80% retailer dollar share. A drop on their dollar share in December of 34.54%, but a boost to their December 37.65% unit share.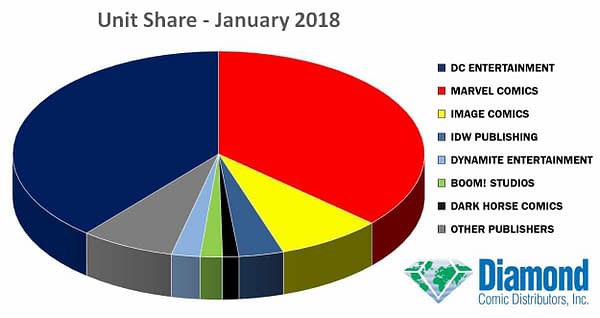 This continues to solidify the new reality. DC sells more comics, Marvel brings in more money, possibly due to having $3.99 as a price baseline compared to DC Comics' $2.99.
Of course, the best-selling comic, Doomsday Clock #3 was $4.99. And Marvel was locked out of the top five in the Battle of '75 with The Walking Dead #175 beating out Avengers #675.
Image Comics was third with a 9.48% dollar share and an 8.23% unit share. In fourth was IDW Publishing with a 4.42% dollar share and a 3.51% unit share, followed by Dark Horse Comics with a 2.50% dollar share and a 1.27% unit share. IDW however publishes many more titles than Dark Horse and, per title, Dark Horse probably did better.
Outside of the top ten — indeed the top hundred — Star Wars Adventures: Forces of Destiny: Leia, ranked #135, and Dark Horse Comics' Sherlock Frankenstein and the Legion of Evil #4 was their top book for January at #179.
TOP COMIC BOOK PUBLISHERS
PUBLISHER
DOLLAR

SHARE

UNIT

SHARE

MARVEL COMICS
34.30%
36.69%
DC ENTERTAINMENT
33.80%
38.94%
IMAGE COMICS
9.48%
8.23%
IDW PUBLISHING
4.42%
3.51%
DARK HORSE COMICS
2.50%
1.27%
BOOM! STUDIOS
2.13%
1.74%
DYNAMITE ENTERTAINMENT
1.61%
2.25%
VIZ MEDIA
1.29%
0.44%
TITAN COMICS
0.96%
0.74%
ONI PRESS INC.
0.89%
0.48%
OTHER NON-TOP 10
8.63%
5.71%
COMPARATIVE SALES STATISTICS
DOLLARS
UNITS
JANUARY 2018 VS. DECEMBER 2017
COMICS
6.08%
7.60%
GRAPHIC NOVELS
-6.09%
-11.86%
TOTAL COMICS/GN
2.13%
5.79%
TOYS
5.72%
12.29%
JANUARY 2018 VS. JANUARY 2017
COMICS
-4.29%
-11.40%
GRAPHIC NOVELS
3.96%
6.09%
TOTAL COMICS/GN
-1.97%
-10.26%
TOYS
24.19%
17.66%
NEW TITLES SHIPPED
PUBLISHER
COMICS SHIPPED
GRAPHIC NOVELS SHIPPED
MAGAZINES SHIPPED
TOTAL

SHIPPED

MARVEL COMICS
86
41
0
127
DC ENTERTAINMENT
89
28
0
117
IMAGE COMICS
62
18
0
80
IDW PUBLISHING
43
25
0
68
BOOM! STUDIOS
24
12
0
36
DARK HORSE COMICS
10
14
0
24
VIZ MEDIA
0
18
0
18
DYNAMITE ENTERTAINMENT
13
3
0
16
VALIANT ENTERTAINMENT
7
3
0
10
ONI PRESS
5
4
0
9
OTHER NON-TOP 10
139
130
25
294
TOTAL
392
255
25
672
TOP 10 COMIC BOOKS BY UNITS SHIPPED
| | | | | |
| --- | --- | --- | --- | --- |
| RANK | DESCRIPTION | PRICE | ITEM CODE | VENDOR |
| 1 | DOOMSDAY CLOCK #3 | $4.99 | NOV170212-M | DC |
| 2 | DARK NIGHTS METAL #5 | $3.99 | OCT170206-M | DC |
| 3 | BATMAN #38 | $2.99 | NOV170231-M | DC |
| 4 | BATMAN #39 | $2.99 | NOV170233-M | DC |
| 5 | THE WALKING DEAD #175 (MR) | $3.99 | NOV170604-M | IMA |
| 6 | AVENGERS #675 | $4.99 | OCT170809-M | MAR |
| 7 | BATMAN: WHITE KNIGHT #4 | $3.99 | NOV170239-M | DC |
| 8 | AMAZING SPIDER-MAN/VENOM: VENOM INC. OMEGA #1 | $4.99 | NOV170955-M | MAR |
| 9 | BATMAN AND THE SIGNAL #1 | $3.99 | NOV170210-M | DC |
| 10 | OLD MAN HAWKEYE #1 | $3.99 | NOV170921-M | MAR |
TOP 10 COMIC BOOKS BY DOLLARS INVOICED
| | | | | |
| --- | --- | --- | --- | --- |
| RANK | DESCRIPTION | PRICE | ITEM CODE | VENDOR |
| 1 | DOOMSDAY CLOCK #3 | $4.99 | NOV170212-M | DC |
| 2 | DARK NIGHTS METAL #5 | $3.99 | OCT170206-M | DC |
| 3 | AVENGERS #675 | $4.99 | OCT170809-M | MAR |
| 4 | THE WALKING DEAD #175 (MR) | $3.99 | NOV170604-M | IMA |
| 5 | AMAZING SPIDER-MAN/VENOM: VENOM INC. OMEGA #1 | $4.99 | NOV170955-M | MAR |
| 6 | BATMAN #38 | $2.99 | NOV170231-M | DC |
| 7 | BATMAN: WHITE KNIGHT #4 | $3.99 | NOV170239-M | DC |
| 8 | BATMAN #39 | $2.99 | NOV170233-M | DC |
| 9 | BATMAN AND THE SIGNAL #1 | $3.99 | NOV170210-M | DC |
| 10 | OLD MAN HAWKEYE #1 | $3.99 | NOV170921-M | MAR |
TOP 10 GRAPHIC NOVELS & TRADE PAPERBACKS BY UNITS SHIPPED
| | | | | |
| --- | --- | --- | --- | --- |
| RANK | DESCRIPTION | PRICE | ITEM CODE | VENDOR |
| 1 | LEGEND OF KORRA VOLUME 2: TURF WARS PT 2 TP | $10.99 | SEP170087 | DAR |
| 2 | THE WICKED & THE DIVINE VOLUME 6: IMPERIAL PHASE PART 2 TP (MR) | $16.99 | NOV170862 | IMA |
| 3 | DC SUPER HERO GIRLS: DATE WITH DISASTER TP | $9.99 | NOV170216 | DC |
| 4 | DESCENDER VOLUME 5: RISE OF THE ROBOTS TP | $16.99 | NOV170741 | IMA |
| 5 | KILL OR BE KILLED VOLUME 3 TP (MR) | $16.99 | NOV170691-M | IMA |
| 6 | SAGA VOLUME 8 TP (MR) | $14.99 | OCT170715 | IMA |
| 7 | WOLVERINE: OLD MAN LOGAN VOL. 6: DAYS OF ANGER TP | $17.99 | NOV171057-M | MAR |
| 8 | VISION HC | $39.99 | OCT170993 | MAR |
| 9 | SAGA VOLUME 1 TP (MR) | $9.99 | AUG120491 | IMA |
| 10 | HARLEY QUINN VOLUME 4: SURPRISE, SURPRISE TP | $16.99 | OCT170360 | DC |
TOP 10 GRAPHIC NOVELS & TRADE PAPERBACKS BY DOLLARS INVOICED
| | | | | |
| --- | --- | --- | --- | --- |
| RANK | DESCRIPTION | PRICE | ITEM CODE | VENDOR |
| 1 | VISION HC | $39.99 | OCT170993 | MAR |
| 2 | THE WICKED & THE DIVINE VOLUME 6: IMPERIAL PHASE PART 2 TP (MR) | $16.99 | NOV170862 | IMA |
| 3 | GENE COLAN'S TOMB OF DRACULA ARTIST EDITION HC | $125.00 | AUG170497 | IDW |
| 4 | SUPERMAN: THE GOLDEN AGE OMNIBUS VOLUME 5 HC | $125.00 | AUG170343 | DC |
| 5 | MARVEL MASTERWORKS: DAREDEVIL VOLUME 12 HC | $75.00 | JUL171204-M | MAR |
| 6 | MARVEL MASTERWORKS: SUB-MARINER VOLUME 8 HC | $75.00 | JUL171206-M | MAR |
| 7 | LEGEND OF KORRA VOLUME 2: TURF WARS PT 2 TP | $10.99 | SEP170087 | DAR |
| 8 | DESCENDER VOLUME 5: RISE OF THE ROBOTS TP | $16.99 | NOV170741 | IMA |
| 9 | KILL OR BE KILLED VOLUME 3 TP (MR) | $16.99 | NOV170691-M | IMA |
| 10 | DEADPOOL & CO. OMNIBUS HC | $125.00 | JUL171192 | MAR |
TOP 10 BOOKS BY UNITS SHIPPED
| | | | | |
| --- | --- | --- | --- | --- |
| RANK | DESCRIPTION | PRICE | ITEM CODE | VENDOR |
| 1 | BLACK PANTHER LITTLE GOLDEN BOOK | $4.99 | NOV172179 | RAN |
| 2 | DC SUPER HERO GIRLS: HARLEY QUINN AT SUPER HERO HIGH | $13.99 | NOV172187 | RAN |
| 3 | DC SUPER FRIENDS: THE FLASH LITTLE GOLDEN BOOK | $4.99 | NOV172183 | RAN |
| 4 | WONDER WOMAN IS RESPECTFUL PICTURE BOOK | $4.95 | NOV172176 | CAP |
| 5 | NIGHT, NIGHT GROOT BOARD BOOK | $7.99 | NOV172194 | HAC |
| 6 | BATMAN IS TRUSTWORTHY PICTURE BOOK | $4.95 | NOV172171 | CAP |
| 7 | THE FLASH IS CARING PICTURE BOOK | $4.95 | NOV172172 | CAP |
| 8 | SUPERMAN IS A GOOD CITIZEN PICTURE BOOK | $4.95 | NOV172174 | CAP |
| 9 | JUSTICE LEAGUE: THE JOKER & HARLEY QUINNS JLA JAILHOUSE SC | $5.95 | NOV172192 | CAP |
| 10 | THE SHADOW DOUBLE NOVEL VOLUME 125 SC | $14.95 | OCT172091 | SAN |
TOP 10 TOYS BY DOLLARS INVOICED
| | | | |
| --- | --- | --- | --- |
| RANK | DESCRIPTION | ITEM CODE | VENDOR |
| 1 | DRAGONBALL SUPER DRAGON STARS ACTION FIGURES | DEC168933 | BAN |
| 2 | ONE-12 COLLECTIVE: MARVEL: X-FORCE DEADPOOL ACTION FIGURE | FEB178707 | MEZ |
| 3 | OVERWATCH: D.VA 20-INCH STATUE | AUG178473 | BLI |
| 4 | BORUTO -NARUTO NEXT GENERATIONS: NARUTO FIGURE | MAY178022 | BAN |
| 5 | MARVEL SELECT: THOR RAGNAROK: GLADIATOR HULK FIGURE | JUL172803 | DST |
| 6 | POP! DRAGON BALL SUPER: GOTENKS VINYL FIGURE | AUG178958 | FUN |
| 7 | MARVEL SELECT: GUARDIANS OF THE GALAXY VOL. 2: DRAX & BABY GROOT ACTION FIGURE | JAN172662 | DST |
| 8 | DRAGONBALL Z MANGA DIMENSIONS: VEGITO FIGURE | JAN178995 | BAN |
| 9 | OVERWATCH: TRACER FIGMA | MAY178050 | GOO |
| 10 | MARVEL SELECT: GUARDIANS OF THE GALAXY VOL. 2: STAR-LORD & ROCKET FIGURE | JAN172663 | DST |
TOP 10 GAMES BY DOLLARS INVOICED
| | | | |
| --- | --- | --- | --- |
| RANK | DESCRIPTION | ITEM CODE | VENDOR |
| 1 | VAMPIRELLA TAROT CARDS SET | AUG171626 | DE |
| 2 | RICK AND MORTY MONOPOLY | DEC172927 | USA |
| 3 | MAGIC THE GATHERING TCG: HOUR OF DEVASTATION BOOSTER PACKS | APR173295 | WIZ |
| 4 | MARVEL DICE MASTERS: MIGHTY THOR 90 GRAVITY FEED PACKS | JUN173411 | NEC |
| 5 | MAGIC THE GATHERING TCG: IXALAN BOOSTER PACKS | JUN173398 | WIZ |
| 6 | DC DICE MASTERS: BATMAN GRAVITY FEED PACKS | SEP168742 | NEC |
| 7 | TEENAGE MUTANT NINJA TURTLES: SHADOWS OF THE PAST BOARD GAME | APR160482 | IDW |
| 8 | FANTASY FLIGHT GAMES STARTER | OCT178573 | ASM |
| 9 | MAGIC THE GATHERING TCG: HOUR OF DEVASTATION BUNDLE PACK | APR173296 | WIZ |
| 10 | DROPMIX MUSIC GAMING SYSTEM | JUL178809 | HAS |