The best-laid plans of mice, men and DC Comics editorial staff aft gang agley. Once upon a time, Bleeding Cool reported that the Suicide Squad monthly series would be cancelled by DC Comics, to be relaunched spinning out of Heroes In Crisis, featuring a Wally West, imprisoned for the murders of the heroes in Sanctuary and somehow back from the dead. And that the new series would be written by Brian Azzarello.
That was the original plan. The monthly Suicide Squad series was cancelled with issue 50, despite relatively reasonable sales, with the intent to relaunch as a Wally West and the Suicide Squad comic – but have a little gap between the two to make the relaunch more special.
Then Heroes In Crisis was delayed. Really delayed. Plans around just what Wally West would do in the series also seem to have changed. No longer a shocking opener with Wally West running through Sanctuary with a machine gun blowing people away – though Lagoon Boy's death appears to have been a remnant of that. The revelation of Wally being the murderer was saved until the end, as was the reason and motivation behind the deaths.
Then the Batman: Damned controversy kicked off over Bruce Wayne's batpenis being far more on display in the printed comic book than intended, and the relationship between Brian Azzarello and DC Comics was damaged in amongst the shifting blame, editorial demanded rewrites and redraws for subsequent issues of the series.
And so a different solution was sought. And now as Bleeding Cool first rumoured, we have Flash Forward, a mini-series starring Wally West by Scott Lobdell, Brett Booth and Norm Rapmund that will take him out of the prison cell but far away from any Suicide Squad. Maybe something closer to what Original Sin did with Bucky Barnes.
So a new Suicide Squad plan is being made – but the events of Event Leviathan have also delayed those too, as the body that commissioned Suicide Squad, led by Amanda Waller, has been destroyed and brought under the control of Leviathan. With a spinoff book, Gotham City Monsters including King Croc, and Harley Quinn appearing not just in her own title but in a Harley Quinn & Poison Ivy series.
But with DC's Year Of The Villain being the big event and a Suicide Squad 2 movie, The Suicide Squad from James Gunn coalescing for release in August 2021, look for DC Comics to relaunch a new Suicide Squad comic once again for 2020. Maybe sooner if you're very good. Though it seems without Wally West now. Shame, having him fighting alongside Captain Boomerang or Captain Cold in the Squad might have been fun.
These are the plans now, anyway. As ever, they are subject to change…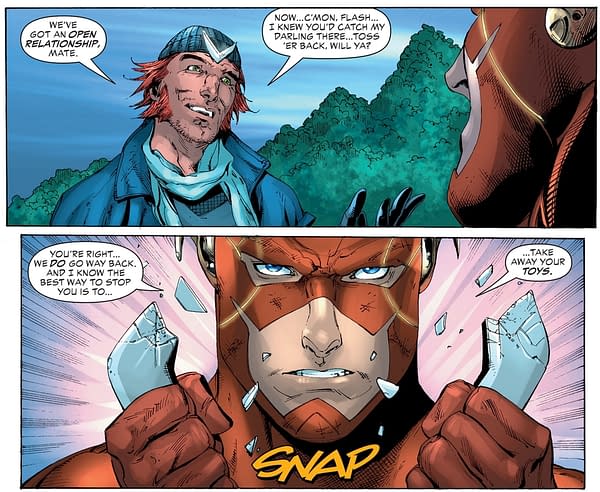 Enjoyed this article? Share it!