It looks like Diamond isn't planning to give up its stranglehold on the direct market any time soon. Following reports yesterday that website League of Comic Geeks would launch a competing pull list service for retailers, with both a free and $30/month tier, Diamond announced today at the Retailer Summit ahead of C2E2 that their own pull list service, Pullbox, will be free for all retailers for more than a year. In addition, Diamond's Comic Suite POS system will also be available for free alongside Pullbox, with retailers not needing to pay a dime until July, 2019.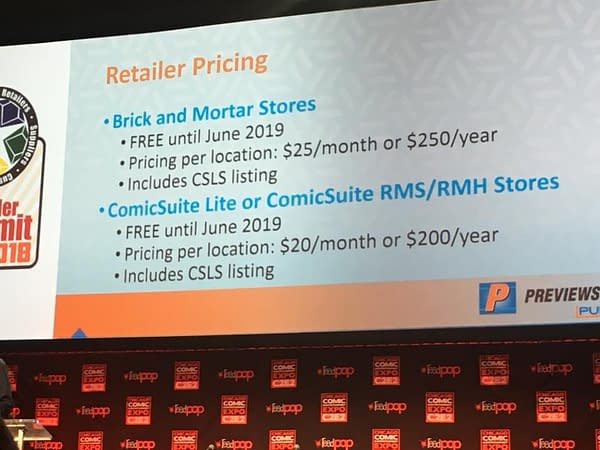 Starting in July, retailers will need to pay for pullbox, at a rate of $25 per month, discounted to $250 per year. Stores using Comic Suite get an additional discount, $20 per month or $200 per year. With Diamond's Pullbox service, readers can set up a weekly pull list, order additional titles from the catalog, and even set up a wishlist for others to buy them comics, all for free online on Diamond's PreviewsWorld website, with the orders automatically shipped to participating retailers for customers to pick up at their local store.
If that all sounds too good to be true, you should know that you're not alone in your suspicion. Controversial retailer Dennis Barger Jr. immediately took to Facebook to decry the service as a wolf in sheep's clothing inside a Trojan horse, further mixing his metaphors by claiming that the service could be a customer vampire, inviting local shop customers to use Diamond's website to order their comics, thus taking control of customer management away from retailers. If Diamond were to later offer shipping direct to customers, or strike a deal with a national chain like Gamestop, could Pullbox end up driving customers away from local comic shops and killing the direct market? Comics retail is a deadly, high-stakes game.
Diamond's Pullbox will launch in June and July as a beta, with a full release in August. League of Comic Geeks' service is available for retailers to sign up now, but it is unknown when readers will be able to preorder comics. Pullbox isn't the only area where Diamond is facing competition. A new Kickstarter by Emerald City Comic Con founder Jim Demonakos aims to take on Diamond in the admittedly smaller market for comic book spinner racks.
Enjoyed this article? Share it!