The Diamond Retailer Best Practices Awards: Summer 2019 will be announced as San Diego Comic-Con on the Friday. Submitted by retailers, the Diamond BPAs seek to identify and honour comic shops that demonstrate "best practices" in their stores, offering customers and community a consistently appealing shopping experience…
Nominations for the Summer 2019 Awards span four categories: Best Kids Section, Best Free Comic Book Day Event, Best Online Ad Campaign, and Best Movie Themed Display. Winners in each category receive $250 credit from Diamond.
Here are the nominations for the Best Online Ad Campaign Section.
Packrat Comics – Hilliard, OH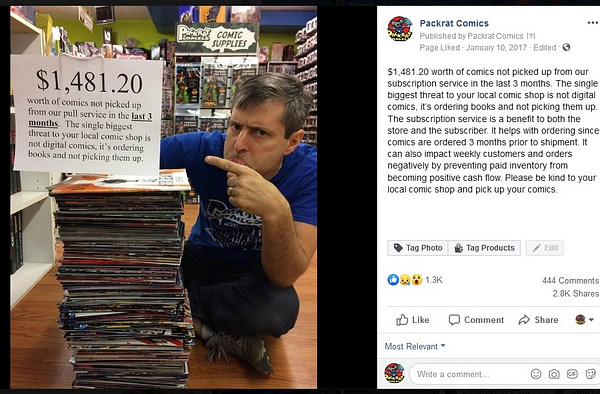 It was a cold January afternoon and we just finished doing pulls at Packrat.  It was that time of the year where we go through and remove any of the delinquent customers. While every store has their own risk tolerance for these types of accounts, we tend to make sure we do a quarterly cleaning.   After this particular deletion, and seeing so many online discussions about how digital comics would hurt the retailer, we thought we'd offer a different perspective.  It's those pull customers who suddenly become ghosts in your shop, leaving you with comics you ordered just for them. We thought we would simply share the idea that having the retailer tie up money in product your forgot hurts the retailer more than buying a digital version. We also planned on promoting the post as an ad on Facebook to get our locals into the shop and pick up more comics.  We weren't prepared for what happened next.  Thousands of comments, likes, shares and articles were written from that simple post. We quickly removed the boost option from the post as it wasn't necessary. We even had a podcaster come in from out of town to talk about it.   We heard from retailers around the world that shared the post and had the same positive feedback – delinquent customers picking up their comics or lost customers returning to just buy a few things.
It's hard to pin down just one online advertisement that has been successful for Famous Faces.  Most of our advertising is done online, and we pride ourselves on a thoughtful and frequent online presence. To be honest, the best online advertising we've done has been promoting the fact that we purchase toys, action figures, and Funko Pops. We use simple, colorful graphics to get the message across to those scrolling through Facebook and then we supply all the details in the body of the advertisement. The colorful square graphics are eye catching, and can easily be changed up for seasonal looks (we have a horror themed one we run in September and October). They also conform to Facebook's advertising standards, so we never have to waste time adjusting them. We've also used the same images on Instagram and Google, which not only saves time by not having to adjust them for each platform, but gives our store a nice uniform look across social media platforms.
No one else locally really purchases collections, or if they do, they certainly don't advertise it well. So us running colorful, informative advertisements really allowed us to get ahead of the competition. We keep the same posts running, and just adjust the target audience and the budget as we need to. We run the advertisements for a minimal budget per day (less than $5) and then put more money on them for one or two day runs every few months or when we think it'll benefit getting a great collection in (Christmas, before Free Comic Book Day, MegaCon, etc).
The response to the advertisement has been overwhelmingly positive and we've bought hundreds of collections since we started running the ads. The few minutes it took to make the images set the ad parameters, and check it once it was running have definitely paid off and allowed us to get a lot of unique collectibles on the shelf and into customers hands!
This year for Free Comic Book Day, we were fortunate to also have it fall on Star Wars Day, May the 4th. With that said we really wanted to take advantage of this by utilizing the Star Wars brand to help promote our Free Comic Day. We did so by aggressively putting out daily ads for a week and a half leading up to Free Comic Day on Instagram, Facebook, Twitter and our website.
The theme was to take famous quotes from the original Star Wars trilogy and change out key words to instead promote Free Comic Day. For example, Admiral Ackbar's famous "It's a trap!" line was changed to "It's a free comic!". This dialogue was represented over the image from the movie where he said that through a comic bubble.
We used secondary images to highlight different sales that we were going to hold for the day. Those images had the space background and the copy was in the same font and color used in the end credits for all the Star Wars movies to keep the overall theme consistent.
The ad campaign was promoted across all three of our stores in the South Florida region and was met with huge success. The creative play on words and use of the Star Wars brand really gave both laughs and appreciation by our customers and fans. The 2019 Free Comic Day has been our most successful to date and we feel the online ad campaign we did had a lot to do with that achievement.
Pulp 716 – North Tonawanda, NY
"That's Not My Name Monday"
Every Monday we do a social media campaign that usually gets over 500 interactions/comments/shares on our combined Facebook & Instagram pages.
We pick a handful of names, if your name is listed, you win whatever we're offering that day. If that's not your name, they say "that's not my name" and we use that list next week.
People tag their friends if they see their names, hundreds of people comment, and best of all- the winners almost always bring friends and they all have a great time and spend money.
Benefits
1) Everytime someone comments,  it shows up in their feed
2) Our followers grow by around 50 each week after the promo (7,000 new followers this year on all our accounts combined )
3) The winners bring friends and they spend money
4) People tag their friends, they advertise for us