It is a truth universally acknowledged that a good chunk of the success of the Daredevil Netflix TV show has been not just down to Charlie Cox as Matt Murdock but also Deborah Ann Woll as Karen, Elden Henson as Foggy and Vincent D'Onofrio as The Kingpin.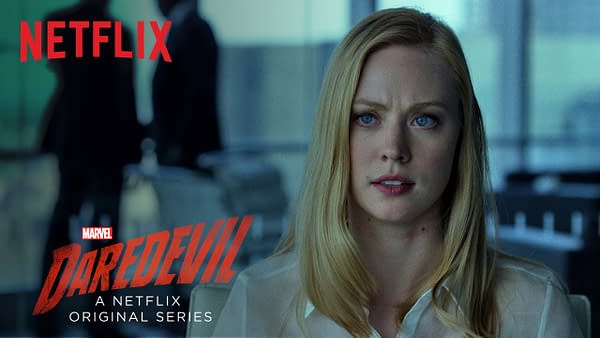 But the comic books have been without a Karen Page. Killed off in the Marvel Knights Daredevil series twenty years ago by Kevin Smith, Joe Quesada and Jimmy Palmiotti, at the hands of Bullseye.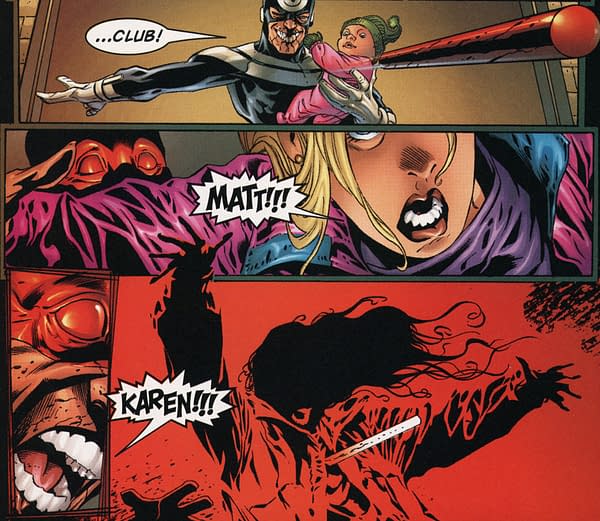 A reason why so many were rather worried this season by the emergence of a Bullseye character. But (spoilers) she made it through without being killed. And so there remains a strong disconnect between the TV show and the comic (other than the realisation that the suit looks dumb on the TV).
In today's issue of Marvel Knights 20th #3, story by Donny Cates, scripted by Matthew Rosenberg, with the Marvel Knights characters suffering from some kind of amnesia that is slowly rectifying itself, Matt Murdock talks to the imagined ghost of Karen Page, drawn by Niko Henrichon.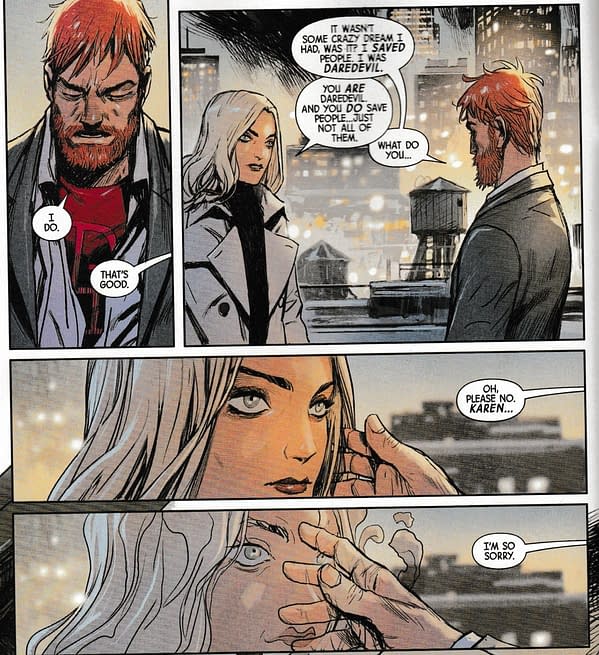 Until the end scene, from the final page, standing with Elektra and the Punisher…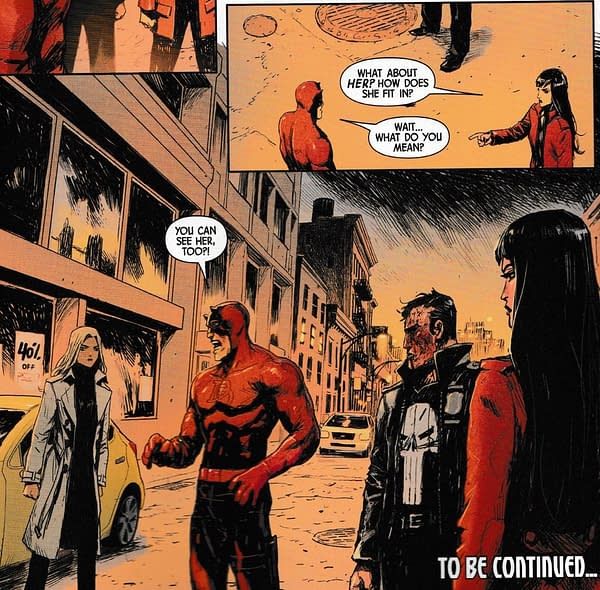 Not so ghostly after all? By the time this concludes, whatever is going on, will Karen Page be returned to the living? Twenty years after she was killed off in the Quesada era of dead-means-dead? And to the new Daredevil comic book launching in February? Just in time for Netflix to cancel the series because of conflicts with Disney's streaming service…
MARVEL KNIGHTS 20TH #2 (OF 6)
(W) Matthew Rosenberg, Donny Cates (A) Niko Henrichon (CA) Geoff Shaw
In celebration of the legendary imprint founded by Marvel's CCO Joe Quesada, a new crop of talent stands poised to tell a groundbreaking story across the Marvel Universe!
In the cemetery, the blind man does not know who he is, or why he has come to this particular grave at this moment.
He doesn't know the burly police officer with the wild story who has approached him.
Or the strangely intense man who sits in the rear seat of the patrol car, his eyes flashing green.
But all of that is about to change.
Because Matt Murdock is beginning to remember…
In a colorless world without heroes, the spark of light…must come from the dark…
Rated TIn Shops: Nov 21, 2018
SRP: $3.99
Enjoyed this article? Share it!