Doomsday Clock #10 and Heroes In Crisis #9 Both Out On Wednesday. Honest.
No more delays. No more rescheduling. It's actually happening. Unless a large tanker truck hits the skids and plummets off a mountain range, this coming Wednesday will finally see the release of the long-delayed-and-frequently-rescheduled Doomsday Clock #10, the unauthorised sequel to Watchmen published by DC Comics. Here's a full coloured page by Geoff Johns, Gary Frank and Brad Anderson.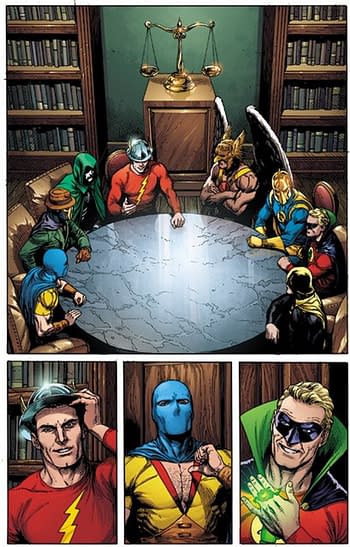 And it will be joined by the finale of Heroes In Crisis #9 by Tom King, Clay Mann and Tomeu Morey.
Both out on the same day. No joke.
Here's what else is out…
BOOM! STUDIOS
MAR191293 CODA #12 (OF 12) MAIN & MIX $3.99
JAN191368 GRAND ABYSS HOTEL ORIGINAL GN HC (MR) $24.99
MAR191299 LUMBERJANES SOMEWHERE GREEN #1 CVR A MAIN $7.99
MAR191300 LUMBERJANES SOMEWHERE GREEN #1 CVR B FISH VAR $7.99
MAR198758 MIGHTY MORPHIN POWER RANGERS #39 FOC MERCADO VAR $3.99
MAR191280 MIGHTY MORPHIN POWER RANGERS #39 MAIN $3.99
MAR191281 MIGHTY MORPHIN POWER RANGERS #39 PREORDER GIBSON VAR $3.99
FEB191276 SMOOTH CRIMINALS #6 (OF 12) $3.99
MAR191314 STEVEN UNIVERSE ONGOING #28 MAIN PENA CVR $3.99
MAR191315 STEVEN UNIVERSE ONGOING #28 PREORDER PERRONE VAR $3.99
DARK HORSE COMICS
MAR190353 BAD LUCK CHUCK #3 (OF 4) $3.99
JAN190470 DEATH ORB TP VOL 01 $19.99
JAN190459 DEPT H OMNIBUS TP VOL 01 $24.99
MAR190285 FIGHT CLUB 3 #5 CVR A MACK (MR) $3.99
MAR190286 FIGHT CLUB 3 #5 CVR B FEGREDO (MR) $3.99
JAN190446 GOD OF WAR TP $17.99
JAN190469 GRUNT HC ART AND UNPUBLISHED COMICS OF JAMES STOKOE $39.99
MAR190344 HELLBOY VS LOBSTER JOHNSON RING OF DEATH $3.99
DEC180370 MYSTERY SCIENCE THEATER 3000 #6 CVR A NAUCK $3.99
DEC180371 MYSTERY SCIENCE THEATER 3000 #6 CVR B VANCE $3.99
JAN190472 PROS AND (COMIC) CONS TP $19.99
MAR190270 STRANGER THINGS SIX #1 CVR A BRICLOT $3.99
MAR190271 STRANGER THINGS SIX #1 CVR B LAMBERT $3.99
MAR190272 STRANGER THINGS SIX #1 CVR C MACK $3.99
MAR190273 STRANGER THINGS SIX #1 CVR D SATTERFIELD PHOTO $3.99
AUG180391 WITCHER III WILD HUNT GERALT IN BATH STATUETTE $79.99
DC COMICS
NOV180600 BATMAN BLACK & WHITE STATUE WHITE KNIGHT JOKER BY MURPHY $80.00
MAR190458 BATMAN LAST KNIGHT ON EARTH #1 (OF 3) (MR) $5.99
MAR190459 BATMAN LAST KNIGHT ON EARTH #1 (OF 3) VAR ED (MR) $5.99
MAR190500 CATWOMAN ANNUAL #1 $4.99
APR190003 DC PREVIEWS #14 JUNE 2019 EXTRAS $PI
JAN190555 DC SUPER HERO GIRLS SPACED OUT TP $9.99
MAR190505 DETECTIVE COMICS ANNUAL #2 $4.99
MAR190475 DOG DAYS OF SUMMER #1 $9.99
JAN190585 DOOMSDAY CLOCK #10 (OF 12) $4.99
JAN190586 DOOMSDAY CLOCK #10 (OF 12) VAR ED $4.99
FEB190572 FLASH BY MARK WAID TP BOOK 06 $29.99
FEB190577 GREEN LANTERNS TP VOL 09 EVILS MIGHT $19.99
NOV180599 HARLEY QUINN RED WHITE & BLACK STATUE BY FRANK CHO $80.00
MAR190476 HEROES IN CRISIS #9 (OF 9) $3.99
MAR190477 HEROES IN CRISIS #9 (OF 9) VAR ED $3.99
FEB190592 LEGENDS OF THE DARK KNIGHT MICHAEL GOLDEN HC $29.99
FEB190599 RAVEN DAUGHTER OF DARKNESS TP VOL 02 $16.99
FEB190605 SHAZAM THE WORLDS MIGHTIEST MORTAL HC VOL 01 $49.99
MAR190478 SUPERMAN LEVIATHAN RISING SPECIAL #1 $9.99
MAR190555 WILD STORM #23 $3.99
DYNAMITE
MAR191139 PETER CANNON THUNDERBOLT #5 CVR A WADA $3.99
MAR191140 PETER CANNON THUNDERBOLT #5 CVR B GANUCHEAU $3.99
MAR191141 PETER CANNON THUNDERBOLT #5 CVR C WIJNGAARD $3.99
IDW PUBLISHING
FEB190717 AMBER BLAKE #3 GUICE $3.99
MAR190689 DICK TRACY FOREVER #2 CVR A OEMING $3.99
FEB190743 FOUR SISTERS TP VOL 02 HORTENSE $19.99
FEB190727 JUDGE DREDD TOXIC TP $15.99
DEC180795 LIFE ON THE MOON HC $39.99
MAR190633 MARVEL ACTION CLASSICS SPIDER-MAN TWO IN ONE #1 SCHERBERGER $4.99
FEB190676 MY LITTLE PONY NIGHTMARE KNIGHTS TP $17.99
MAR190663 MY LITTLE PONY SPIRIT OF THE FOREST #1 (OF 3) CVR A HICKEY ( $3.99
MAR190664 MY LITTLE PONY SPIRIT OF THE FOREST #1 (OF 3) CVR B FLEECS ( $3.99
MAR190746 PUNKS NOT DEAD LONDON CALLING #4 SIMMONDS $3.99
NOV180675 STAR TREK TNG HC MISSIONS CONTINUE $59.99
MAR190721 STAR TREK YEAR FIVE #2 CVR A THOMPSON $3.99
MAR190698 TMNT ONGOING #94 CVR A WACHTER $3.99
MAR190699 TMNT ONGOING #94 CVR B EASTMAN $3.99
MAR190701 TMNT URBAN LEGENDS #13 CVR A FOSCO $3.99
MAR190702 TMNT URBAN LEGENDS #13 CVR B FOSCO & LARSEN $3.99
MAR190715 TRANSFORMERS #6 CVR A LAWRENCE $3.99
MAR190716 TRANSFORMERS #6 CVR B MCGUIRE SMITH $3.99
MAR190676 UNCLE SCROOGE #45 GERVASIO $4.99
IMAGE COMICS
MAR190195 ASCENDER #2 (MR) $3.99
JAN190396 BLACK MAGICK HAWTHORNE CAT T/S XXL $26.99
NOV180107 BLACK SCIENCE #40 CVR A SCALERA (MR) $3.99
NOV180108 BLACK SCIENCE #40 CVR B LAROSA (MR) $3.99
MAR198647 DIE #4 3RD PTG (MR) $3.99
MAR198649 LITTLE BIRD #1 (OF 5) 3RD PTG (MR) $3.99
MAR190110 PARADOX GIRL TP VOL 01 $19.99
MAR190127 SAGA DLX ED HC VOL 03 (MR) $49.99
MAR198648 SPAWN #296 2ND PTG $2.99
MAR190248 SPAWN #297 CVR A MATTINA $2.99
MAR190249 SPAWN #297 CVR B MATTINA VIRGIN $2.99
MAR190250 SPAWN #297 CVR C B&W VAR MCFARLANE & MATTINA $2.99
MAR198752 WALKING DEAD #191 2ND PTG (MR) $3.99
JAN190403 WITCHBLADE GAUNTLET PIN $10.00
MARVEL COMICS
MAR190938 AGE OF X-MAN X-TREMISTS #4 (OF 5) $3.99
MAR198501 AMAZING SPIDER-MAN #19.HU 2ND PTG BACHALO VAR $3.99
MAR190835 AMAZING SPIDER-MAN #22 $3.99
MAR190837 AMAZING SPIDER-MAN #22 HEEJIN JEON MARVEL BATTLE LINES VAR $3.99
JAN199123 AMAZING SPIDER-MAN #22 YU CONNECTING VAR $3.99
MAR198728 AMAZING SPIDER-MAN #252 FACSIMILE EDITION NEW PTG $3.99
MAR190902 BLACK PANTHER #12 $3.99
MAR190903 BLACK PANTHER #12 HEYJIN IM MARVEL BATTLE LINES VAR $3.99
MAR198502 DAREDEVIL #4 2ND PTG CHECCHETTO VAR $3.99
MAR190898 DAREDEVIL #6 $3.99
MAR191022 DAREDEVIL TP FEARLESS ORIGINS $15.99
MAR190805 FANTASTIC FOUR #10 WR $3.99
MAR190812 GIANT MAN #2 (OF 3) $3.99
MAR190813 GIANT MAN #2 (OF 3) CHECCHETTO VAR $3.99
MAR198503 GUARDIANS OF THE GALAXY #4 2ND PTG SHAW VAR $3.99
MAR198665 IMMORTAL HULK #1 5TH PTG BENNETT VAR $3.99
MAR198659 IMMORTAL HULK #13 3RD PTG BENNETT VAR $3.99
MAR198660 IMMORTAL HULK #14 3RD PTG HOTZ VAR $3.99
MAR198658 IMMORTAL HULK #15 3RD PTG BENNETT VAR $3.99
MAR198656 IMMORTAL HULK #16 3RD PTG BENNETT VAR $3.99
MAR190847 IMMORTAL HULK #18 $3.99
MAR190848 IMMORTAL HULK #18 JONGJU KIM MARVEL BATTLE LINES VAR $3.99
MAR198664 IMMORTAL HULK #2 5TH PTG BENNETT VAR $3.99
MAR198661 IMMORTAL HULK #3 4TH PTG BROWN VAR $3.99
MAR198662 IMMORTAL HULK #6 4TH PTG GARBETT VAR $3.99
MAR198657 IMMORTAL HULK #7 3RD PTG BENNETT VAR $3.99
MAR198729 INCREDIBLE HULK #181 FACSIMILE EDITION NEW PTG $3.99
NOV181009 KIRBY IS FANTASTIC HC KING SIZE $100.00
MAR190911 MAGNIFICENT MS MARVEL #3 $3.99
MAR190912 MAGNIFICENT MS MARVEL #3 SUJIN JO MARVEL BATTLE LINES VAR $3.99
MAR198668 MAJOR X #1 (OF 6) 3RD PTG LIEFELD VAR $4.99
MAR198666 MAJOR X #3 (OF 6) 2ND PTG PORTACIO VAR $3.99
MAR190932 MAJOR X #4 (OF 6) $3.99
MAR191017 MARVEL COMICS TP TIMELESS TALES $19.99
APR190002 MARVEL PREVIEWS VOL 04 #23 JUNE 2019 EXTRAS $1.25
MAR190916 MARVEL RISING #3 (OF 5) $3.99
MAR191010 MARVEL VISIONARIES TP JOHN ROMITA SR $34.99
FEB190994 PUNISHER TP VOL 02 WAR IN BAGALIA $17.99
MAR191025 SPEEDBALL TP MASKED MARVEL $39.99
MAR190866 SPIDER-MAN CITY AT WAR #3 (OF 6) $3.99
MAR198504 SPIDER-MAN LIFE STORY #2 (OF 6) 2ND PTG BAGLEY VAR $4.99
MAR191005 SPIDER-MAN NOIR COMPLETE COLLECTION TP $24.99
MAR198206 SPIDER-MAN START HERE SAMPLER 2019 (BUNDLE OF 25) $PI
MAR191003 SPIDER-MAN VS MYSTERIO TP $39.99
MAR190859 STAR WARS ORIG MARVEL YRS #108 $5.99
MAR190863 STAR WARS ORIG MARVEL YRS #108 GOLDEN VAR $5.99
MAR190860 STAR WARS ORIG MARVEL YRS #108 INFANTINO REMASTERED VAR $5.99
MAR190988 STAR WARS VADER DARK VISIONS #4 (OF 5) $3.99
MAR190881 SUPERIOR SPIDER-MAN #6 $3.99
MAR198669 THANOS #1 (OF 6) 2ND PTG OLIVETTI VAR $4.99
MAR190892 THANOS #2 (OF 6) $3.99
MAR190893 THANOS #2 (OF 6) BARTEL VAR $3.99
MAR190818 THOR #13 HEEJIN JEON MARVEL BATTLE LINES VAR WR $3.99
MAR190816 THOR #13 WR $3.99
MAR190856 TRUE BELIEVERS SILVER SURFER RUDE AWAKENING #1 $1.00
MAR190857 TRUE BELIEVERS SPIDER-MAN KRAVENS LAST HUNT #1 $1.00
MAR198671 UNCANNY X-MEN #13 2ND PTG LORROCA VAR $3.99
MAR198670 UNCANNY X-MEN #14 2ND PTG LORROCA VAR $3.99
MAR198672 UNCANNY X-MEN #15 2ND PTG LORROCA VAR $3.99
MAR198673 VENOM #13 2ND PTG COELLO VAR $3.99
MAR190789 WAR OF REALMS SPIDER-MAN & LEAGUE OF REALMS #2 (OF 3) ARTIST $3.99
MAR190788 WAR OF REALMS SPIDER-MAN & LEAGUE OF REALMS #2 (OF 3) WR $3.99
MAR190790 WAR OF REALMS WAR SCROLLS #2 (OF 3) WR $4.99
MAR190926 WOLVERINE LONG NIGHT ADAPTATION #5 (OF 5) $3.99
MAR190943 X-23 #12 $3.99
MAR191020 X-FORCE TP VOL 01 SINS OF PAST $15.99
MAR190928 X-MEN GRAND DESIGN X-TINCTION #1 (OF 2) $5.99
MAR190929 X-MEN GRAND DESIGN X-TINCTION #1 (OF 2) PISKOR CORNER BOX VA $5.99
MAR190930 X-MEN GRAND DESIGN X-TINCTION #1 (OF 2) PISKOR VAR $5.99
COMICS & GRAPHIC NOVELS
MAR192001 ACHILLES INC #2 (MR) $3.99
FEB191769 ALL TIME COMICS SEASON ONE TP $24.99
FEB198303 ANGEL #1 CVR A MAIN PANOSIAN $3.99
FEB198895 ANGEL #1 CVR B CONNECTING INFANTE VAR $3.99
FEB198901 ANGEL #1 CVR C PREORDER BUONCRISTIANO VAR $3.99
MAR191481 ARCHIE AT RIVERDALE HIGH TP VOL 02 $10.99
MAR191486 ARCHIE JUMBO COMICS DIGEST #299 $6.99
APR191808 BAREFOOT GEN GN VOL 10 (CURR PTG) (MR) $16.95
MAR191881 BATTLECATS VOL 2 #1 $3.99
APR191531 BELLADONNA #0 KS COSTUME CHANGE A (MR) $8.99
APR191532 BELLADONNA #0 KS COSTUME CHANGE B (MR) $8.99
APR191533 BELLADONNA #0 KS COSTUME CHANGE C (MR) $8.99
APR191535 BELLADONNA #0 KS COSTUME CHANGE NUDE (MR) $16.99
APR191534 BELLADONNA #0 KS COSTUME CHANGE TOPLESS (MR) $9.99
APR191536 BELLADONNA #1 COSTUME CHANGE A (MR) $8.99
APR191537 BELLADONNA #1 COSTUME CHANGE B (MR) $8.99
APR191538 BELLADONNA #1 COSTUME CHANGE C (MR) $8.99
APR191539 BELLADONNA #1 NUDE & NAUGHTY A (MR) $9.99
APR191540 BELLADONNA #1 NUDE & NAUGHTY B (MR) $16.99
APR191541 BELLADONNA #1 NUDE & NAUGHTY C (MR) $16.99
APR191552 BELLADONNA FIRE FURY #1 SUPERIOR 50 SHADES CAPTIVE NUDE (MR) $39.99
APR191551 BELLADONNA FIRE FURY #1 SUPERIOR 50 SHADES CARNAGE (MR) $39.99
APR191553 BELLADONNA FIRE FURY #1 SUPERIOR 50 SHADES DEMURE NUDE (MR) $39.99
APR191554 BELLADONNA FIRE FURY #1 SUPERIOR 50 SHADES VICIOUS NUDE (MR) $39.99
APR191548 BELLADONNA FIRE FURY #1 SUPERIOR CELTIC (MR) $19.99
APR191549 BELLADONNA FIRE FURY #1 SUPERIOR RAIDER (MR) $19.99
APR191555 BELLADONNA FIRE FURY #1 SUPERIOR SEDUCTIVE NUDE (MR) $24.99
APR191550 BELLADONNA FIRE FURY #1 SUPERIOR WARRIOR (MR) $19.99
MAR192076 BLOODSHOT RISING SPIRIT #7 CVR A GUEDES $3.99
MAR192077 BLOODSHOT RISING SPIRIT #7 CVR B JOTHIKUMAR $3.99
MAR192078 BLOODSHOT RISING SPIRIT #7 CVR C FISH $3.99
FEB198906 BLOODSHOT RISING SPIRIT #7 CVR D PRE-ORDER BUNDLE ED $3.99
MAR191476 BLOSSOMS 666 #4 CVR A BRAGA $3.99
MAR191477 BLOSSOMS 666 #4 CVR B CHARRETIER $3.99
MAR191478 BLOSSOMS 666 #4 CVR C HENDERSON $3.99
MAR191877 CATALYST PRIME KINO #16 $3.99
MAR192329 CHI SWEET ADVENTURES GN VOL 04 $11.95
MAR191334 COLD BLOOD SAMURAI #3 $3.99
FEB191372 COMPLETE FEAR ON FOUR WORLDS READER SET $14.99
JAN191534 COMPLETE ROCKY & BULLWINKLE SHOW READER SET $9.99
JAN192234 CONSPIRACY #5 (OF 5) LIZARD PEOPLE CVR A COLAPIETRO $4.99
JAN192235 CONSPIRACY #5 (OF 5) LIZARD PEOPLE CVR B GOH $4.99
APR191474 CROSSED BADLANDS #29 MISS CROSSED CVR A (MR) $9.99
APR191475 CROSSED BADLANDS #29 MISS CROSSED CVR B (MR) $9.99
APR191476 CROSSED BADLANDS #29 MISS CROSSED CVR C (MR) $9.99
APR191477 CROSSED BADLANDS #29 MISS CROSSED CVR D (MR) $9.99
APR191487 CROSSED PSYCHOPATH #1 (OF 7) C2E2 VIP (MR) $19.99
APR191486 CROSSED PSYCHOPATH #1 (OF 7) PHOENIX (MR) $5.99
APR191488 CROSSED PSYCHOPATH #2 (OF 7) PHILLY VIP (MR) $19.99
APR191490 CROSSED PSYCHOPATH #4 (OF 7) CHICAGO VIP (MR) $19.99
APR191489 CROSSED PSYCHOPATH #4 (OF 7) FAN EXPO VIP (MR) $19.99
FEB191316 DANGER DOLL SQUAD PRESENTS AMALGAMA LIVES #3 CVR A MACCAGNI $4.99
FEB191317 DANGER DOLL SQUAD PRESENTS AMALGAMA LIVES #3 CVR B MACCAGNI $4.99
FEB191318 DANGER DOLL SQUAD PRESENTS AMALGAMA LIVES #3 CVR C RUDETOONS $4.99
FEB191319 DANGER DOLL SQUAD PRESENTS AMALGAMA LIVES #3 CVR D RUDETOONS $4.99
FEB191320 DANGER DOLL SQUAD PRESENTS AMALGAMA LIVES #3 CVR E MENDOZA ( $4.99
FEB191321 DANGER DOLL SQUAD PRESENTS AMALGAMA LIVES #3 CVR F MENDOZA R $4.99
MAR191364 DARK RED #3 $3.99
DEC181448 DEAD KINGS #5 $3.99
FEB191712 DF AGE OF X-MAN APOCALYPSE & X-TRACTS #1 SGN SEELEY $29.99
FEB191702 DF AMAZING SPIDER-MAN #16.HU GOLD SGN LAND $89.99
FEB191701 DF AMAZING SPIDER-MAN #16.HU SGN LAND $29.99
JUL181828 DF AMAZING SPIDER-MAN #800 COMICXPOSURE EXC $39.99
MAR191705 DF DETECTIVE COMICS #1000 JURGENS & NOWLAN CGC GRADED $149.99
AUG181871 DF FANTASTIC FOUR #1 COMICXSPOSURE ARTGERM EXC $19.61
SEP181730 DF JUSTICE LEAGUE AQUAMAN PORTER SGN $29.99
SEP181731 DF JUSTICE LEAGUE AQUAMAN PORTER SGN PLUS ONE $39.99
SEP181732 DF JUSTICE LEAGUE AQUAMAN ULTRA GOLD PORTER SGN $89.99
AUG181877 DF MR & MRS X #1 PARILLO COMICXPOSURE EXC $19.90
MAR192022 DOCTOR WHO 13TH #8 CVR A SPOSITO $3.99
MAR192023 DOCTOR WHO 13TH #8 CVR B PHOTO $3.99
MAR192024 DOCTOR WHO 13TH #8 CVR C JONES $3.99
FEB191828 DONALD WHO LAUGHS #1 CVR A MAIN $4.99
FEB191829 DONALD WHO LAUGHS #1 CVR B DARKVANKA $9.99
FEB191830 DONALD WHO LAUGHS #1 CVR C TRUMPS TITANS $4.99
FEB191831 DONALD WHO LAUGHS #1 CVR D SURPRISE $4.99
FEB191414 EXCITING COMICS #2 $3.99
MAR192002 FLOPPY COP #2 (MR) $3.99
MAR192079 FORGOTTEN QUEEN #4 (OF 4) CVR A KANO $3.99
MAR192080 FORGOTTEN QUEEN #4 (OF 4) CVR B KALVACHEV $3.99
MAR192081 FORGOTTEN QUEEN #4 (OF 4) CVR C TEMPLER $3.99
FEB198907 FORGOTTEN QUEEN #4 (OF 4) CVR D PRE-ORDER BUNDLE ED $3.99
MAR191998 FRANKLIN AND GHOST GN TP (MR) $19.99
MAR192170 FULLMETAL ALCHEMIST FULLMETAL EDITION HC VOL 05 $19.99
MAR192287 GLEIPNIR GN VOL 02 (MR) $12.99
MAR191386 GOON BUNCH OF OLD CRAP TP VOL 01 $29.99
MAR192108 GRIMM FAIRY TALES #28 CVR A COCCOLO $3.99
MAR192109 GRIMM FAIRY TALES #28 CVR B VITORINO $3.99
MAR192110 GRIMM FAIRY TALES #28 CVR C ROYLE $3.99
MAR192111 GRIMM FAIRY TALES #28 CVR D REYES $3.99
MAR191459 HORROR COMICS #1 MAIN CVR $3.99
MAR191461 HORROR COMICS #1 SKETCH VAR CVR $4.99
MAR191460 HORROR COMICS #1 TEETHER VAR CVR $9.99
MAR192317 I MARRIED MY BEST FRIEND TO SHUT PARENTS UP GN VOL 01 (MR) ( $12.99
MAR192291 IM STANDING ON MILLION LIVES GN (MR) $10.99
FEB191790 IRON MAIDEN LEGACY O/T BEAST VOL 2 NIGHT CITY #1 CVR A CASAS $3.99
FEB191791 IRON MAIDEN LEGACY O/T BEAST VOL 2 NIGHT CITY #1 CVR B CASAS $3.99
FEB191792 IRON MAIDEN LEGACY O/T BEAST VOL 2 NIGHT CITY #1 CVR C CASAS $3.99
APR191581 JUNGLE FANTASY IVORY #6 COSTUME CHANGE A (MR) $8.99
APR191582 JUNGLE FANTASY IVORY #6 COSTUME CHANGE B (MR) $8.99
APR191583 JUNGLE FANTASY IVORY #6 COSTUME CHANGE C (MR) $8.99
APR191584 JUNGLE FANTASY IVORY #6 NUDE & NAUGHTY A (MR) $9.99
APR191585 JUNGLE FANTASY IVORY #6 NUDE & NAUGHTY B (MR) $9.99
APR191586 JUNGLE FANTASY IVORY #6 NUDE & NAUGHTY C (MR) $9.99
APR191587 JUNGLE FANTASY IVORY #7 COSTUME CHANGE A (MR) $8.99
APR191588 JUNGLE FANTASY IVORY #7 COSTUME CHANGE B (MR) $8.99
APR191589 JUNGLE FANTASY IVORY #7 COSTUME CHANGE C (MR) $8.99
APR191590 JUNGLE FANTASY IVORY #7 NUDE & NAUGHTY A (MR) $16.99
APR191591 JUNGLE FANTASY IVORY #7 NUDE & NAUGHTY B (MR) $16.99
APR191592 JUNGLE FANTASY IVORY #7 NUDE & NAUGHTY C (MR) $16.99
APR191593 JUNGLE FANTASY IVORY #8 COSTUME CHANGE A (MR) $8.99
APR191594 JUNGLE FANTASY IVORY #8 COSTUME CHANGE B (MR) $8.99
APR191595 JUNGLE FANTASY IVORY #8 COSTUME CHANGE C (MR) $8.99
APR191596 JUNGLE FANTASY IVORY #8 NUDE & NAUGHTY A (MR) $16.99
APR191597 JUNGLE FANTASY IVORY #8 NUDE & NAUGHTY B (MR) $16.99
APR191598 JUNGLE FANTASY IVORY #8 NUDE & NAUGHTY C (MR) $16.99
APR191556 JUNGLE FANTASY SECRETS #0 CONNECTING (MR) $7.99
APR191558 JUNGLE FANTASY SECRETS #1 CONNECTING (MR) $7.99
APR191560 JUNGLE FANTASY SECRETS #2 CONNECTING (MR) $7.99
APR191577 JUNGLE FANTASY SECRETS #2 LANI NUDE (MR) $9.99
APR191562 JUNGLE FANTASY SECRETS #3 CONNECTING (MR) $7.99
APR191578 JUNGLE FANTASY SECRETS #3 KIT NUDE (MR) $9.99
APR191579 JUNGLE FANTASY SECRETS #3 LORELEI FERAL NUDE (MR) $9.99
APR191564 JUNGLE FANTASY SECRETS #4 CONNECTING (MR) $7.99
APR191580 JUNGLE FANTASY SECRETS #4 SASHA NUDE (MR) $9.99
APR191570 JUNGLE FANTASY VIXENS #1 (OF 2) KS CENTURY A (MR) $19.99
APR191571 JUNGLE FANTASY VIXENS #1 (OF 2) KS CENTURY B (MR) $19.99
APR191572 JUNGLE FANTASY VIXENS #1 (OF 2) KS CENTURY C (MR) $19.99
APR191573 JUNGLE FANTASY VIXENS #1 (OF 2) KS CENTURY D (MR) $19.99
APR191574 JUNGLE FANTASY VIXENS #1 (OF 2) KS CENTURY E (MR) $19.99
APR191575 JUNGLE FANTASY VIXENS #1 (OF 2) KS CENTURY F (MR) $19.99
APR191576 JUNGLE FANTASY VIXENS #1 (OF 2) KS CENTURY G (MR) $19.99
APR191566 JUNGLE FANTASY VIXENS #1 (OF 2) RIO CENTURY A (MR) $24.99
APR191567 JUNGLE FANTASY VIXENS #1 (OF 2) RIO CENTURY B (MR) $24.99
APR191568 JUNGLE FANTASY VIXENS #1 (OF 2) RIO CENTURY C (MR) $24.99
APR191569 JUNGLE FANTASY VIXENS #1 (OF 2) RIO CENTURY D (MR) $24.99
MAR191360 KILLER GROOVE #1 CVR A MARRON $3.99
MAR192008 LIFE IS STRANGE #5 CVR A FISH (MR) $3.99
MAR192009 LIFE IS STRANGE #5 CVR B GAME ART (MR) $3.99
MAR192010 LIFE IS STRANGE #5 CVR C TSHIRT (MR) $3.99
MAR192011 LIFE IS STRANGE #5 CVR D LEONARDI (MR) $3.99
MAR192012 LIFE IS STRANGE #5 CVR E BLANK SKETCH (MR) $3.99
MAR191996 MONSTROUS EUROPEAN GETAWAY #3 (OF 4) $3.99
MAR191812 MOON FACE GN HC NEW ED (MR) $29.95
FEB198793 MOONBOUND APOLLO 11 & DREAM OF SPACEFLIGHT GN $19.95
FEB198794 MOONBOUND APOLLO 11 & DREAM OF SPACEFLIGHT HC GN $35.00
MAR191338 NULL FAERIES #5 CVR A CICCONI (MR) $3.99
MAR191339 NULL FAERIES #5 CVR B SUHNG (MR) $3.99
APR191299 POPE HATS #6 SHAPESHIFTER (MR) $6.95
MAR191325 PRINCELESS BOOK 8 PRINCESSES #3 $3.99
MAR192067 PUNK MAMBO #2 (OF 5) CVR A BRERETON $3.99
MAR192068 PUNK MAMBO #2 (OF 5) CVR B MACK $3.99
MAR192069 PUNK MAMBO #2 (OF 5) CVR C DELARA $3.99
FEB198911 PUNK MAMBO #2 (OF 5) CVR D PRE-ORDER BUNDLE ED $3.99
MAR192096 QUEEN OF BAD DREAMS #2 (MR) $3.99
NOV181504 RAGS #4 COSPLAY VAR (MR) $9.99
NOV181505 RAGS #4 CROSSOVER VIRGIN CVR (MR) $19.99
NOV181503 RAGS #4 MAIN CVR (MR) $3.99
APR191542 RAVENING #1 (OF 4) KS COSTUME CHANGE A (MR) $8.99
APR191543 RAVENING #1 (OF 4) KS COSTUME CHANGE B (MR) $8.99
APR191544 RAVENING #1 (OF 4) KS COSTUME CHANGE C (MR) $8.99
APR191545 RAVENING #1 (OF 4) KS COSTUME CHANGE D (MR) $8.99
APR191547 RAVENING #1 (OF 4) KS COSTUME CHANGE NUDE (MR) $16.99
APR191546 RAVENING #1 (OF 4) KS COSTUME CHANGE TOPLESS (MR) $9.99
MAR191908 RICK & MORTY #1 50 ISSUES SPECIAL VAR $3.99
MAR191909 RICK & MORTY #2 50 ISSUES SPECIAL VAR $3.99
MAR191910 RICK & MORTY #3 50 ISSUES SPECIAL VAR $3.99
MAR191911 RICK & MORTY #4 50 ISSUES SPECIAL VAR $3.99
MAR191912 RICK & MORTY #5 50 ISSUES SPECIAL VAR $3.99
MAR191905 RICK & MORTY #50 CVR A $6.99
MAR191906 RICK & MORTY #50 CVR B HORAK RICK CONNECTING $6.99
MAR191907 RICK & MORTY #50 CVR C HORAK MORTY CONNECTING $6.99
JAN192012 RICK AND MORTY PRESENTS TP VOL 01 $19.99
MAR191813 RING OF SEVEN WORLDS GN TP $24.95
MAR191983 RISE #3 $3.99
MAR191997 ROTTENTAIL GN TP (MR) $6.99
MAR192003 SAVANTS #5 (OF 5) (MR) $3.99
MAR192000 SHAM #1 (MR) $4.00
MAR192091 SHE SAID DESTROY #1 CVR A $3.99
MAR192092 SHE SAID DESTROY #1 CVR B $3.99
MAR191329 SPENCER AND LOCKE 2 #2 CVR A SANTIAGO $3.99
MAR191330 SPENCER AND LOCKE 2 #2 CVR B HOUSE $3.99
MAR191331 SPENCER AND LOCKE 2 #2 CVR C MULVEY $3.99
FEB191384 STARGATE UNIVERSE #1-6 LTD ED INCV SET $49.99
APR192149 STREET FIGHTER 2019 PINUP SPECIAL #1 CVR A LIU $3.99
APR192150 STREET FIGHTER 2019 PINUP SPECIAL #1 CVR B LADOWSKA $3.99
APR192151 STREET FIGHTER 2019 PINUP SPECIAL #1 CVR C BLANK SKETCH $4.99
FEB191642 TAROT WITCH OF THE BLACK ROSE #109 STUDIO DELUXE ED (MR) $19.99
MAR191646 TAROT WITCH OF THE BLACK ROSE #116 MOURNING AFTER (MR) $2.95
APR191749 THIS WAS OUR PACT GN $14.99
APR191751 TIME MUSEUM GN VOL 02 $14.99
FEB192132 TO LOVE RU GN VOL 13-14 (MR) $19.99
MAR191995 TWIZTID HAUNTED HIGH ONS DARKNESS RISES #2 (MR) $3.99
MAY181338 UNDERDOG & PALS #1 FLASHBACK ANIMATION LTD ED CVR $3.99
JAN191535 UNDERDOG READER SET $9.99
MAR191965 US JUDGE DREDD COMP CASE FILES TP VOL 16 (S&S ED) $24.99
MAR191332 VORACIOUS APPETITE FOR DESTRUCTION #1 CVR A MUHR $3.99
MAR191333 VORACIOUS APPETITE FOR DESTRUCTION #1 CVR B RAMON $3.99
MAR191670 WAILING BLADE #1 (OF 4) $4.99
MAR191365 WALK THROUGH HELL #10 (MR) $3.99
MAR192097 WASTED SPACE #10 (MR) $3.99
APR192019 WHITE SNAKE SC $9.99
MAR191487 WORLD OF ARCHIE JUMBO COMICS DIGEST #89 $6.99
MAR192135 WORLDS END HAREM GN VOL 05 (MR) $12.99
FEB191683 WORST BOOK EVER HC $17.95
MAR191353 ZOMBIE TRAMP ONGOING #60 CVR A MACCAGNI (MR) $4.99
MAR191354 ZOMBIE TRAMP ONGOING #60 CVR B MACCAGNI RISQUE (MR) $4.99
MAR191355 ZOMBIE TRAMP ONGOING #60 CVR C MCKAY VAR (MR) $4.99
MAR191356 ZOMBIE TRAMP ONGOING #60 CVR D MCKAY RISQUE LTD ED (MR) $4.99
MAR191357 ZOMBIE TRAMP ONGOING #60 CVR E MENDOZA RISQUE LTD ED (MR) $4.99
MAR191358 ZOMBIE TRAMP ONGOING #60 CVR F MENDOZA RISQUE LTD ED B (MR) $4.99
DEC181513 ZORRO SACRILEGE #1 CENTURY EDITION LTD ED CVR $29.99
NOV181451 ZORRO SACRILEGE #1 KALUTA MAIN CVR $3.99
NOV181452 ZORRO SACRILEGE #1 MARTINEZ POSSESSION CVR $9.99
NOV181453 ZORRO SACRILEGE #1 VISIONS OF ZORRO LTD ED CVR $9.99
MAGAZINES
APR191903 CARTOONS MAGAZINE #21 $6.99
MAR191994 CINEMA RETRO #44 (MR) $11.99
MAR191668 COMIC SHOP NEWS [90CT BUNDLE] #1667 $PI
MAR191930 DOCTOR WHO MAGAZINE #538 $11.99
FEB192018 HOBBY JAPAN MAY 2019 $20.00
FEB191811 ILLUSTRATION MAGAZINE #64 $15.00
FEB191958 SCREAM MAGAZINE #54 (MR) $8.99
BOOKS
FEB191980 ALFRED HITCHCOCK COMPLETE FILMS HC ED (RES) $35.00
MAR191929 COMIC SHOP RETAIL MAVERICKS WHO GAVE US NEW GEEK CULTURE $17.95
MAR198674 DESTINY GRIMOIRE ANTHOLOGY HC VOL 01 $24.99
MAR191831 GAME OF THRONES STORYBOARDS HC $60.00
APR191987 GODZILLA KING OF MONSTERS OFF MOVIE MMPB $7.99
MAR192060 LARRY HAMA CONVERSATIONS SC $25.00
APR192030 PULLING A RABBIT OUT OF HAT MAKING ROGER RABBIT SC $30.00
MAR191979 RIVERDALE NOVEL SC GET OUT OF TOWN $9.99
FEB191942 SHADOW DOUBLE NOVEL VOL 141 DDOUBLE Z DEATH ON ICE $14.95
MAR191954 STAR WARS SEARCH AND FIND HC $6.99
MERCHANDISE
APR192487 AQUAMAN MOVIE JADE COSPLAY NECKLACE $17.99
JUN188916 ARMS NOTE LONG-RANGE JOSHIKOSEI FIGMA AF $114.99
FEB198086 AURORA MANDRA SLOTH 10IN PLUSH $17.99
FEB198087 AURORA SEQUIN SPARKLES STAR NARWHAL $14.99
FEB198088 AURORA SILVER UNICORN 12IN PLUSH $14.99
MAR191533 AVENGERS COMIC STRIP AUDIO CD VOL 03 STEED & TARA KING $49.99
FEB198807 AVENGERS ENDGAME BLACK WIDOW LIFE-SIZE STAND UP $39.95
FEB198777 AVENGERS ENDGAME CAPTAIN MARVEL LIFE-SIZE STAND UP $39.95
FEB198779 AVENGERS ENDGAME ROCKET RACOON LIFE-SIZE STAND UP $39.95
FEB198629 AVENGERS ENDGAME THANOS LIFE-SIZE STAND UP $39.95
FEB198780 AVENGERS ENDGAME THOR LIFE-SIZE STAND UP $39.95
APR192488 CAPTAIN MARVEL EARRINGS 3PK SET $16.99
APR192486 CAPTAIN MARVEL SUIT-UP SNAPBACK CAP $27.99
APR188399 DARK KNIGHT TRILOGY RA`S AL GHUL MAFEX AF $129.99
DEC182503 DC GALLERY FLASH COMIC PVC FIGURE $45.00
OCT182228 DC GALLERY METAL RED DEATH PVC FIGURE $45.00
MAR198875 DC MULTIVERSE 6IN AF ASST – LUTHOR WAVE $19.99
APR192901 DISNEY AURORA AND MALEFICENT SALT & PEPPER SHAKERS $20.00
APR192900 DISNEY BELLE AND BEAST SALT & PEPPER SHAKERS $20.00
APR192902 DISNEY SNOW WHITE AND EVIL QUEEN SALT & PEPPER SHAKERS $20.00
JAN198619 DISNEY TRADITIONS ALADDIN WHITE WOODLAND JASMINE FIG $60.00
FEB191538 DOCTOR WHO 5TH DOCTOR KAMELION EMPIRE AUDIO CD $24.99
FEB191539 DOCTOR WHO COMIC STRIP ADAPTATIONS AUDIO CD VOL 01 $58.99
APR192491 DOCTOR WHO TARDIS ACCORDION CARD WALLET $21.99
MAR193038 DONKEY KONG CERAMIC BARREL MUG $15.00
MAR191538 DR WHO MISSY AUDIO CD SERIES VOL 01 $58.99
DEC189032 DRAGONBALL SUPER DRAGON STARS AF ASST Z $22.99
MAR192957 FIGPIN DRAGONBALL FIGHTERZ BROLY PIN $14.99
MAR192958 FIGPIN DRAGONBALL FIGHTERZ KID BUU PIN $14.99
APR192903 GAME OF THRONES HOUSE LANNISTER RELIEF CERAMIC STEIN W/CAP ( $69.99
APR192904 GAME OF THRONES HOUSE STARK RELIEF CERAMIC STEIN W/CAP $69.99
APR192905 GAME OF THRONES HOUSE TARGARYREN RELIEF CERAMIC STEIN W/CAP $69.99
DEC188011 GAME OF THRONES INFLEXIONS SPEC ED T/C ALBUM $PI
DEC188012 GAME OF THRONES INFLEXIONS SPEC ED T/C BOX $49.99
DEC189026 GUDETAMA ANIMATED PLUSH $35.00
DEC188964 GUDETAMA SAILOR 9IN PLUSH $26.00
DEC188931 GUNDAM SENTINEL EX-S GUNDAM & S GUNDAM MG 1/100 MDL KIT (NET $130.00
JUL188402 HARRY POTTER HERMIONE GRANGER HBP 1/9 SCALE POLYSTONE STATUE $80.00
SEP188014 HARRY POTTER HOGWARTS CREST KEYCHAIN $9.00
APR192492 HARRY POTTER HOGWARTS CREST SATCHEL WALLET $45.99
FEB198527 JURASSIC WORLD BLUE RAPTOR HATCHLING MOTION STATUE $49.99
AUG188522 KIZUNA AI FIGMA AF $89.99
MAR192979 LEGEND OF KORRA NAGA PIN $9.99
MAR192980 LEGEND OF KORRA PABU PIN $9.99
MAR192981 LEGEND OF KORRA WATER TRIBE KORRA PIN $10.99
APR192494 LEGEND OF ZELDA GREEN CLUTCH $54.99
JAN199308 LUCHA LIBRE BLUE DEMON JR IN SUIT REACTION FIGURE $15.00
JAN199309 LUCHA LIBRE BLUE DEMON JR REACTION FIGURE $15.00
JAN199310 LUCHA LIBRE SOLAR IN SUIT REACTION FIGURE $15.00
JAN199311 LUCHA LIBRE SOLAR REACTION FIGURE $15.00
JAN199312 LUCHA LIBRE TINIEBLAS JR REACTION FIGURE $15.00
MAR192967 LUPIN THE THIRD DIAMOND LUPIN PIN $10.99
MAR192971 LUPIN THE THIRD LUPIN IN JAIL PIN $9.99
DEC182508 MARVEL GALLERY AVENGERS 3 EBONY MAW PVC FIGURE $45.00
DEC188933 MAZINGER Z GRENDIZER INFINITISM VER HG 1/144 PLASTIC MDL KIT $54.00
DEC188934 MONO-EYE GUNDAMS SISQUEDE SDCS MDL KIT $16.00
DEC188935 MONO-EYE GUNDAMS SISQUEDE SDCS MDL KIT TITANS COLORS VER (NE $16.00
MAR188514 MOVIE ICONS SCARFACE TONY MONTANA THRONE 7IN FIGURE $49.99
SEP188110 MUPPETS KERMIT THE FROG 1000% BEA $604.99
APR192511 OVERWATCH MEI WALLET $19.99
APR192509 OVERWATCH MERCY SAVES SNAP BACK HAT $24.99
APR192510 OVERWATCH ROADHOG SNAP BACK HAT $24.99
MAR198498 PATHFINDER ACG ADV PATH CURSE CRIMSON THRONE $49.99
MAR198499 PATHFINDER ACG CORE SET $59.99
DEC188306 POCKET POP OVERWATCH DOOMFIST FIG KEYCHAIN $4.99
DEC188307 POCKET POP OVERWATCH MCCREE FIG KEYCHAIN $4.99
DEC188309 POCKET POP OVERWATCH WIDOWMAKER FIG KEYCHAIN $4.99
FEB198528 POCKET POP SPIDER-MAN: FAR FROM HOME MYSTERIO KEYCHAIN $5.99
NOV188783 POCKET POP TOY STORY ALIEN FIG KEYCHAIN $5.99
NOV188784 POCKET POP TOY STORY BUZZ LIGHTYEAR FIG KEYCHAIN $5.99
JAN199405 POP GAMES POKEMON CHARMANDER VINYL FIG $10.99
JAN198420 POP GHOSTBUSTERS PEN TOPPER 16PC ASST $3.99
JAN199450 POP HEROES SHAZAM DARLA VINYL FIG $10.99
JAN199451 POP HEROES SHAZAM EUGENE VINYL FIG $10.99
JAN199452 POP HEROES SHAZAM FREDDY VINYL FIG $10.99
JAN199453 POP HEROES SHAZAM MARY VINYL FIG $10.99
JAN199454 POP HEROES SHAZAM PEDRO VINYL FIG $10.99
JAN199406 POP HEROES SHAZAM VINYL FIG $10.99
FEB198023 POP MARVEL CAPTAIN MARVEL RONAN VINYL FIG $10.99
FEB198024 POP MARVEL CAPTAIN MARVEL VINYL FIG $10.99
JAN198422 POP MLB AARON JUDGE NEW JERSEY VINYL FIG $10.99
JAN198423 POP MLB AARON NOLA VINYL FIG $10.99
JAN198424 POP MLB ANTHONY RIZZO NEW JERSEY VINYL FIG $10.99
JAN198427 POP MLB BLAKE SNELL VINYL FIG $10.99
JAN198429 POP MLB CHRIS SALE NEW JERSEY VINYL FIG $10.99
JAN198430 POP MLB CLAYTON KERSHAW NEW JERSEY VINYL FIG $10.99
JAN198432 POP MLB JD MARTINEZ VINYL FIG $10.99
JAN198434 POP MLB JUAN SOTO VINYL FIG $10.99
JAN198435 POP MLB JUSTIN VERLANDER VINYL FIG $10.99
JAN198436 POP MLB KHRIS DAVIS VINYL FIG $10.99
JAN198438 POP MLB MAX SCHERZER NEW JERSEY VINYL FIG $10.99
JAN198439 POP MLB MIKE TROUT NEW JERSEY VINYL FIG $10.99
JAN198440 POP MLB MOOKIE BETTS NEW JERSEY VINYL FIG $10.99
JAN198443 POP MLB NOAH SYNDERGAARD NEW JERSEY VINYL FIG $10.99
JAN198448 POP MLB RONALD ACUNA JR VINYL FIG $10.99
JAN198302 POP MOVIES 6IN JAWS VINYL FIGURE $19.99
JAN198315 POP MOVIES JAWS QUINT VINYL FIGURE $10.99
JAN198319 POP PEZ CADDYSHACK CARL $5.99
JAN198320 POP PEZ CADDYSHACK GOPHER $5.99
DEC188348 POP RIDES GAME OF THRONES WHITE WALKER ON HORSE VIN FIG $29.99
JAN198346 POP TV ADDAMS FAMILY MORTICIA VINYL FIG $10.99
JAN198347 POP TV ADDAMS FAMILY PUGSLEY W/ CHASE VINYL FIG $10.99
JAN198359 POP TV BILLIONS S1 CHUCK VINYL FIG $10.99
JAN198360 POP TV BILLIONS S1 TAYLOR VINYL FIG $10.99
DEC188412 POP UFC KHABIB NURMAGOMEDOV VINYL FIG $10.99
APR190001 PREVIEWS #369 JUNE 2019 $3.99
DEC189088 PUSHEEN COTTON CANDY PUSHEENOSAURUS 13IN PLUSH $25.00
DEC189120 PUSHEEN COTTON CANDY WITH EGG 6IN PLUSH $14.00
DEC189121 PUSHEEN GREEN WITH EGG 6IN PLUSH $14.00
FEB198534 PUSHEEN JUMBO SITTING 3FT PLUSH $400.00
DEC189089 PUSHEEN MAGICAL KITTIES DRAGON PIP 6IN PLUSH $20.00
DEC189090 PUSHEEN MAGICAL KITTIES DRAGONSHEEN 9IN PLUSH $25.00
DEC189207 PUSHEEN PIP PLUSH BACKPACK CLIP $10.00
JAN198017 PUSHEEN PLUSH BACKPACK $30.00
JAN198018 PUSHEEN PLUSH MAGICAL KITTIES PUSHEENICORN BACKPACK $30.00
JAN198019 PUSHEEN PLUSH SPA HEADBAND $10.00
JAN198020 PUSHEEN PLUSH ZIPPER CASE $16.00
DEC189091 PUSHEEN SITTING POSE 11IN PLUSH $26.00
DEC189165 PUSHEEN SQUISHEEN LOG 11IN PLUSH $26.00
JAN198021 PUSHEEN SQUISHEEN LOG 15IN PLUSH $45.00
DEC189027 PUSHEEN SQUISHEEN LOG 6IN PLUSH $12.00
DEC189166 PUSHEEN SQUISHEEN SITTING POSE 15IN PLUSH $45.00
JAN198039 PUSHEEN SQUISHEEN SITTING POSE 6IN PLUSH $12.00
DEC189092 PUSHEEN STRAWBERRY BANANA PUSHEENOSAURUS 13IN PLUSH $25.00
DEC189122 PUSHEEN STRAWBERRY BANANA WITH EGG 6IN PLUSH $14.00
SEP188518 ROCK CANDY DISNEY RALPH BREAKS THE INTERNET TIANA FIG $10.99
MAY189536 SEVEN DEADLY SINS REVIVAL KING NENDOROID AF $59.99
JAN199329 SLAYER MINOTAUR REACTION FIGURE $15.00
JAN193210 SMASH CITY BOARD GAME $39.99
APR192412 STAR TREK DISCOVERY 2020 WALL CALENDAR $14.99
MAR193050 STAR TREK DS9 FLUXX DIS (6CT) $20.00
APR192414 STAR TREK TOS 2020 WALL CALENDAR $14.99
APR192960 STAR WARS DARTH VADER HEAD TOASTER $49.99
APR192962 STAR WARS DELUXE MILLENNIUM FALCON WAFFLE MAKER $49.99
SEP188113 TAXI DRIVER TRAVIS BICKLE 1000% BEA $634.99
NOV188626 TOPPS 2019 BIG LEAGUE BASEBALL T/C BOX $1.99
OCT188718 TOPPS 2019 MUSEUM COLL BUNDESLIGA SOCCER T/C PACK $129.99
FEB191540 TORCHWOOD GOD AMONG US PART 2 AUDIO CD $58.99
NOV188759 VYNL SPEC SER CAPN CRUNCH CRUNCHBERRY BEAST VIN FIG 2PK $14.99
DEC189024 WORLD OF NINTENDO 4IN AF ASST WV14 $10.99