It feels slightly off to read a comic that you first read a preview ages ago. Welcome to Age Of Ultron #1, previously built up and teased in Free Comic Book Day 2012 and Avengers #12.1.
Set in the very imminent future, this is slightly pronblematic in that Spider-Man, costume-wise at least, appears to be The Amazing Spider-Man rather than The Superior Spider-Man, but then it was drawn years before The Superior Spider-Man was around.
So we have a world that is ruled by Ultron, many Ultrons, who have put his big mark all over the place in the form of massive machines hanging over and dwarfing urban environments like Manhattan. How we got there? I'm sure we'll get to that. Just not this week.
The stand out scene was present in the preview, but it still works a treat. Ultrons from above attack a building, an suddenly all the art blurs, ghosting a second image, vibrating with the noise, with the power, no one able gto be heard. It's an effective trick, used really well, and I'm surprised it's not used more in superhero comics. It makes the very comic feel like it's shaking.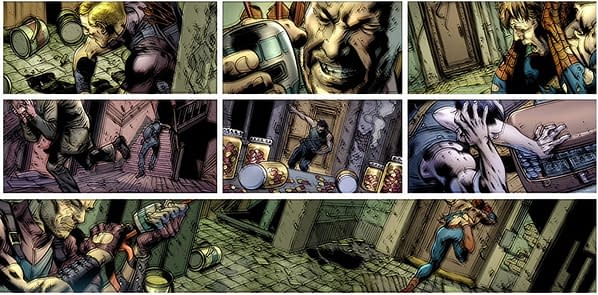 Of course now we get to see what comes next. We have a killer Hawkeye, a helicarrier fallen on Central Park and a heroic community, whoever is left, with very little hope, summed up just beautifully on the final page. This is your combined Avengers and X-Men, with Emma Frost standing next to Wolverine, united again through circumstance. Although Avengers Vs X-Men wasn't planned when this was being written either..
How this all happened, is yet to come. Like the Rotworld story in Swamp Thing and Animal Man (and aren't they glad this comic was delayed) the only way out looks like time travel and a tiny red reset button.
But before that we are getting kicks and explodo of the finest Bryan Hitch variety. Things go boom, people fall down and there are vast landscapes of destruction.
Now… just how will they put everything back in place?
Age Of Ultron by Brian Bendis and Bryan Hitch is published by Marvel tomorrow.
Enjoyed this article? Share it!