ECCC '15: Dark Horse Announces Aaron Lopresti's Power Cubed For September
Today, Dark Horse announce from Emerald City Comic Con a new creator-owned work from Aaron Lopresti for a September release date: Power Cubed. It's a wild premise with some beautiful art that speaks to Lopresti's mulit-genre enthusiasms. Technology, sci-fi, and Nazi scientists–yep, it's going to be quite a ride. Lopresti has also revealed that Mark Morales will be inking the interior art on a couple of issues of the series as well, which he's beyond excited about.
Dark Horse describe the book thus:
A weird and wonderful adventure from the atomic mind of Aaron Lopresti (Planet Hulk, Wonder Woman, Justice League International, Detective Comics.)

On his eighteenth birthday, Kenny's inventor father gives him a phenomenal piece of matter-reinterpreting technology, attracting the attention of a bumbling Nazi scientist and an elite government agent. Aaron Lopresti delivers a comical coming-of-age tale in a fantastic sci-fi universe!
Aaron Lopresti kindly took part in this first ever interview about Power Cubed for us here on Bleeding Cool: Hannah Means-Shannon: Is Power Cubed a representation of being able to do pretty much anything you most want to do in a comic? How did you decide on its different elements spanning fantasy, sci-fi, and perhaps even a little super-heroism?
Aaron Lopresti: Sometimes ideas and concepts start in one place and continue to grow in a variety of directions. Before you know it you have crossed several genre boundaries because the story has taken you naturally in the direction it needs to go. Inherently I enjoy humor, its part of my personality. I enjoy high concept adventure that can include sci-fi, fantasy and super heroism. I think my goal was to create something that was the biggest adventure I could put together combined with my sense of odd humor and when I put it together it was a package that included all of my favorite genres. Why do we all love comics? Because you can do anything in them. So this project is indeed a compilation of all the reasons I loved comics as a kid. Did I even answer your question?
HMS: Close enough! Has this project had a long history for you creatively? Can you recall when you first started generating the idea and why it stuck for you?
AL: It does. Back in the mid 90's I ran a comic art studio called Studiosaurus and I was always exploring ways that we could use the vast array of talent there to publish new works. We decided at one point to try and launch our own comic line through image. I came up with Atomic Toybox a story about an 18 year old who gets a power cube that allows him to create anything he wants. It seemed like a slam dunk for commercial success and it allowed me, by its very nature, to have no restrictions creatively. I could draw whatever I wanted within the construct of a story I would be creating. Unfortunately, I got too bog downed and wrongly influenced in trying to make it as commercial as possible instead of creating a work of creative passion. The result was an overly-sexualized shallow high concept adventure story. I could only get one issue out and that was the end of that. Or was it?
It always bugged me that I didn't finish it and I know there were a lot of people that bought that first issue and were left hanging. So I promised myself if I ever got a chance to do a creator-owned book again that I would finish Atomic Toybox. But I would do it the right way without allowing outside sources to influence the project. So when the opportunity arose with Dark Horse, I changed the name to Power Cubed to more accurately reflect the content of the book and I did a major re-write to keep the high concept but to infuse it with the heart and character it needed to be the book it always should have been.
HMS: That's really inspiring, Aaron. Thanks for sharing that. What sort of method do you use when you're writing as well as penciling a comic. Do you use written scripts, or is it more a matter of thumbnailing?
AL: I do a complete finished script so I know exactly where I am going. Then I draw it making changes as I go as they come to me and then rewrite the dialoge 3 to 4 times after I am done drawing. Not the most efficient way to create a story. The thing is, when you write a story you think its great. Then you pick it up a month later and you think it stinks. Which a lot of times is true. So you rewrite and rewrite until you actually get something good.
HMS: How would you describe the artwork in Power Cubed? Did you find yourself developing new aspects of style for it?
AL: Every time I start a new project I think I'm going to try something new artistically and I inevitably chicken out. But I always try to improve what I am doing so it is better than the last. With Power Cubed I was thinking of going with a less rendered cleaner more animation influenced style…but I didn't. Stylistically it is a little simpler and certainly more humorous approach than I usually do but I don't think anyone will really notice unless they look closely. But it does fit the feel of the story.
HMS: Can you tell us a little bit about your history as a comics reader? Were they part of your life at a young age? What do you think influenced you to become a visual storyteller?
AL: I wanted to be an animator until I got into comics at age 10. Then that is all I drew. Even before 1st grade my drawings were almost always accompanied by a story or were part of a story I wrote. Which would explain why I was drawn to comics. My first comic off the rack was Fantastic Four #112 the Hulk vs. Thing back cover, by John Buscema. But I didn't really have any of my own money to regularly buy them until I got older. But once I did, that was all I spent my money on.
HMS: What is the benefit or appeal of doing a fully "creator owned" project alongside more mainstream projects? I ask this because in the context of comics creators, doing both is becoming increasingly more common as a personal choice.

AL: I would much rather do my own thing than work on someone else's project. It used to be more important that I worked on a high profile assignment like Superman or Batman because i wanted the professional exposure. But now I am seeking out creative satisfaction. I just feel that writing and drawing a project is more what I am gauged to do than just draw something. If I can do that with one of my own creations, all the better.
HMS: What has been your favorite moment working on Power Cubed so far?
AL: When Mark Morales agreed to ink a couple of issues so I could meet my deadlines! How often can you get one of the industry's top inkers to help you on a personal project? Other than that when I sat down and drew the first page. I was like, I can't believe I am finally getting to do this!
HMS: Can you tell anything as a sneak peek at where the series is headed?
AL: Picture this: you have an 18 year old kid who gets a power cube that allows him to rearrange matter in any way he chooses. His mother has passed away years before so he only has his dad to guide him and they have a distant under developed relationship at best. Suddenly he is being chased by a government agent and a bumbling neo-nazi scientist who wants to create a body for a brain that has been kept alive for decades. Then when things can't get worse, he discovers his Dad is harboring a life changing secret. Where is it headed? That's why you buy the comic, my friend, to find out!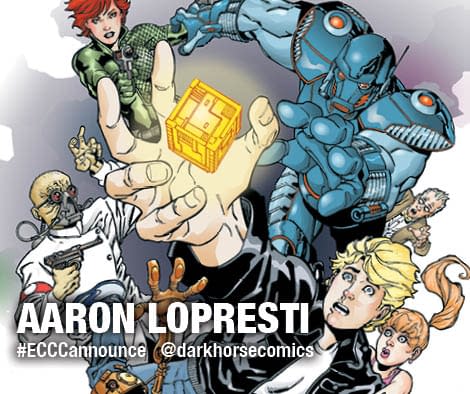 HMS: We'll be waiting for Power Cubed coming in September to find out! Thanks for talking with us, Aaron.