Everything Changes as Robotech Gets a Star Trek Reboot for Free Comic Book Day (Spoilers)
It's Free Comic Book Day this upcoming Saturday. You can keep up with Bleeding Cool coverage right here. Most of the comics coming out are teasing new storylines, and the Robotech FCBD is no exception, except the comic starts with a major revelation about the Robotech series from Titan as a whole…
Major Spoilers ahead…
The entire new Robotech timeline shown in the Titan comics is different from previous stories because in this timeline Zor's battle fortress (the SDF-1) wasn't sent by scientist Zor to Earth from the present, but from the future by Admiral Rick Hunter and the Robotech Expetionary Force. (Which means the Robotech Titan Comics timeline is similar to the Star Trek Kelvin timeline from the new Star Trek movies. So now time travel has changed one key event, that has now changed many other events, and a visitor from the future is now in the past creating a whole new timeline.)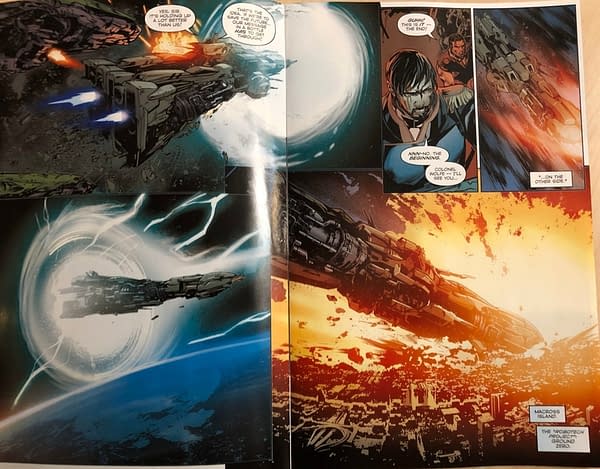 Simon Furman, the writer who has written many time travel stories (many involving the Transformers including the famous "Time Wars") goes on to also do what many of the FCBD stories do, recap important events so readers are "up to speed" before the next event starts.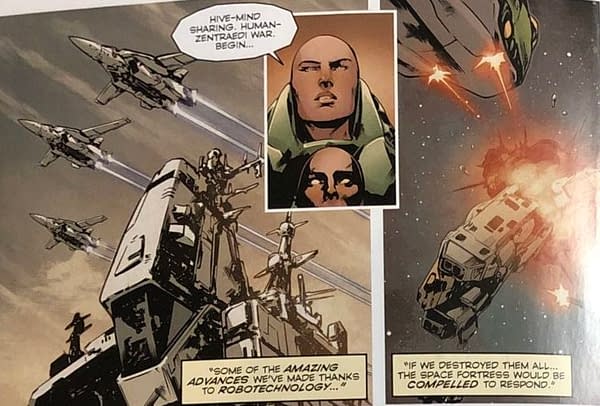 However, readers picking up this FCBD title should really read Robotech #20 (out May 1st) before they pick up this book as the war with the Zentraedi has completely changed as this issue shows.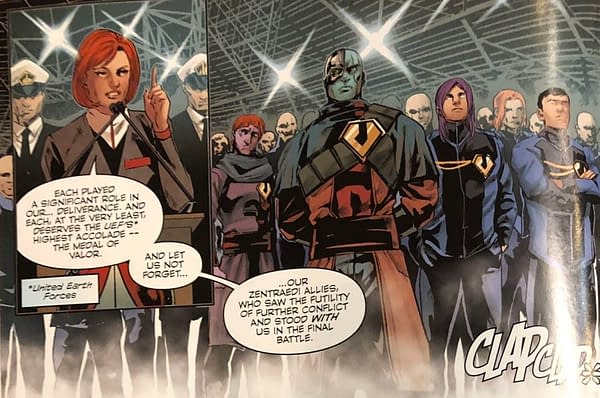 Also in a major change to continuity the Invid arrive on Earth decades early using the SDF-1 as a gateway to Earth.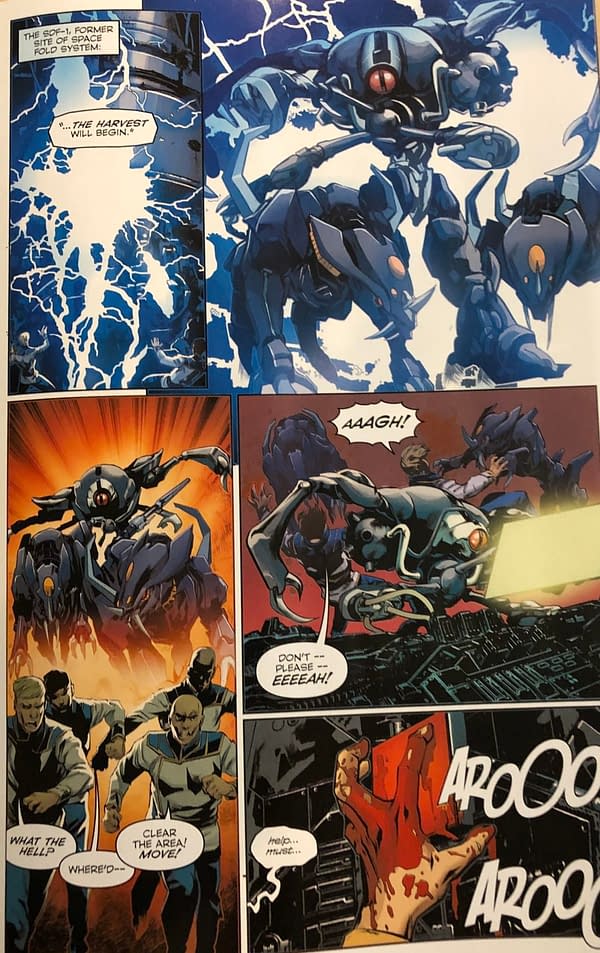 But none of these story beats are the major "reveal" that the final page shows. Captain Lisa Hayes is shown by her father the contents of the lifeboat that the future Zor's Battlefortress' brought back in time.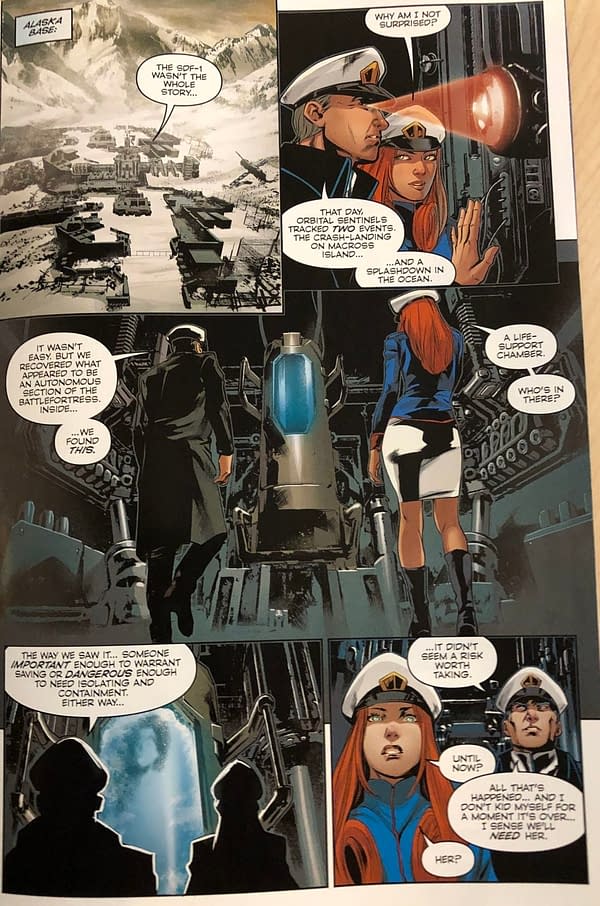 And the person inside is, Dana Sterling, the future daughter of Max Sterling and Zentraedi ace pilot Miriya Parino!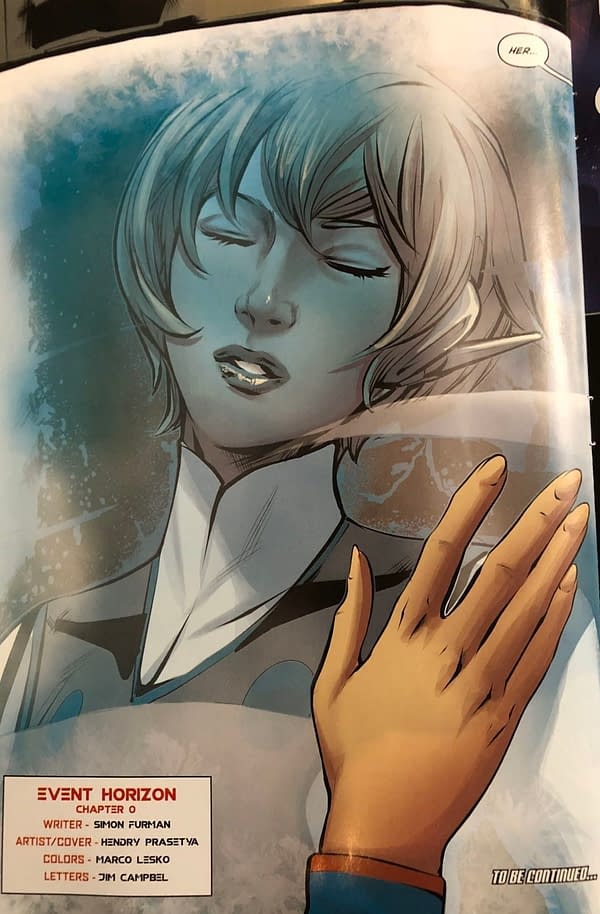 Dana is the main character of Robotech's second arc, and with the Invid Regess in the FCBD story, all three main arcs seem on a collision course with each other in the upcoming Event Horizon storyline.
FCBD 2019 ROBOTECH
(W) Simon Furman, Brenden Fletcher (A) Sarah Stone (A/CA) Hendry Prasetya
The radical reimagining of beloved sci-fi anime Robotech gears up for a brand new event, and bestselling writer Brenden Fletcher joins the superstar creative team alongside Simon Furman (Transformers) and artist Hendry Prasetya (Mighty Morphin' Power Rangers)! Free Comic Book Day is the perfect place to jump aboard the SDF-1!
Rating: TeenIn Shops on Free Comic Book Day!