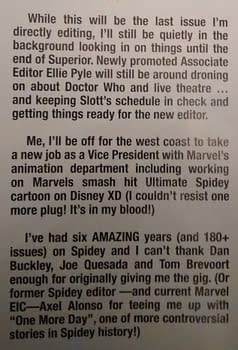 Last year, we ran the story that Spider-Man Executive Editor Steve Wacker was leaving Marvel Comics for Marvel Animation, and his departure was confirmed in Ms Marvel #1.
In tomorrow's Superior Spider-Man, according to this image sent over by a friendly retailer, his new job and position, VP at Marvel Animation in Los Angeles, is also confirmed, by Wacker himself.
With Nick Lowe is moving from the X-Men titles to replace Wacker… is it too much of a stretch to suggest that returning editor Mike Marts, straight from DC's Batman books (himself replaced by Mark Doyle) might find a home back at the Xbooks? (UPDATE: Oops, he is…)
Enjoyed this article? Share it!