Oh look it's almost C2E2. Next week already. Aren't we still in January or something? Anyway, here are a few exclusive comics you'll be able to pick up in Chicago next week…
Aftershock Comics: Booth 417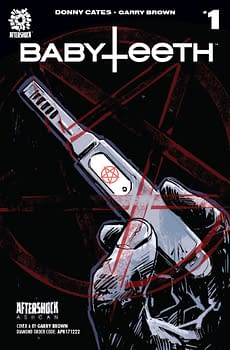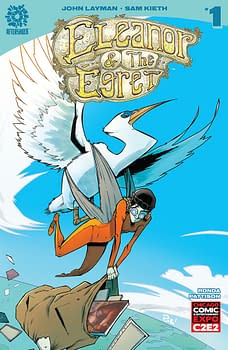 • Eleanor & Egret #1 (C2E2 exclusive cover)
• World Reader #1 (C2E2 exclusive cover)
• Jimmy's Bastards poster – Dave Johnson art (Series written by Garth Ennis with interiors by Russ Braun)
• Babyteeth poster – Garry Brown art (Signed by creator + writer Donny Cates)
Brian King – Booth i10
#'d: AIR JORDAN : Michael Jordan /Spider-man Mash-up 12×18 PRINT. #'d: A return to greatness: CHICAGO CUBS : JL/Cubs MASH-up 12×18 PRINT
DC Comics/Graphitti Designs: Booth 627
ALL-STAR BATMAN #8 "Silver" Convention Exclusive Comic
BATMAN #21"Silver" Convention Exclusive Variant
DEADMAN: KELLY JONES Gallery Edition (Variant)
IDW Publishing: Booth #609
Batman/TMNT Adventures #6 C2E2 Variant cover
Ghostbusters 101 #1 Convention Exclusive Photo Variant
My Little Pony #53 C2E2 Variant cover
Unknown Comics: Booth 648
Amazing Spider-Man #25 Tyler Kirkham Exclusive
Super Sons 1 Unknown Comics Con Exclusive by Tyler Kirkham 1000 print
Venom 6 C2E2 Exclusive Art by Tyler Kirkham 1000 print run
Regency Studios: Booth 527
Amazonia #4 – C2E2 exclusive cover by Adrian Adams.
Written and Illustrated by Joe D. McFee
Colored by Christine Brunson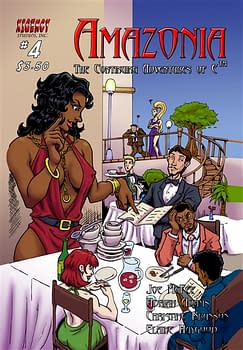 Ace Continuado: Booth J17
The Art of Ace Continuado 2017
Zenescope Comics: Booth 636
Navy Quarterly Exclusive – GFT Day of the Dead 3- Navy Limited to 200
Cubs C2E2 Exclusive-Spirit Hunters limited to 500 $10
HellChild C2E2 Exclusive limited to 250
Neal Adams Studio: Booth 727
Starwars #1 Kylo Wren Neal Adams Variant Cover. Signed and Numbered Edition of 100. $50.00 each.
IDW GI Joe Original #1 Neal Adams Variant Cover. Signed and Numbered Edition of 100.
Vintage Art of Neal Adams. Exclusive C2E2 Edition of 150, signed and numbered Sketchbooks of Classic Neal Adams pencil layouts, and pencils of vintage Neal Adams comic work.
Liberty: Deception Zero Issue (C2E2 Exclusive) The Zero Issue is a full-color 10 page short story that takes place before the events of Liberty: Deception Vol. 1.
The C2E2 exclusive features a unique cover by Dave Dorman (Star Wars)!
BobTheArtist: Booth 1276
Luke Cage Con-Exclusive. C2E2 con-exclusive…. signed/numbered limited edition print (only 70 available) featuring Netflix' Luke Cage, as portrayed by Mike Colter
Creature Entertainment: Booth 104 TOMMY 3 VARIANT COVER – AMAZING MERCHANDISING COVER The story of a little boy with an imaginary friend … who happens to be a SERIAL KILLER! CONCLUDES! Here is the thunderous conclusion to the series, without very thin-veiled attempt at cashing in on the variant parody cover with this almost slanderous copy of Amazing Fantasy 15! Get it, and have signed by series artist and creators John Ulloa and Juan Navarro
Bill McKay: Booth S5
Zombie Tramp C2E2 Exclusive available in regular and risqué versions.
And C2E2's own items…
Enjoyed this article? Share it!