And we have some more of Dynamite's covers and solicitations for October 2016. This is an exclusive first look at their Horror titles including trades for Army of Darkness: Furious Road and The Complete Raise the Dead as well as individual issues of Evil Ernie: Godeater and The Great Divide.
ARMY OF DARKNESS: FURIOUS ROAD Trade Paperback
Cover: Gabriel Hardman
Writer: Nancy A. Collins
Art: Kewbar Baal, Gabriel Hardman
Page Count: 144+ pages
Twenty years in the future, the Army of Darkness has succeeded in collapsing Western civilization. An unexpected upshot of the Deadites taking over? Supernatural species such as vampires, witches, and werewolves form an uneasy alliance with humanity in order to survive. The only hope for both mankind and monsters alike is a ritual that will send the demons back to the Hell that birthed them. But first, a rag-tag crew including the Frankenstein Monster and Eva, the Daughter of Dracula, must track down the fabled grimoire known as the Necronomicon Ex-Mortis and deal with its guardian… a certain Ash Williams!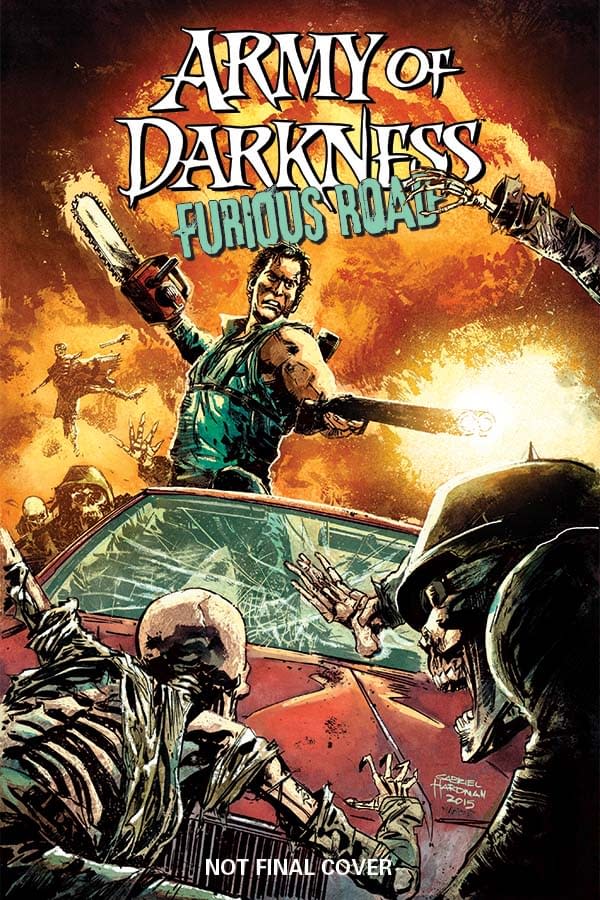 THE COMPLETE RAISE THE DEAD Trade Paperback
Cover: Arthur Suydam
Writer: Leah Moore, John Reppion, Mike Raicht
Art: Hugo Petrus, Guiu Vilanova, Arthur Suydam, Sean Phillips
Page Count: 240 pages
Dynamite Entertainment's wildly successful entry into the zombie horror genre is finally collected in its entirety! The zombie infestation rages unchecked. Only a handful of survivors remain, fighting for their lives against the rising tide of undead mayhem! Will these poor souls survive the perils of an overrun city and find safe haven Alfredo Bay's small coastal town… or has that world died along with most everything else in this post-apocalyptic nightmare? This gloriously gory compendium of carnage comes with a special introduction by Max Brooks, author of the New York Times bestselling Zombie Survival Guide and World War Z! EVIL ERNIE: GODEATER #3 (OF 5)
Cover A: Lucio Parrillo
Cover B: Cezar Razek
Writer: Justin Jordan, Keith Davidsen
Art: Colton Worley, Cezar Razek
The seal has been broken. The Godeater is rising, and there's no place on Earth to hide! Critically acclaimed Justin Jordan (The Strange Talent of Luther Strode) takes comics' most infamous killer, Evil Ernie, on a journey to Heaven, Hell, and beyond. Meanwhile, in our back-up feature: Liv, lead singer of Last Ditch Bitch, frantically fights back against Mistress Hel and the Dead Onez… while a beloved Chaos Comics character lurks in the wings!
GREAT DIVIDE #2 (OF 6)
Cover A: Adam Markiewicz
Cover B: Kevin Stokes "Homage Cover"
Writer: Ben Fisher
Art: Adam Markiewicz
Paul and Maria find themselves uneasy allies on the run in a world where any physical contact results in agonizing death. But the bloody effects of the "Divide" may be the least of their concerns when they stumble into the crosshairs of a deranged serial killer and a group of "baredevils" who thrive on the danger of exposed skin. Join Ben Fisher and Adam Markiewicz as they spin an "original and compelling twist on the post-apocalyptic genre." (Kevin Grevioux, creator of Underworld and I, Frankenstein). Each issue of THE GREAT DIVIDE comes with unique additional content. Issue #2 will include a digital code for downloading pages to a post-apocalyptic adult coloring book, drawn by Markiewicz.
Enjoyed this article? Share it!