Fantagraphics Launching New Anthology Comic Book, Now. In September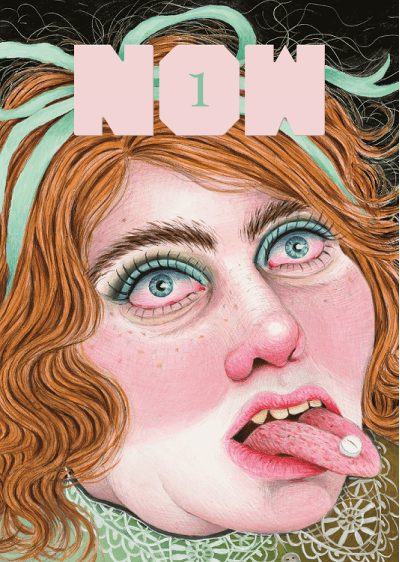 As Dark Horse Comics brings its long-running anthology Dark Horse Presents to an end, Fantagraphics is launching its own.
Now is a tri-annual anthology series with all new stories, set to debut at the Small Press Expo (SPX) in Bethesda, MD on September 16th and will arrive in comic shops and bookstores on September 20th.
Now is created by Fantagraphics Associate Publisher Eric Reynolds, who previously edited 22 volumes of the anthology Mome from 2005-2011.
We live in a golden age of quality comic art and stories. Graphic novels have never been more popular. But where to start? Now aspires to be an affordable and ongoing anthology of new comics that appeals both to the comics-curious as well as the serious aficionado. In the age of long form graphic novels, Now also intends to provide a platform for short fiction, experimentation, and for showcasing diversity in the comics field. The only common denominator to each piece is an exemplary use of the comics form.
The first issue will includes new work from Eleanor Davis (How To Be Happy), Noah Van Sciver (Fante Bukowski), Gabrielle Bell (Lucky), Dash Shaw (Cosplayers), Sammy Harkham (Crickets and Malachi Ward (Ancestor), as well as international stars such as J.C. Menu, Conxita Herrerro, Tobias Schalken and Antoine Cossé. With strips from rising stars Tommi Parrish, Sara Corbett, Daria Tessler and newcomer Kaela Graham,
The cover is painted by Pennsylvania artist Rebecca Morgan.
Now #1 will appear in the July issue of the Diamond Previews catalogue for a September release and the second issue of the series is set to release in January 2018. Fantagraphics.com is offering an exclusive three issue subscription service for Now for $30.
Now #1
Edited by Eric Reynolds
Release Date: 9/20/2017
$9.99 • ISBN: 978-1-68396-052-2
128 Pages • Full Color • Softcover